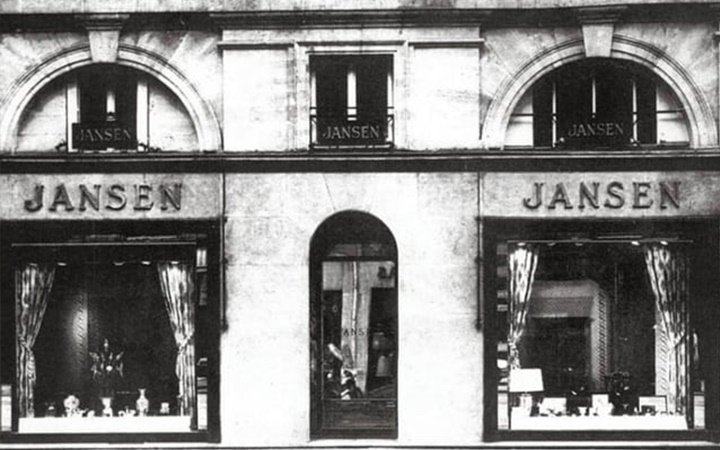 NEW YORK, NY -- The storied Maison Jansen name still conjures images of refined interiors impeccably decorated in an elegant and timeless style. Their clientele included European Royalty, American business magnates and later a glittering array of jet setters and tastemakers. With an international footprint that extended from their headquarters on the Rue Royale in Paris to London, New York, Havana, Buenos Aires, Alexandria and Cairo, Maison Jansen's talented designers worked to bring French style to all corners of the globe. Over a century in business, the famous 20th century decorators put their stamp on nearly every fashionable address in the world.
Founded in 1880 by Dutch-born Jean-Henri Jansen when he was just 25, Maison Jansen was an instant success -- garnering early awards and a multitude of praise for their sophisticated work. The French 18th-century style that became their trademark evoked a world their patrons longed to emulate. Though Maison Jansen certainly embraced contemporary trends, the firm used this aristocratic style to appeal to their late 19th century clientele, where changes in industry, society and the political landscape could be kept at bay if one was surrounded by furniture and decorative arts reminiscent of a more genteel era. The firm drew on France's rich artistic past to create rooms that incorporated the finest Louis XV, Louis XVI, and Empire styles and sprinkled in references to Art Nouveau, and later Art Deco and Art Moderne. It was a well-known mantra of the firm that Maison Jansen only "guided and assisted" their clients in decorating their homes, which allowed one's personal style to shine through their creative mix of antiques and modern accents. The end results were theatrical yet tasteful rooms set for modern life.
Over the course of their history, Maison Jansen worked with some of the most important families in the world. Royal patrons included two kings of Spain, the Belgian Royal family (who had the honor of being their longest commission -- lasting from 1890 through to the 1960s), and Edward VII of England. Maison Jansen was tasked with renovations of Buckingham Palace for Edward VIII, but his abdication put an end to the plans; no matter, as his sister-in-law Elizabeth, the Queen Mother was also a client of the firm. Maison Jansen's work for the Duke and Duchess of Windsor developed into a chic style known as the "Windsor" look. Across the Atlantic, Rockefellers, Vanderbilts, Goulds and Hearsts all called upon the firm to decorate their homes in New York, Newport, Palm Beach and everywhere the haute mode gathered.
To achieve their trademark look, Maison Jansen had showrooms filled with antique furniture. As such, when a set of 18th century Louis XV dining chairs needed to be filled out from twelve to twenty-four, or a Louis XVI mahogany commode looked better positioned as a pair, they could turn to their army of trained craftsmen to complete their vision. At the height of their fame they employed up to 700 craftsmen in a 40,000 square foot space outside of Paris, restoring antiques and making special commission furnishings for their projects. Among their best known pieces are gilt-bronze glass-topped tables created in a variety of sizes that are still coveted by decorators and collectors today.
The 1960s saw Maison Jansen reach the pinnacle of their fame in America with their most important post-War commission. Jayne and Charles Wrightsman were the society couple and helped to champion and promote Maison Jansen and 18th century French furniture and decorative arts within American society. It was through Jayne Wrightsman that Jacqueline Kennedy was first introduced to the firm. A Francophile herself, Kennedy employed them to help her decorate the Georgetown townhouse she lived in while her husband was a Senator. This project led to perhaps Maison Jansen's greatest American work, the redecoration of the Kennedy White House from 1961-1967. While the choice of a French firm to decorate America's most public of homes seemed a controversial one, Maison Jansen was actually following a long line of French-influenced spaces in the White House that could be traced back to other great Francophile Presidents Thomas Jefferson and James Monroe. With the collaboration of Henry Francis Dupont (founder of Winterthur Museum), who was in charge of restoration on the project, Maison Jansen created grand public and private spaces that echoed the spirit of democracy.
It was at this same time that Janice and Walter Manley engaged Maison Jansen to decorate their apartment in New York City. The Manley's envisioned a home that they could use to entertain Hollywood, and they were not to be disappointed. Still maintained in almost its original state, the apartment is as elegant today as it was when designed in the late 1960s. Maison Jansen created the perfect mix of traditional French 18th style and modern luxury: here carved and giltwood paneling is replaced with textured walls complemented with luxurious fabrics. Fine 18th century original furniture sits comfortably with modern pieces designed by Maison Jansen for the apartment, including three of their much sought-after gilt-bronze tables. The Manley's love of contemporary glass looks right at home, as the space truly reflects their style and personality. It is a fitting testament to the great 20th century design firm that guided them.
Special Collections: The Maison Jansen Designed Home of Walter and Janice Manley

On October 7, 2020 collectors will have the exciting opportunity to bid on furnishings and art from the Manhattan apartment that Maison Jansen designed for the famed film distributor and producer Walter Manley and his wife Janice Manley.