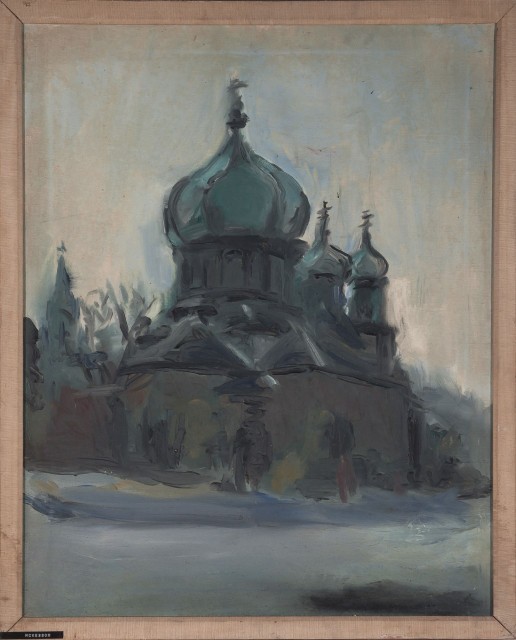 NEW YORK, NY -- In 1993, a tall, smartly-dressed man in his eighties entered New York's Outsider Art Fair. After nearly 40 years of creating in seclusion, Malcolm McKesson was finally ready to reveal a lifetime of work to the public.
McKesson was an unusual Outsider Artist, as redundant as that may sound. Unlike Henry Darger, Bill Traylor and many others that typify the art movement, McKesson was well-educated and from a wealthy New York family. While McKesson was indeed self-taught (like the great majority of Outsider Artists), he had studied art history at Harvard and was quite passionate in his appreciation of art and architecture. Though McKesson engaged dealers at the Outsider Art Fair in the hopes of finding representation, he did not consider himself an Outsider Artist – McKesson simply felt that, based on aesthetics, the fair's audience would find his work appealing. Indeed they did. McKesson's heavily cross-hatched ballpoint pen drawings, which were imbued with an almost sculpture-like quality, shared DNA with the all-over, repetitive and compulsive attributes seen in the work of artists like Eugene Andolsek, Martha Grunenwaldt and Nick Blinko.
A Second Lieutenant during World War II, Malcolm McKesson retired at a young age from his family's chemical company in 1962 to pursue his secret career as an artist. At that point, he withdrew from society and essentially lived in solitude with his wife in their Manhattan apartment. Efforts were made to teach after retirement, but these were understood to be a failure. McKesson's relationship to his wife, and to women and femininity in general, is largely the basis for his work. It is assumed that his 48-year marriage to the poet Madeline Mason was never consummated. McKesson lived in the submissive form of servant, apparently satisfied to exist in servitude of the "strength and wisdom of the female," as he would describe in his writings. In addition to the massive trove of artwork McKesson produced in secret, his equally voluminous writings would provide more insight into his curious private life: identifying as asexual, seemingly tormented and lost, yet in many regards evidently content with his shadowy life spent exploring the paradoxes he saw in gender and society. His wish, as he explained, was to "rediscover the female in the man."
A few years after his artwork began to gain traction, McKesson published his supposedly autobiographical novel Matriarchy: Freedom in Bondage in 1997, which contained multiple drawings interspersed with a collection of stories that blur fiction and fantasy under the guise of memoir. As with Darger, the writing itself is often less compelling than the author's connection to it. McKesson was not involved with, or even all that aware of, any sort of bondage culture, even though it was happening in his lifetime, in his very city. His own obsessions were found incidentally, as intimated in a preparatory sketchbook held by the Folk Art Museum – a bound student's composition book entitled STOCKINGS. McKesson's writings have an uncharacteristically innocent tone with polite, happy endings, perhaps reflecting a desire to understand and come to terms with himself. As eccentric and private as he was known to be, McKesson was a likable, intelligent man full of life and energy. To those who knew him, he was not exactly the recluse to which his life story would attest.
Because McKesson resisted exposing this private work, which he deemed too outre for mass consumption, an urban legend sprung up indicating that his arrival to the Outsider Art Fair in 1993 was his first public reveal. This is somewhat false. During the 1960s, McKesson made rare, random appearances in the art world, though the work he presented came from a far more provincial mindset. The four works in the current auction, Paintings & Drawings Online, are of church architecture, a subject which was relegated to the background of McKesson's secret oeuvre. Sourced from the private holdings of the former Galerie Internationale, these charming yet conventional architectural studies stand in contrast to his secret, ribald drawings. Perhaps they were created out of a desire to conform to society as McKesson perceived it. Or, equally possible, they are merely a reflection on another of his great interests: architecture. McKesson's stories are loaded with references to notable New York architecture and landmarks; subway entrances, bridges, Bergdorf Goodman, the Hotel Biltmore and others. And like many of his private works depicting female figures, these too seem copied from reference photos found in various periodicals and not from personal interaction. Of the group, St. James Church, from 1968, is the most comparable in medium and application to his private works; his chiaroscuro is aggressive, the inky pen lines layer upon themselves and amass into blotchy, chunky shapes.
McKesson claimed that, above all, his compulsion to create art was driven by a desire to "see the form of the undrawn." Like few other artists, McKesson essentially revealed the entirety of his artistic output at its completion. We do not get to see periods or appreciate new discoveries and their influences on his work over time. No growth spurts, no phases of output necessitated by major exhibitions. It is merely offered in total after a lifetime of clandestine creation. Save, of course, for this strange fleeting moment in the mid-60s where we find this outsider of outsiders poking his head out, making an effort to participate within the art world he studied from afar.
Paintings & Drawings Online
Featured in the online-only auction Paintings & Drawings Online is a selection of works depicting churches by Malcolm McKesson, comprising lots 46-49. Bidding ends May 12.