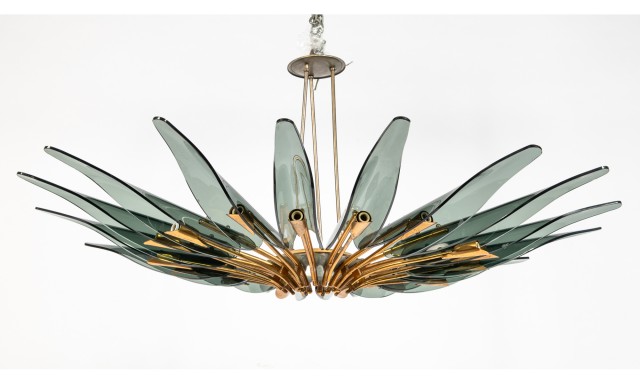 NEW YORK, NY -- It's easy to think of 20th century design as a purely modern phenomenon, and given its ongoing popularity, mid-century furniture still feels very fresh and current. But taking a closer look at the stories of individual designers, a more nuanced perspective emerges, where design is a continuation of past furniture-making traditions as much as it is an exploration of new forms and technologies. We will examine the work of two prominent designers, Max Ingrand and Karl Springer, who have roots in traditional European craftsmanship, to reveal how they built on that base to create new design vocabularies.
Max Ingrand
Max Ingrand (1908-1969) was a French-born designer who received his formal education in Paris from the Beaux-Arts de Paris and the Ecole des Arts Decoratifs. His early career focused on glass etching and stained glass windows. After Notre Dame was damaged during World War II, Ingrand was called in to repair the stained glass. He also created newer stained glass installations, embracing a more modern aesthetic. You can still see his work in religious and public buildings in Europe and the United States. His career eventually led him to Italy, where he became artistic director for furniture and lighting maker Fontana Arte from 1954-1967. In addition to Ingrand, Fontana Arte employed design giants Gio Ponti, Pietro Chiesa and Gae Aulenti. In a departure from his earlier work, Ingrand's pieces for Fontana Arte are defined by a more minimalist approach, with an emphasis on the use of glass in different shades of green, blue, brown and grey - the use of color itself a reflection of his background in stained glass. The pieces of glass are treated as sculptural elements, curving, bending and overlapping within a brass framework. Several fine examples of his lighting highlight the March 15 Doyle+Design sale. His Dahlia chandelier (Lot 228) is widely considered one of his masterpieces.
Karl Springer
Karl Springer's (1931-1989) path to design is a bit more circuitous. Trained as a bookbinder in his native Germany, Springer arrived in New York in the late 1950s. Although he had no formal background in design, he achieved some success as a window designer for department stores. Ambitious and creative, he started designing and making small accessories and pieces of furniture and, in a nod to his bookbinding past, wrapping them in leather. His creations caught the eye of customers, including, according to legend, the Duchess of Windsor, whose stamp of approval boosted his allure. Long a favorite of in-the-know designers and collectors, Springer's designs are characterized by their relatively restrained forms, the very high quality of construction, and the use of exotic animal skins and custom finishes. His pieces frequently took inspiration from Art Deco forms, and his JMF series gets its name from noted Art Deco designer Jean-Michel Frank (1895-1941). While the forms may have been straightforward, his finishes were anything but. Shagreen, a favorite material of his, appears in several pieces in the Doyle+Design sale (View Lots). He also used snakeskin (Lot 289), goatskin (Lot 269) and ostrich skin (Lot 265) to dramatic effect. Springer's use of solid brass and heavy lucite reflects the flashier, decadent ethos of New York in the 1970s and 1980s when he hit his career peak. His unending quest for fine craftsmanship and finishes led him to build a network of global artisans. He eventually employed workers in the Philippines, Indonesia and Mexico, giving traditional methods a modern twist. Overall, Doyle+Design features over 50 lots of Karl Springer furniture, lighting and accessories from a single apartment on Park Avenue. View lots
Additional Designers of Note
Also of note in the Doyle+Design sale is a rare table lamp (Lot 235) featuring a bird form sculpture by French ceramicist Georges Jouve, sold through retailer Beth Weissman. Weissman imported European goods and introduced them to the American market. He gave the lamp as a gift to a New Yorker in the lamp business. It is coming to auction for the first time.
Other designers represented in the sale include Gerrit Rietveld; Poul Kjaerholm; Piero Fornasetti; Angelo Lelii; Paul Evans; Philip and Kelvin Laverne; and Christian Liaigre.
Doyle+Design

Auction Wednesday, March 15, 2023 at 10am
Exhibition March 11-13