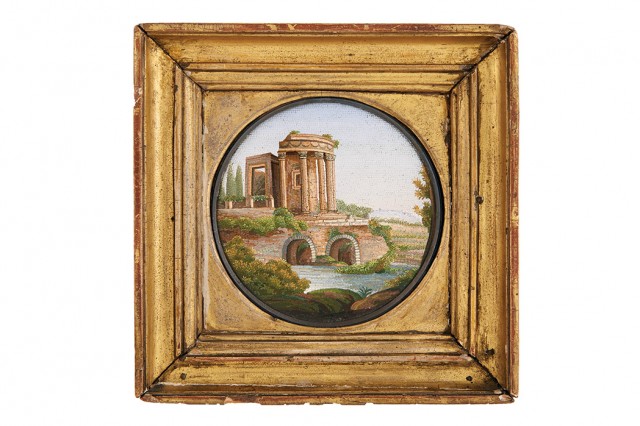 NEW YORK, NY – Mosaics originated in ancient times and were used as floor, wall and ceiling decoration. Architectural mosaics made by the Vatican Mosaic Workshop were used to replicate Old Master paintings for settings such as mosaic altarpieces, which would have been much more expensive than paintings. These larger mosaics provided the impetus for painterly small-scale micromosaics.
The term 'micromosaic' was supposedly coined by Sir Arthur Gilbert, who, with his wife, Rosalinde, assembled one of the largest collections of micromosaics, which they donated to Britain in 1996 and is now on loan to the Victoria and Albert Museum, London. The technique was first developed at the end of the 18th century in the Vatican Mosaic Workshop. The tiny, individual pieces, known as tesserae and used for the construction of a mosaic, were created out of opaque enamel known as smalti, which came in a wide variety of colors. The tesserae were so small that some micromosaics contained more than five thousand pieces per square inch. In the late 18th century, some Vatican mosaicists began to take on private commissions and started workshops of their own selling micromosaics to dealers and tourists. The methods were refined to include brushstroke-like pieces, giving these often small-scale works the expression of a painting. These micromosaics were usually unsigned.
To create the miniscule tesserae, the smalti was heated in a furnace and pulled into thin threads called filati, which were then arranged in compartments by color, much like a painter's palette. The tesserae were broken off of the filati and placed onto a support covered in a slow-drying adhesive, all of which rested against a slanted easel. The individual pieces of tesserae resembled brushstrokes in a painting with a multitude of colors and shapes. Once the backing was dry, the surface was polished with an abrasive, the surface gaps were filled with wax, and then the finished piece was repolished and waxed.
Once the production of micromosaics with painstakingly detailed scenes began in Rome, it flourished during the 18th and 19th century. Commercial mosaics were available in various sizes and forms, such as elaborate and costly tabletops, gold boxes, jewelry and panels. Micromosaics were extremely popular during the period of the Grand Tour and were sold to wealthy, often aristocratic clientele. These affluent travelers, schooled in Greek, Latin, and classical literature, yearned to discover ancient culture while increasing their social status by traveling through Europe, particularly France and Italy. Rome was considered the art center of Europe, where travelers could acquire antiquities, paintings, sculpture and mosaics. Many British aristocrats on the Grand Tour purchased depictions of Rome and themes of ancient history and mythology, among others, taking them back to Britain, where many still remain in their original country house collections.
Many micromosaic subjects paid homage to Rome by portraying monuments and original artworks by Old Masters, or reproduced prints showing classical subjects and neoclassical motifs. As the number of Grand Tourists increased, other subjects included animals, mythological tales, tourist sites including ancient Roman monuments, and imagery from the Basilica of St. Peter. Of course not all micromosaics were made for travelers on the Grand Tour. They were also presented as diplomatic gifts and private commissions for Royal and illustrious patrons throughout the 19th century.
Lot 427 in Doyle's October 25 sale is a finely executed example of a micromosaic plaque depicting Roman ruins. The Temple of Sibyl and Temple of Vesta in Tivoli were among the most popular ruins created in micromosaic, round temples being highly admired by visitors. The present example's use of incredibly fine tesserae resembles a small oil painting from a distance.
Another frequent subject for micromosaics included doves as a symbol of love. A 2nd-century AD floor mosaic was discovered at Hadrian's Villa in 1737, which in turn is believed to be a copy of a lost ancient Greek mosaic at Pergamon, attributed to the Greek artist Sosus. These doves, known as the Capitoline Doves or Doves of Pliny, appear frequently as the subject of micromosaics. The mosaic includes doves on a fountain-basin and is now located in the Capitoline Museum. Lot 307 depicts a version of these birds centering a geometric specimen marble table top. The marble pieces were assembled in geometric shapes that were a compendium of Continental marbles and semi-precious stones, also popular souvenirs brought home by Grand Tourists. 18th and 19th century British furniture makers were commissioned to furnish bases for these tops, including the best firms, such as Mayhew and Ince, Thomas Chippendale, Vile and Cobb, Gillows, William Trotter, etc.
By the close of the 19th century, the age of fine micromosaics came to an end due the arrival of industrialization, socio-economic changes, and variations in taste. Today micromosaics are widely regarded for their technical skill and painterly quality on boxes, tabletops and plaques among collectors.
Sources:
Gabriel, Jeanette, Hanisee. The Gilbert Collection: Micromosaics. London: Philip Wilson Publishers, 2000
Gabriel, Jeanette Hanisee. Micromosaics: Private Collections. Movement Publishing, United States, 2016