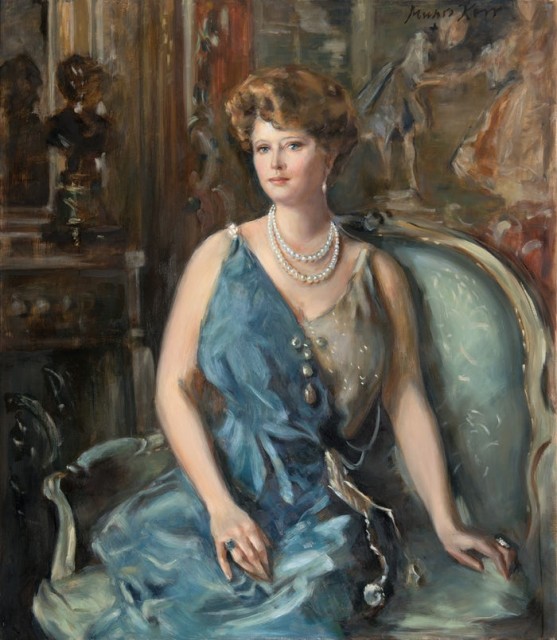 It was 1916; World War I was drawing to a close and money was flowing. America's newly affluent families ruled society from their grand mansions on New York's Fifth Avenue and lavish "cottages" in Newport. Jewelry collections that rivaled the Royal families of Europe and Maharajas of India were being assembled.
Diamonds had been discovered in the 1860s in South Africa. The large influx of diamonds from this new source to the market diminished the perception of diamonds as the rarest and most valuable gem. Thus the stage was set for the most coveted and valuable jewel to ascend to its lofty position. It wasn't a diamond nor a ruby, sapphire or emerald. The new Queen of gems was the pearl.
Natural pearls had typically been found by divers in the sea of Bahrain. It was an arduous task, diving deep into the waters without the benefit of modern tanks and scuba gear. Divers would seek the pearls in mollusks, however very few contained the rare pearl. When they did find a pearl, it would typically be small or misshapen, or have inferior luster.
Cartier, one of the most prominent purveyors of exquisite and rare gems and jewelry, had been slowly acquiring over the years the largest and finest pearls with the ultimate goal of assembling perfectly matched pearls.
Eventually, the luxury jewelers successfully created two perfectly matched, extraordinarily large and exceptionally fine pearl necklaces. One necklace was strung with 55 pearls and another, larger, with 73 pearls, the center pearl measuring a stunning 17mm. Each strand was completed by a 3.50 carat marquise diamond clasp signed Cartier.
American financier Morton Plant was married for the second time to the younger Mae "Maisie" Cadwell Manwaring of New London, Connecticut. A frequent client of Cartier, Mrs. Plant coveted the superb pearl necklaces, which she visited almost every day to admire.
A version of the tale as told by society columnist Nancy Randolph takes place over a dinner where Maisie Plant and Pierre Cartier were seated next to each other. She was extolling the beauty of the pearl necklaces, to which Pierre Cartier inquired as to why she didn't buy them? Mrs. Plant replied, "I can't afford to pay $1,500,000 for a necklace." Savvy businessman that he was, Pierre Cartier proposed, "Give me your townhouse, and I'll let you have the necklace."
Maisie Plant and her husband were in the process of joining New York's elite in their migration north along Fifth Avenue and had already begun construction of a new and far grander home on Fifth Avenue and 86th Street. Their current elegant mansion built in 1904 by the famed architect Gibson, located on the corner of Fifth Avenue and 52nd Street, had left them socially and geographically isolated as the northward creep of commercial businesses encroached into their formerly residential neighborhood. The trade was a win-win for the Plants and for Cartier, who had been looking for an elegant New York salon in a prime location.
Morton Plant and Louis and Pierre Cartier entered into a negotiation. They agreed that Cartier would trade $100 and the two strands of magnificent natural pearl necklaces, valued at $1.5 million, for the Plant's mansion on Fifth Avenue, valued at the time at $950,000. Pierre Cartier had secured the most elegant mansion in the best location in New York, worthy of the firm's exquisite jewels and the equal in luxury of Cartier's flagship store in Paris on the Rue de la Paix. The mansion is still Cartier's American flagship store.
Whether sheer luck or natural business acumen, this transaction could not have been more timely for Cartier. The natural pearl market was about to collapse.
In the 1880s Mikimoto invented the new and revolutionary process of growing cultured pearls. He discovered that if a bead was inserted into a mollusk along with a piece of epithelial membrane, in time the mollusk would coat the irritating bead with layers of nacre, producing a "cultured" pearl. At that time these new pearls were indistinguishable from the coveted and rare natural pearl. By the mid-1920s cultured pearls had entered the market, triggering a collapse of natural pearl prices. Many years later the technique of x-raying pearls to distinguish cultured pearls from natural pearls was developed, but the natural pearl market had suffered a devastating blow.
On January 23, 1957, Parke-Bernet auctioned the two necklaces from the estate of Mrs. Plant, who had remarried and was then Mrs. John E. Rovensky. Together the necklaces achieved $165,000 -- a far cry from the original price of $1.5 million. The necklaces have not surfaced publicly since the auction 60 years ago.
The last few years have seen a strong revival in important natural pearl prices. In 2014, a pair of natural pearls once belonging to Empress Eugenie sold at Doyle for a world record of $3.3 million dollars.
Who knows when the Cartier/Plant pearls might surface? They would certainly attract fierce competition and a price worthy of their storied past