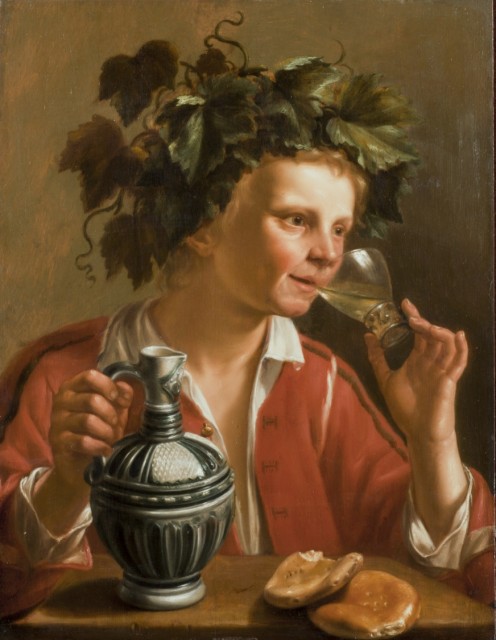 Briefly Legal is a monthly column in DOYLE Notebook. It is contributed by Lindsey Friedman, Esq. of Doyle's Estate and Appraisal Services Department. Briefly Legal profiles current stories in the news and focuses on topics related to art law, estate planning and fiduciary practice.
Art dealer Max Stern (1904-1987) owned Galerie Stern in Dusseldorf, Germany, which specialized in Old Master paintings. It was established by his father Julius Stern in 1913. On August 29, 1935, Stern received an official letter from the Nazi Reich Chamber of Culture (RKK) that legally prohibited him from buying and selling art in Germany because he was Jewish, giving him three months to liquidate the contents of the gallery. He was forced to sell his collection of over 400 works of art, including Young Man as Bacchus, which was sold on October 18, 1936. In September 1937, Stern was given a final order to immediately liquidate his entire inventory to a dealer approved by the RKK. Over 200 remaining works were offered for sale at Lempertz auction house in Cologne on November 13, 1937, at depressed prices. Stern later fled Germany and settled in Montreal where he became a prominent dealer in the Canadian art world and the Director of the Dominion Gallery of Fine Art.
Following the War, Stern began searching for the works he had sold under duress and was able to recover several of the paintings. He died in 1987 and bequeathed his assets, including any works to be recovered after his death, to McGill University and Concordia University, both in Montreal, and to Hebrew University in Jerusalem.
The Max Stern Art Restitution Project was created in 2002 to locate and retrieve the works of art in Stern's collection that remain unrecovered. The director of the Project, Dr. Clarence Epstein, explained that there are still over 400 works to be retrieved with a possible range in value between $50 and $100 million dollars.
On February 8, 2017, the Federal Bureau of Investigations returned a Nazi-looted work of art to representatives of the Max and Iris Stern Foundation during a ceremony held at the Museum of Jewish Heritage in New York. The painting, entitled Young Man as Bacchus, by Jan Franse Verzijl, is the sixteenth work of art to be restored to the heirs of Dr. Max Stern.
The painting was recovered in May 2015 when the Estate and the Holocaust Claims Processing Office (HCPO) of the New York State Department of Financial Services received an anonymous tip that the painting was to be transported and offered for sale by an Italian gallery at the Spring Masters Fair in New York. The FBI seized the work after the HCPO contacted the U.S. Attorney's office with evidence of the Estate's claim to the painting. The gallery voluntarily waived its claim of ownership to the painting to allow for its return.
Another recent art restitution case involves the Estate of Oscar Stettiner, a Jewish art collector who fled Paris in 1939 to what became the unoccupied zone in the south of France, leaving behind a substantial art collection. This collection, which included an early 20th century painting by Amedeo Modigliani, Seated Man With a Cane, was appropriated by the Nazis and sold. On June 25, 1996, the Panamanian entity, International Art Center, S.A. (IAC), purchased the Modigliani for $3.2 million at auction in New York. Philippe Maestracci, Stettiner's only surviving grandson and sole heir, began litigation in 2013 in Manhattan to retrieve his grandfather's painting. IAC filed a motion to end the litigation in 2015 based on lack of jurisdiction, which the Surrogate's Court denied. On February 14, 2017, the decision was affirmed unanimously by the Supreme Court, Appellate Division, First Department, New York.
These developments come on the heels of the enactment of the Holocaust Expropriated Art Recovery (HEAR) Act by Congress. The bill passed in both the House and the Senate after a unanimous vote by legislators and was signed into law by President Obama in December 2016. The HEAR Act provides a period of six years to claimants with causes of action for the recovery of artwork and similar property lost between January 1, 1933 and December 31, 1945 because of Nazi persecution. This six-year deadline begins after the claimant's actual discovery of the identity and location of the artwork, as well as proof of a possessory interest in the work in question. The HEAR Act creates a unified federal statute of limitations for Nazi-looted art claims of six years rather than applying each states' individual statute of limitations. While claimants must still assert a right to recovery under current state law, the HEAR Act's statutory limitation period thwarts any defenses relating to the passage of time.
Watch this column for a future article on the Foreign Cultural Exchange Jurisdictional Immunity Clarification Act and how it affects claimants of Nazi-looted artwork.
With the contribution of Hermine Chivian-Cobb, who acted as an expert witness in a Holocaust Art Recovery Case
Sources:
https://www.concordia.ca/arts/max-stern.html
http://www.dfs.ny.gov/about/press/pr090421.htm
http://www.dfs.ny.gov/about/press/pr1702081.htm
https://itsartlaw.com/2016/09/15/spotlight-the-max-stern-art-restitution-project/
http://www.artfixdaily.com/artwire/release/7107-fbi-returns-painting-recovered-at-art-fair-to-jewish-dealers-heir
http://theartnewspaper.com/news/news/montreal-s-max-stern-foundation-gets-its-bacchus-back/
https://news.artnet.com/art-world/fbi-returns-painting-max-stern-foundation-853031
http://www.newyorklawjournal.com/id=1202779180707/Heir-Takes-Step-Toward-Recovery-of-NaziLooted-Art?slreturn=20170123120509
https://www.congress.gov/bill/114th-congress/senate-bill/2763
https://www.congress.gov/bill/114th-congress/senate-bill/2763
http://blog.sandw.com/artlawreport/looted-art-legislation-hear-act-and-foreign-cultural-exchange-jurisdictional-clarification-act-set-to-become-law