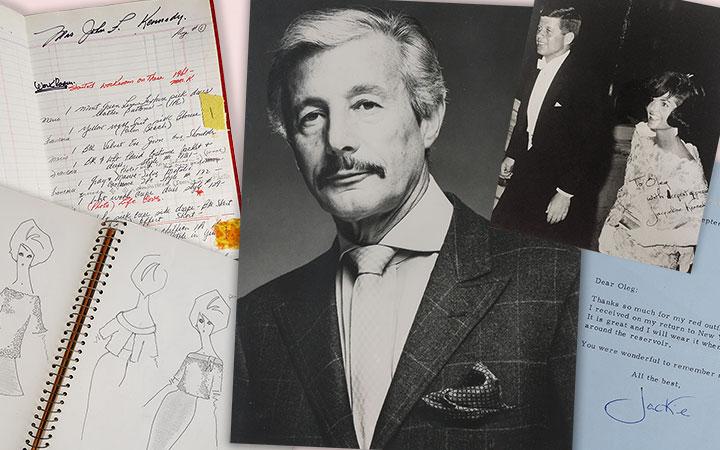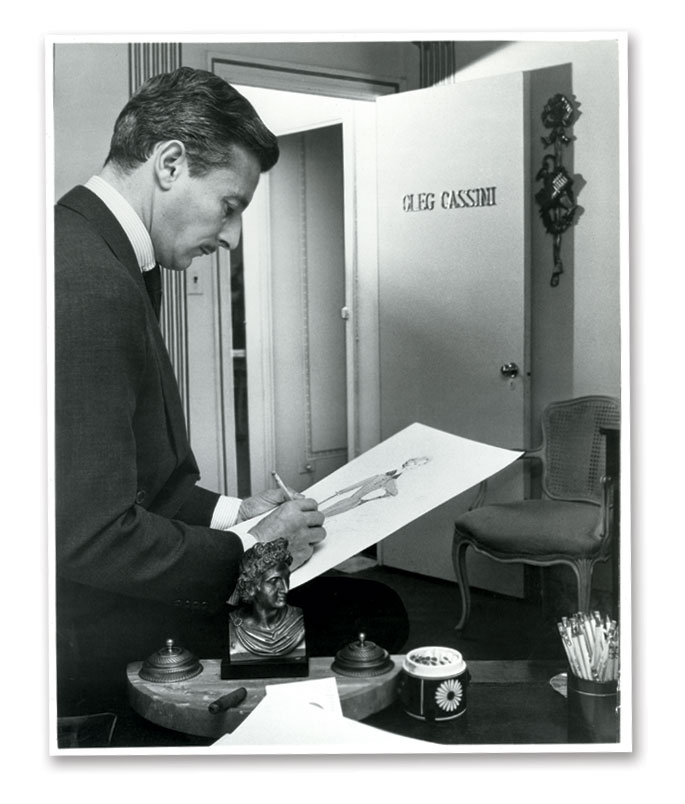 NEW YORK, NY -- Oleg Cassini is an icon of twentieth-century fashion. Though born to Russian aristocracy and raised in Italy, he built a fashion empire that was unmistakably American. Cassini is perhaps best known for the hundreds of designs he created for First Lady Jacqueline Kennedy, but his achievements as a collector, connoisseur, and quintessential twentieth-century man go far beyond Camelot.
In 1913, Oleg Cassini was born in Paris to the Russian diplomat Count Alexander Loiewski and Countess Marguerite Cassini, a Russian aristocrat of Italian ancestry who also had an interesting link to America. The daughter of Count Arthur Cassini, Russian Ambassador to the United States during the McKinley and Roosevelt administrations, Marguerite dazzled turn-of-the-century Washington as her father's official hostess and left her mark on the capital city. Stationed in Denmark when the Russian Revolution toppled the czar, Ambassador Cassini and family were exiled to Switzerland before settling in Florence, Italy, where young Oleg was raised. A true Renaissance man, he spoke Russian, French, and Danish before adding Italian and English; he studied medieval and modern European military history and costume and learned to draw; he learned horseback riding, fencing, and the art of chivalry; and, most importantly, he came to understand the struggles of the Russian titled class and other European aristocrats in the wake of the Russian Revolution and World War I.
Countess Cassini started a successful fashion business in Florence, and soon the talented young Oleg was sent to Paris to sketch the latest collections for recreation in Italy. In Rome in his early 20s, Cassini created fashions for high society women and designed for a few films, which planted the seed for his move to Hollywood. The drive to reinvent himself brought Cassini to America in the 1930s; in his autobiography he describes arriving nearly penniless in mid-Depression New York City where his title as an exiled Russian Count meant even less than in war-devastated Europe. Down and out, Cassini struggled for employment, having sketching skills but no knowledge of the wholesale trade required for survival in Manhattan's Seventh Avenue fashion district. However, he excelled at making connections, and Cassini slowly entered New York society. He was soon joined by younger brother Igor (who had studied in America and travelled with the young Emilio Pucci) and his parents, the once-dazzling Countess and his father, the displaced diplomat still loyal to Russia. The family settled in Washington, D.C., and Igor worked his way up the Hearst newspaper chain to become the famous society columnist Cholly Knickerbocker.
In New York, Oleg Cassini married the troubled socialite Merry Fahrney (who would go on to marry eight times), but the marriage ended in scandal for Oleg, and he decided to follow his original intention and head for Hollywood. Despite initial difficulties, Cassini gained access to Hollywood's elite (partially through his skills on the tennis court), and was soon hired as a designer at Paramount Pictures alongside the redoubtable Edith Head. In her 1941 film debut I Wanted Wings, Veronica Lake wore a memorable Cassini design. That same year, Cassini met and married the newest young Hollywood star on the scene, the beautiful 20th Century Fox–talent Gene Tierney.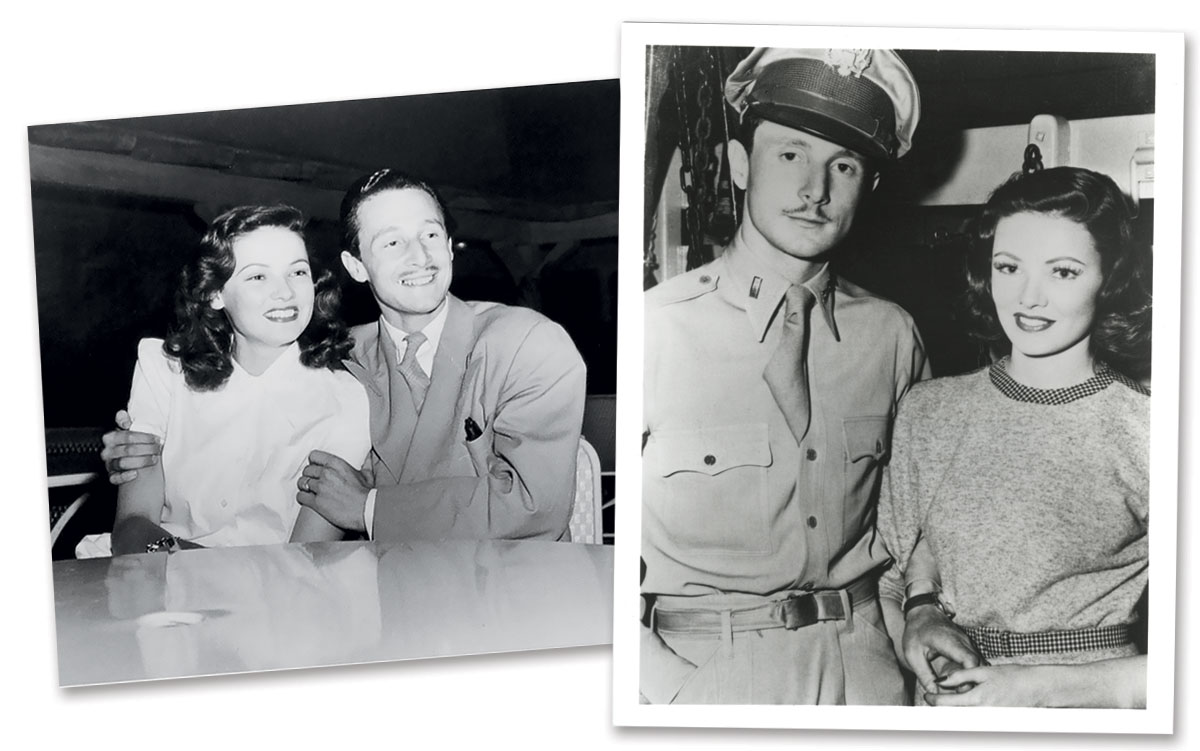 Oleg Cassini and Gene Tierney
With the outbreak of World War II, Cassini enlisted in the Coast Guard but was transferred to the U.S. Army Cavalry which allowed officers of foreign birth. He attended basic training at Fort Riley, Kansas, and the horsemanship he learned as a boy served him greatly. He attended Officer Candidate School and reached the rank of First Lieutenant (he also became an American citizen at this time, losing his title of Count). Cassini spent several years posted at Fort Riley, where Tierney joined him before he landed a convenient military post in Hollywood. As Tierney's career thrived (she played the title role in Otto Preminger's Laura in 1944), she was able to assert her influence over 20th Century Fox's head Daryl Zanuck, who hired Cassini as designer for Tierney on her 1946 film The Razor's Edge, which proved to be a brilliant showcase for his talents. The pair separated the same year and, again seeking reinvention, Cassini re-established himself in New York City as a fashion designer. By 1950, the Oleg Cassini label was born.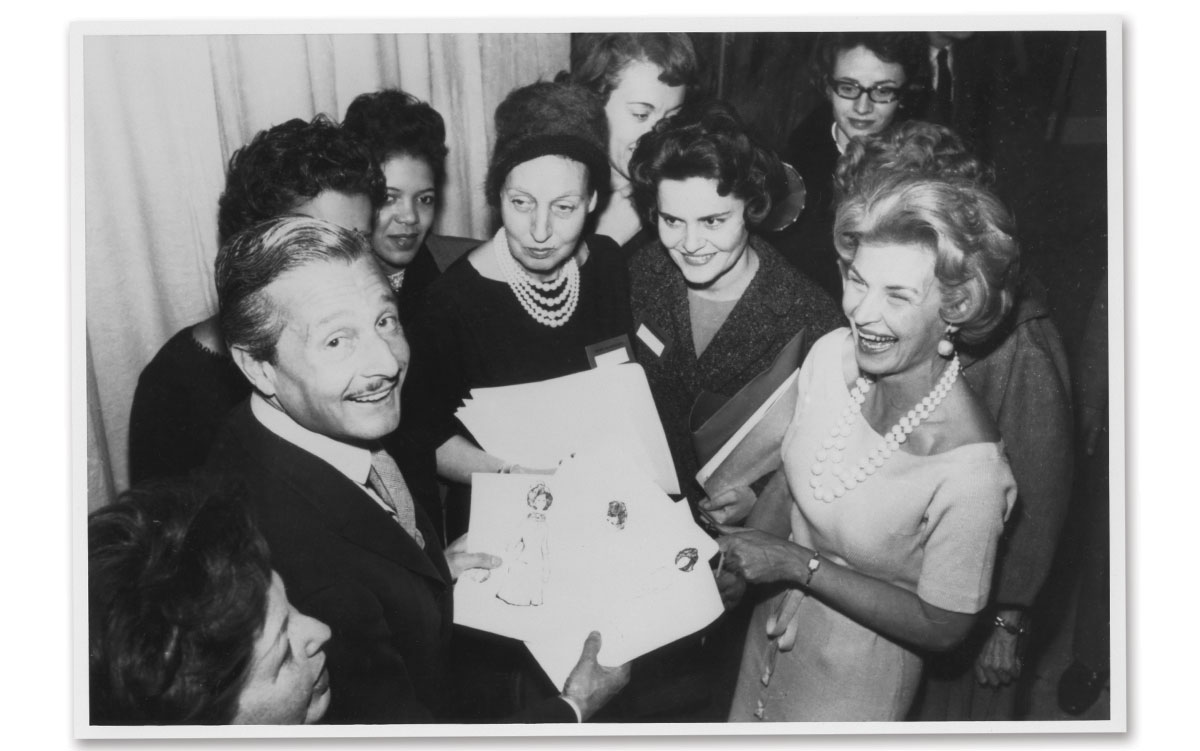 Oleg Cassini and Fashion Editors
Combining his knowledge of Old World and modern Europe, Hollywood, the tennis courts of Palm Beach and Newport, and of course, New York City, Oleg Cassini invented a new brand of fashion that was distinctly American and of its moment. For his first collection, Cassini took to the stage, narrating the looks and imbuing the scene with his personality, unusual in an industry where the designers typically remained backstage and the models were called by number over a PA. The first collection was a smash — the president of Lord & Taylor devoted all of their storefront windows to his designs — and by 1955 sales had reached $5,000,000. Oleg Cassini's career had turned a very positive corner.
Cassini spent the early 1950s traversing the country, personally selling his collections to department stores in the interior, something his predecessors had never done, and moving between the Hollywood and New York scenes. Cassini's brother Igor coined the term "the Jet Set" for this generation that constantly flew from New York to Los Angeles (then a ten-hour flight), Las Vegas, Paris, Rome, and the Riviera. In 1954, Cassini set out to woo Grace Kelly and sent her roses every day. The two were briefly engaged before her marriage to Prince Rainier of Monaco.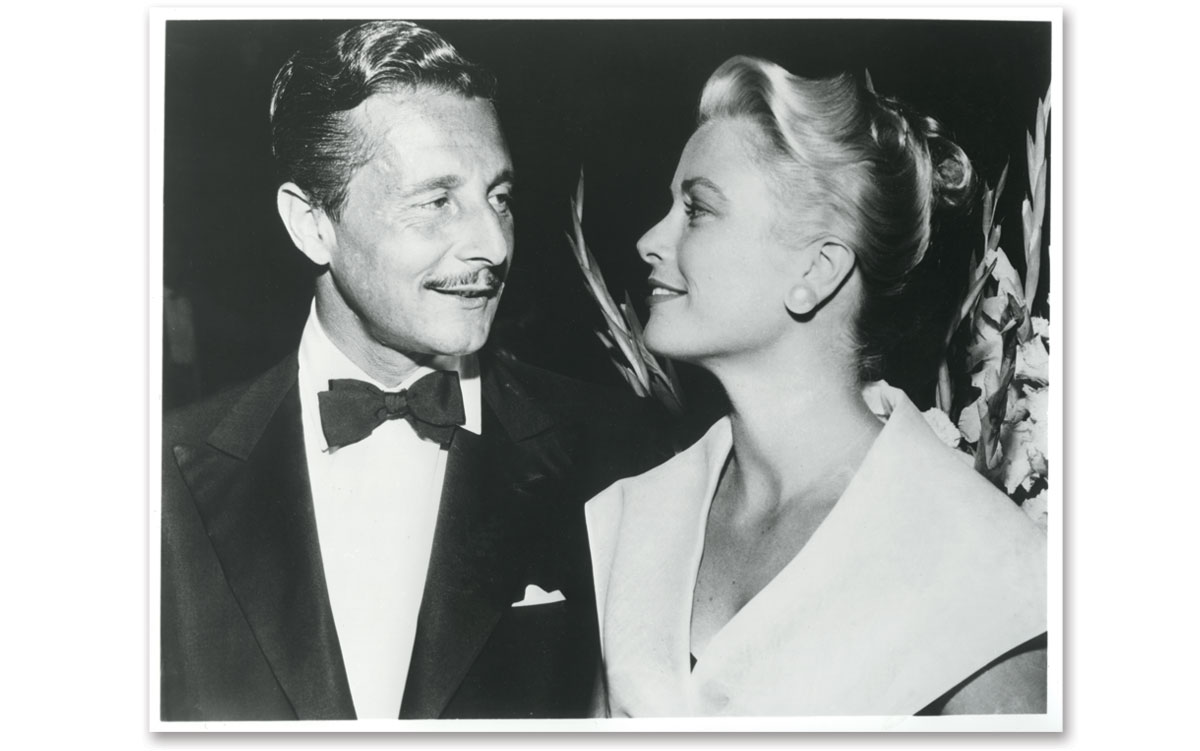 Oleg Cassini and Grace Kelly
In December 1960, Cassini's career-defining opportunity came when he was chosen by Jacqueline Kennedy to design her fashions for the White House. Cassini had long known Joe Kennedy and his war-hero son John, and had first met Jacqueline Bouvier before her marriage in the early 1950s. Invited by President-Elect Kennedy to meet Jacqueline at Georgetown Hospital (she had just given birth to son John Jr.) to present to her drawings of potential dresses and First Lady looks, Cassini worked furiously to prepare a new line for the First Lady. Mrs. Kennedy had always had her clothes made by the top French couturiers of the day, but for the White House she wanted an American designer. Cassini wrote in his autobiography that he told the First Lady: "'You have an opportunity here,' I said, 'for an American Versailles.' She understood completely what I was trying to communicate; she began to talk excitedly about the need to create an entirely new atmosphere at the White House. She wanted it to become the social and intellectual capital of the nation" (Oleg Cassini, In My Own Fashion, 1987, p. 327).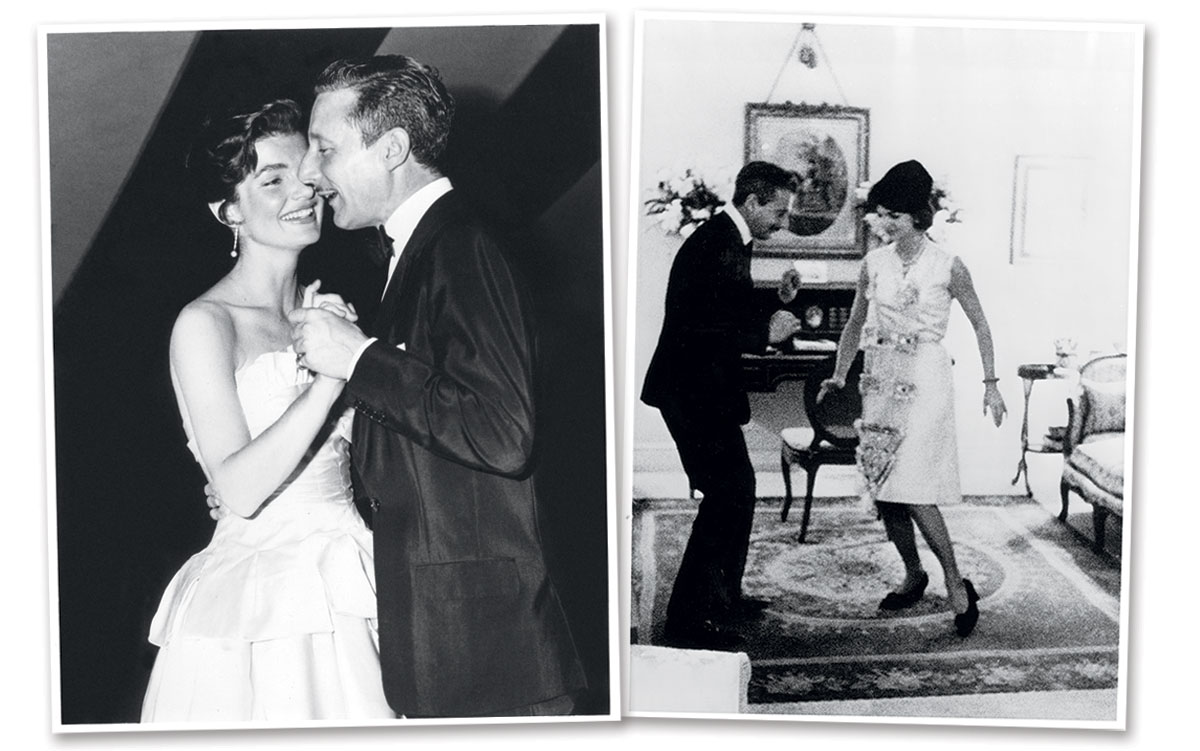 Oleg Cassini and Jacqueline Kennedy
Mrs. Kennedy loved Cassini's design for a gown to wear to the Inaugural Gala (she had already ordered a dress from Bergdorf's for the Inaugural Ball), and Cassini was selected as the First Lady's designer and was soon dubbed the "Secretary of Style." From 1960 to 1963, Oleg Cassini would design over 300 items for Mrs. Kennedy, creating the "Jackie Look" that contributed not only to a fashion revolution but also the dawn of a new age. Cassini wrote that "Jackie played a very active role in the selection of her clothes. She loved brilliant colors — pistachio, hot pink, yellow, and white among others. Her sense of style was very precise; she would make editorial comments on the sketches I sent her. She always knew exactly what she wanted; her taste was excellent" (Oleg Cassini, In My Own Fashion, 1987, p. 334).
Oleg Cassini and John F. Kennedy
After the Camelot years, Cassini's business flourished and grew into a major industry; his name appeared on everything from couture to tennis-, sport-, and swimwear, car interiors, housewares, and perfume. He collected beautiful and rare artwork, arms and armor, and antique furniture, and lived the lifestyle projected by his image. From this period onward, Cassini also came to live in important homes. Of his Gothic Gramercy Park townhouse on Manhattan's 19th Street he would write imaginatively, "I walked into the foyer and immediately fell in love. It was a place unlike any other in New York, a sixteenth-century Dutch house transported brick by brick from Europe by the Wells Fargo family in the early twentieth century. There was a vaulted, twenty-foot ceiling in the living room, leaded windows, elegantly carved wood paneling in many rooms… It felt like home; I bought it on the spot, and spent the next few years decorating it. Soon the interior of the house looked exactly as I'd dreamed it would, like a sixteenth-century Florentine palazzo" (Oleg Cassini, In My Own Fashion, 1987, p. 361).
Of Moorelands, his country estate, Cassini wrote, "I realized I needed a country retreat that complemented my medieval home in the city; eventually I found it in Oyster Bay, Long Island — a splendid Edwardian mansion designed by Louis Comfort Tiffany, on 48 rolling acres overlooking Long Island Sound…I knew immediately that it possessed a beauty and grace…" (Oleg Cassini, In My Own Fashion, 1987, p. 391).
Oleg Cassini died in New York in 2006 at 92 years old. As a designer he made history and influenced the look of fashion for decades, and is remembered as a connoisseur of European elegance, American style, and for a life well lived.
The Estate of Oleg Cassini
Auction June 27, 2019 at Doyle in New York
Exhibition June 22-24 at Moorelands in Oyster Bay Cove, Long Island