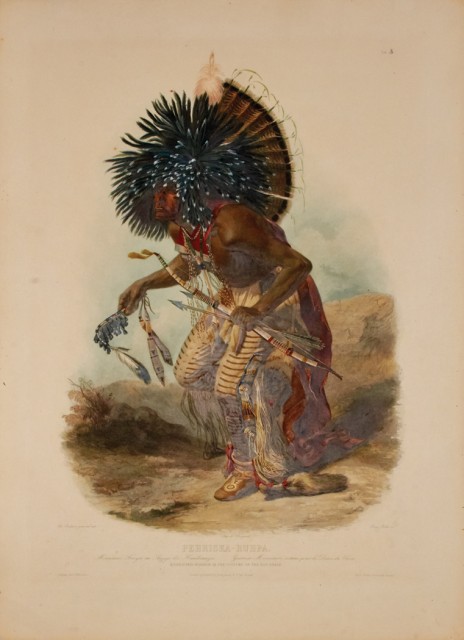 "[The] detailed studies of these tribes, form the primary accounts of what became virtually lost cultures" -- (Goetzmann. Karl Bodmer's America.)
NEW YORK, NY -- Doyle's November 7, 2017 auction of Rare Books, Autographs & Maps features a group of very rare early illustrated works on Native Americans that provide the best visual record of thriving peoples that would be much diminished after 1850. The folio volumes are often referred to as "Color Plate" books for their large format engraved or lithographed illustrations, which are typically beautifully colored by hand. The books to be discussed here, all in production before 1840, represent the achievements of the intrepid authors and painters who ventured into the frontier and engaged the Native American tribes, and also the remarkable technical achievement of American and English printers and colorists who produced the works. But, ultimately, the lasting appeal and importance of these volumes is derived from the portraits and scenes that capture an era before the lands and populations of these tribes were greatly diminished by treaty, illness, war and expansion.
James Otto Lewis, the Philadelphia-born son of a Hessian soldier, was an engraver and painter who accompanied Lewis Cass, the long-serving governor of the Michigan Territory, to paint portraits of individuals and larger scenes at a seminal event in American history, the September 1825 Treaty of Prairie du Chien held in Wisconsin. It was on the expedition that Lewis painted the portraits of notable Sioux, Sac, Fox, Ioways, Chippewa and others as well as a sweeping multi-figure view of the treaty grounds with an American flag flying high over the scene. Later at the treaties of Massinewa, Fort Wayne, and Green Bay (all in 1827), Lewis would paint tribesmen of the Pottowattomie, Miami, Winnebago, Shawnee, Ottawa and others adding to his already valuable cache of warrior portraits. These paintings formed the basis of his Aboriginal Port-Folio, published in Philadelphia beginning in 1835 and featuring a stunning group of dozens of hand-colored lithographs such as the portrait of Waa-Naa-Taa or Foremost in Battle and The Son, A Miami Chief.
Offered in the November auction is a family copy of the album, assembled by Lewis' great nephew and including an original 1844 oil painting by the nephew titled Indian Squaw and her Papoose. Lewis' Port-Folio is of great quality and is considered the first major work of its kind (est. $15,000-20,000). Sadly, it was the agreements made during these treaties that formed the borders that further enclosed the tribes, initiating myriad problems that soon led to great population reduction.
The artist most associated with Native Americans and the color plate books of the period is George Catlin, who journeyed west to St. Louis five times between 1830 and 1836, visiting and painting up to fifty tribes, such as the Pawnee, Omaha, Cheyenne, Crow, Blackfeet and several others. Beginning in 1838, Catlin lectured and toured the paintings and artifacts gathered on his expeditions in his salon style "Indian Gallery" in both the United States and Europe (his paintings are now part of the Smithsonian's American Art collection). Ever the entrepreneur, Catlin then envisioned a four-part work to be titled Catlin's North American Indian Portfolio, although only the first part depicting Hunting Scenes and Amusements was published. In a twist of irony, for various reasons Catlin decided to have his great work printed and colored in England where it was first issued under his "Egyptian Hall" imprint in 1844. However, the work was pirated – literally recreated as a copy – in New York by an overzealous lithographer named James Ackerman, who undertook to redraw on stone and color each of Catlin's lithographs for his unauthorized American edition, which appeared in New York in 1845. Ackerman also had another agenda: to prove to the public that American artists could produce works on a par equal with their English counterparts, and that American collectors should focus solely on American publications.
The auction offers a complete and wonderfully preserved copy of Ackerman's extremely rare piracy, the hand-coloring of which is considered superior to Catlin's own work. This particular copy once belonged to the great Americana collector Frank T. Siebert (est. $100,000-$200,000), and is one of only fifteen known copies. Catlin's scenes provide expansive views of buffalo hunting, wild horses, ceremonial dances, and ball playing (an early version of lacrosse). He eventually sold the rights to his work, and six additional plates not present in the original 1844 edition were added to the 1875 edition published by the London firm Chatto & Windus, an extremely fine and bright copy of which is also offered in the sale (est. $50,000-80,000).
The greatest plates depicting Native Americans were produced by the Swiss painter Karl Bodmer to illustrate the travelogue of the German Prince Maximilian of Wied-Neuwied. The pair journeyed up the Missouri River from 1832 to 1834 and documented the major Plains Tribes: Cree, Assinboine, Mandan, Mintari, Crow and Blackfeet. The images of the Blackfeet and Mandan people are particularly important, as these tribes were greatly diminished by an 1837 smallpox epidemic.
The auction offers eighty of the eighty-one plates that made up the atlas volume of this seminal work (est. $40,000-60,000). The lot includes one of the best and most recognizable images of the American West Pehriska-Ruhpa ... Moennitarri Warrior in the Costume of the Dog Danse. The action of this full figure in movement is captured with an immediacy, accuracy and personality that is unparalleled in the genre. While Bodmer's work was not produced in America, but printed and colored in Paris and published in that city, as well as in Koblenz, Germany, and London, it helped introduce images of America's western natives to a European world ravenous for imagery of the United States as it expanded its borders.
The technical achievement of these rare folio volumes represent the best of a complicated period of American history. Luckily for us today, this period coincided with the great foresight of artists such as Lewis, Catlin and Bodmer to capture moments that would not be available to even the next generation.
Rare Books, Autographs & Maps

Auction: Tuesday, November 7, 2017 at 10am / Exhibition: November 4 - 6