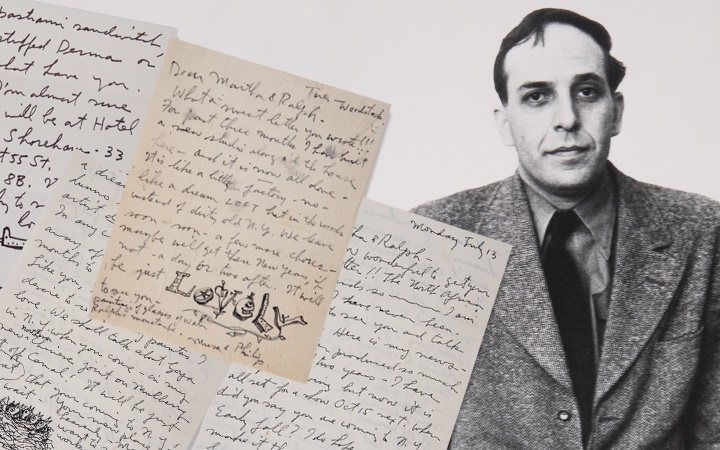 NEW YORK, NY -- Letters written by artists often offer their most unguarded statements on their work, statements that are invaluable to future collectors, curators and art historians. A remarkable offering in Doyle's October 13, 2022 auction of Rare Books, Autographs & Maps are a group of important illustrated letters and a portrait photograph from the enigmatic and largely self-taught painter Philip Guston (1913-1980). The letters are revelatory as they were mostly written on the eve of, and contain rare comment on, the October 1970 Marlborough Gallery exhibition that has defined his career to this day. The letters are written to Guston's former studio monitor from his teaching days at the New College Fine Arts Institute in Sarasota, Florida, Martha Hyams, and her husband Ralph Hyams. The letters commence in the summer of 1967, shortly after Guston's arrival in Woodstock, New York, where he lived and worked until his death in 1980. In the fall of 1968, Guston sends "some October leaves" (present) and comments on his new work: "Tons of drawings, tons of thoughts, tons of brooding... Painting again, like a hungry man - don't know what it is but it feels right. There is so much to do as well as so little to do. Nothing real but intuitions and something in your hand to make a mark." At the end of this letter, Guston has provided a drawing of a branch with "Art" and "Life" written within two of the leaves.
In July of 1970, Guston, in the midst of finalizing his works for the October opening at Marlborough Gallery, writes: "I have never produced so much as these last two years - I have delayed showing but now it is all set for a show Oct 15 next ... I would like your eyes on the new stuff - I call it a dream of violence - but I dunno - I'm convinced that the artist doesn't know what he does! In any case we are going to run away after the opening for a few months to Europe." At the end of this letter, Guston has provided a detailed drawing in his usual style depicting a nest with four chicks, two butterflies, three caterpillars, and one snail. On October 9, 1970, Guston is excited that the Hyams will be there for the opening on the 16th, his letter providing an airplane situated between a palm tree and the New York City skyline. Present at this point in the correspondence is the original October 1970 Marlborough Gallery invitation to attend "the opening of an exhibition of paintings by PHILIP GUSTON." After this now legendary opening, Guston's life and career would never be the same as commentary and criticism on these challenging works has consumed scholars and critics for the past fifty years.
The most elaborate drawing prepared by Guston within these letters is set within the earliest, which is undated but likely written in December 1967. Guston writes from Woodstock: "For past three months I have built a new studio alongside the house here - and it is now all done - It is like a little factory - no - like a dream LOFT but in the woods instead of dirty old N.Y." At the end of the letter, he reports it would be "lovely" to see Martha and Ralph and has elaborately illustrated the letters of that word as follows: L: bricks, O: wheel, V: calla lily, E: cartoon head with top hat, L: dots, Y: flower. The postcards sent also reflect the influence of art on Guston's thinking, and here he has chosen to send a postcard of a Japanese ink drawing and two of Etruscan antiquities. Of note is also the photograph of Guston, similar to those from his sitting with Arnold Newman in 1947, gifted to the Hyams by Guston in the 1960s.
Raised in Los Angeles, Philip Guston counted Jackson Pollock as a high school friend and was later a muralist for the W.P.A. Aware of racism against Jews and African Americans from an early age, including attacks by the Ku Klux Klan, Guston was involved in the creation of a mural defending the Scottsboro Boys in 1932. In the 1950s, Guston gained success as a first-generation abstract expressionist and he was working in this style at the time he met the Hyams while teaching alongside Conrad Marca-Relli at the New College Fine Arts Institute in Sarasota. Guston's opening at the Marlborough Gallery in October of 1970 was one of the most highly anticipated of the season. At the opening though the crowds were shocked to see Guston moving away from abstraction and back towards representation, most noticeably stylized Klansmen, the cause of much controversy then and now. The initial reviews were harsh. Writing in ARTnews in 2020, Alex Greenberger well described the effect of the show on Guston's career: "It disappointed many when he returned to figuration with aplomb, painting mysterious images in which cartoonish-looking cups, heads, easels, and other visions were depicted against vacant beige backgrounds. People whispered behind his back: 'He's out of his mind, and this isn't art,' curator Michael Auping said. 'He could have ruined his reputation, and some people said he did.'"
A retrospective of Guston's works planned for the The National Gallery in Washington and other museums in 2020 was postponed nearly two years as the institutions sought to contextualize the works in light of current political movements. Guston continued to work in this challenging vein until his death in 1980 and the debate over his work has increasingly focused on this narrow time period. The present archive, unpublished and worthy of scholarly and institutional interest, provides insight to this critical period in Philip Guston's career.
See:
Greenberger, Alex. Philip Guston's KKK Paintings: Why an Abstract Painter Returned to Figuration to Confront Racism, in ARTnews, 30 September 30, 2020.
Jacobs, Julia. After Backlash, Philip Guston Retrospective to Open in 2022, in The New York Times, 28 October 2020.
Rare Books, Autographs & Maps
Auction Thursday, October 13, 2022 at 10am
Exhibition Oct 8 - 10
Featured in the October 13 auction is an archive of illustrated letters by Philip Guston.