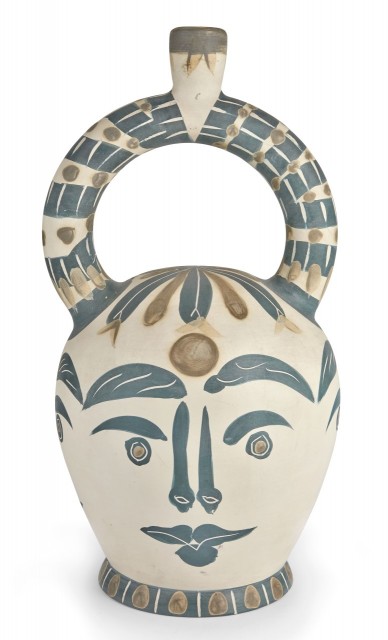 NEW YORK, NY -- Ceramics by Pablo Picasso provide a wonderful opportunity for collectors to purchase works of art by one of the most innovative, prolific and celebrated artists of the 20th century for a fraction of the price of his paintings. Picasso himself welcomed the idea of making multiples from his unique ceramics, generally in editions of 50 to 500, and was pleased that they would be affordable to a wide audience.
While residing in the south of France in 1946, Picasso attended the first annual pottery exhibition in Vallauris. The artist would later create several original posters to promote this annual event. Though the village has a history of pottery-making dating back to Roman times, local interest in the craft had declined. One of the exhibitors was the Madoura workshop owned by Georges and Suzanne Ramie. In 1936 they had purchased a complex of old buildings and a wood-fired kiln from a closed facility in Vallauris, where they produced plates and art pottery. Picasso became entranced by the Ramies' pottery at the show, prompting a trip to their studio.
On his first visit to Madoura, Picasso created three small objects: two bulls and the head of a faun. This experience made a strong impression on the artist. He returned the following year with numerous illustrations of ideas he wanted to realize in ceramic form. The Ramies were delighted to welcome Picasso back, and provided him with an area in which to work. Though the artist had first worked in clay forty years earlier, it was not until he came to Madoura that ceramics truly captured his imagination. Over the next 24 years, he created approximately 3,500 unique ceramic objects and authorized the Ramies to produce more than 633 numbered editions of his work.
The magnificent Service Poisson (Fish Service) from 1947 is among the group of ceramics made during Picasso's first year devoted to the medium. The 26-piece set, rare to find complete, comprises bowls, plates, a platter and a soup tureen. On each he depicted a fish using a vibrant palette including bright shades of yellow, blue and green, evoking the ocean and bright sunlight of the Mediterranean coast. This was a departure from the dark colors found in his art created while living in Paris during World War II with his ex-lover Dora Maar, and a reflection of his newfound happiness -- it was at Madoura that he met his second wife, Jacqueline Roque, of whom he created more works of art than of any other woman. She was the subject of many of his ceramics, such as Visage from 1955.
Picasso embraced pottery-making with the same zeal he had for painting, drawing and printmaking. This resulted in a prodigious creative output that characteristically broke through preexisting boundaries. Picasso playfully incorporates the three-dimensional nature of the medium into the design. Utilitarian pieces such as pitchers are transformed into sculptural objects, the entire body metamorphosing into a fish, bird or face. The face was one of Picasso's most popular subjects in all artistic media, as illustrated in several other ceramic pitchers and the monumental Vase Azteque aux Quatre Visages (Azteque Vase with Four Faces) in this sale.
Picasso belied the three-dimensionality of ceramic in many of his plates, chargers, and plaques, depicting a flattened image of a traditional painting subject head on, such as Paysage (Landscape) from 1953, suggesting a work on canvas or paper. He created the image of some, including Danseurs, as he would an etching or drypoint, using a tool to carve the lines; however, instead of an etching needle on metal, he used unconventional items such as a kitchen knife to cut into a plaster mold, which was taken from an existing piece of pottery. Impressions could thus be taken from the plaster matrix to create editions, referred to as Empreintes originales, and bearing the Empreinte Originale de Picasso Madoura pottery stamp.
Created by Picasso late in his career, these extraordinary ceramic objects provide us with yet another glimpse into the artistic vision of one of the greatest artists of the 20th century.
Prints & Multiples
The April 29, 2020 auction of Prints & Multiples offers a selection of Picasso ceramics and prints in a range of values. Add to your existing collection or begin a new one!