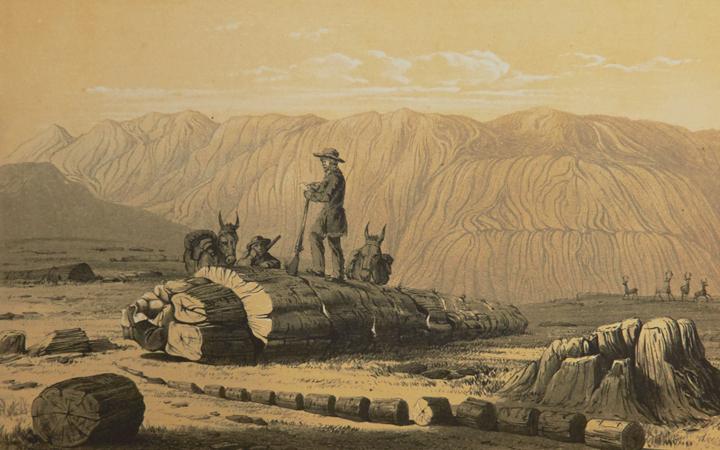 NEW YORK, NY -- Doyle's continuing series of online auctions of books from the Library of Arnold "Jake" Johnson offers bibliophiles, history buffs, and sport and travel enthusiasts a wide range of material spanning two centuries. The current sale of over 300 lots of books and maps is particularly rich in a certain aspect of American history -- pioneer narratives of the American West.
Dozens of lots narrate an author's true (but often exaggerated) experiences crossing the Plains on the Oregon Trail, settling the rugged terrain of Texas and Oklahoma, exploring the rivers of Canada and the Rockies, risking all for the riches of the Colorado, California and Alaska Gold Rushes, as well as the travelogues of many Englishman and foreigners as they adventured in the interior. Many works deal directly with the negotiations, wars, and encounters with the American Indian as the country surged West.
As a class, these narratives and reminiscences are bibliographically interesting and often quite rare. They are the source material for American legends, such as Daniel Boone, Davy Crockett, Grizzly Adams, Deadwood Dick, Theodore Roosevelt and other notables of the West. While these pioneer narratives report incidents that occurred from 1830-1860, most were only printed as a matter of preserving the oral history of the "old timers" before they would be lost forever, and most were printed between 1870-1910. While this post-Civil War period may seem late to many collectors of Americana, it is important to consider how much the interior of the country changed in this period, and how remote many of these places remained into the 20th century.
The pioneer narratives offered in the auction tended to be printed in very small amounts for family or local distribution, not for nationwide circulation, and relatively few survive. Many were printed at local newspaper offices on whatever paper was available and using rudimentary technology to reproduce images, the bindings simple affairs of cloth or leather.
The imprints, or publishing location, and titles of these books gives sense of their homespun, purely American nature:
Take for instance the Life and Adventures of "Billy'' Dixon of Adobe Walls, Texas Panhandle, printed at Guthrie, Oklahoma in 1914 (est. $250-350) (Lot 278)
Philip Tome's 1854 Pioneer Life; Or, Thirty Years a Hunter. Being Scenes and Adventures in the Life of Philip Tome, fifteen years Interpreter for Cornplanter and Gov. Blacksnake, Chiefs on the Allegany River. (est. $1,000-1,500) (Lot 289)
Burt Burrough's Tales of an Old "Border Town" and Along the Kankakee ... Days of the Pioneers in Momence, Illinois and the Hunting Grounds of the Kankakee Marsh and "Bogus Island" printed at Fowler, Indiana (est. $50-80) (Lot 150)
David Coyner's The Lost Trappers; A Collection of Interesting Scenes and Events in the Rocky Mountains; Together with a Short Description of California, published 1847 but reporting the harrowing events of an 1807 trapping expedition led by former Lewis & Clark hands in which 17 of 20 men were killed by the Comanche, one man survived and returned to St. Louis and two men found Spanish guides who brought them to California. (est. $200-300) (Lot 252).
Morris's London-published Rambles in the Rocky Mountains: With a Visit to the Gold Fields of Colorado (est. $60-80) (Lot 253).
They would take decades to compile, but the importance of these works was noted by early collectors, and most titles are listed in the important 20th century bibliographies of these subjects. These bibliographies provide not only a bibliographical checklist of these works in their first editions, but also road map for collectors who seek these titles based on their inclusion in a bibliography. These bibliographies include: The Everett D. Graff collection of Western Americana; Wagner/Camp's The Plains and the Rockies: a bibliography of original narratives of travel and adventure: 1800-1865; Adams' Six-Guns and Saddle Leather: A Bibliography of Books and Pamphlets on Western Outlaws and Gunmen; Adams' The Rampaging Herd: A Bibliography of Books and Pamphlets on Men and Events in the Cattle Industry; and others. Many books offered in this sale also emanate from major 20th century collections, including those built by Thomas W. Streeter, Edward S. Litchfield, and Franklin Brooke-Hitching.
Also offered in the auction is a selection of Adirondack literature, including titles by W.H.H. Murray, such as How John Norton the Trapper Kept His Christmas, published at St. Johnsbury, Vermont, 1885 (est. $200-300) (Lot 7).
Traditional Americana includes Williams' The Natural and Civil History of Vermont, 1794 (Lot 294). Mrs. Lucy Crawford's scarce 1846 History of the White Mountains with its White Hills imprint (Lot 226). Willliam Emory's Report on the United States and Mexican Boundary Survey, Made Under the Direction of the Secretary of the Interior (Lot 293) with two foundational maps of the West; and Baldwin Mollhausen's 1858 Diary of a Journey from the Mississippi to the Coasts of the Pacific with a United States Government Expedition, 1858 (Lot 208).
Americana from the Library of Arnold "Jake" Johnson

Timed online-only auction ends Tues, Jan 29 beginning at Noon EST
Exhibition by Appointment
Fri, Jan 25, 10am - 5pm / Mon, Jan 28, 10am - 5pm