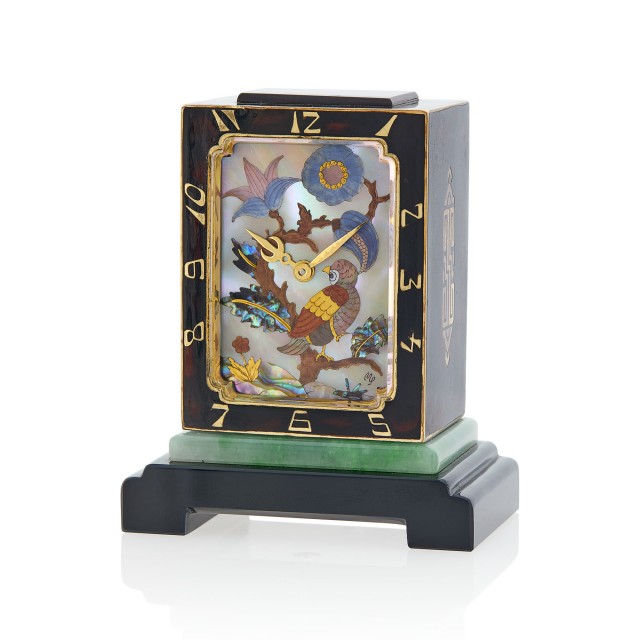 NEW YORK, NY -- Doyle is honored to auction Property from a Westchester Collector, a diverse collection of works lovingly acquired over the course of several decades in Switzerland, London, and New York. Highlights of the collection include Post-Impressionist paintings by Raoul Dufy and Louis Valtat, pre-revolutionary Russian objets de vertu and Fabergé, and exquisite French Art Deco clocks and cases by Vacheron & Constantin, Cartier and Van Cleef & Arpels.
Important Jewelry / Auction April 27, 2023
Featured among a selection of fine clocks is an Ostertag, Vacheron & Constantin Gold, Tortoiseshell, Mother-of-Pearl, Abalone Pearl, Jasper, Jade and Black Onyx Miniature Desk Clock, circa 1925 (est. $30,000-50,000). This exquisite clock is signed by the Russian-born inlay artist, Vladimir Makovsky, who fled to Paris during the Russian Revolution and was active from 1920 to the mid-1930s. Makovsky's intricate work for such leading jewelers as Vacheron Constantin, Cartier, and Van Cleef & Arpels was inspired by Asian design and rarely appears on the auction market. Highlighting a selection of exceptional Art Deco cases is a Gold, Platinum, Red Enamel, Carved Lapis and Diamond Vanity Case by Van Cleef & Arpels, Paris, circa 1925 (est. $20,000-30,000) and a Black, Starr & Frost Gold, Platinum, Enamel, Mother-of-Pearl, Abalone Pearl, Hardstone and Diamond Compact, circa 1925 (est. $12,000-18,000), signed by Vladimir Makovsky. View Lots & Place Bids
Impressionist & Modern Art / Auction May 17, 2023
Raoul Dufy's Paysage Aux Oliviers, Sicily, 1922-23 (est. $60,000-80,000), dates to the period when the artist found inspiration in the Mediterranean, painting landscapes and life in Italy and southern France. This landscape of Sicily showcases Dufy's spirited and loose brushstrokes, as well as the intensity of his palette. Louis Valtat's Repos au Bois (est. $25,000-35,000) demonstrates the artist's delicate application of soft hues that captures the essence of nature. Sale Details
Fabergé & Vertu / Auction May 23, 2023
A group of Russian works of art includes three works by Fabergé. A Fabergé Silver-Gilt and Cloisonné Enamel Covered Box, in the original fitted case (est. $10,000-15,000) and a Fabergé Silver-Gilt and Cloisonné Enamel Kovsh (est. $8,000-12,000) both bear the mark of Feodor Rückert. The most important enameller working in Imperial Russia, Rückert enjoyed a highly productive relationship with Fabergé in Moscow. Both works date from 1908-1917, Rückert's most inventive and sought-after period, when his work reflected the influence of the emerging Neo-Russian style. A Fabergé Two-Color Gold-Mounted Hardstone Gum Pot and Hand Seal, with the mark of head workmaster Michael Perchin, 1899-1903 (est. $15,000-20,000), is an example of the fine gold and lapidary work produced by the firm's workmasters in St. Petersburg, who favored revivalist styles.