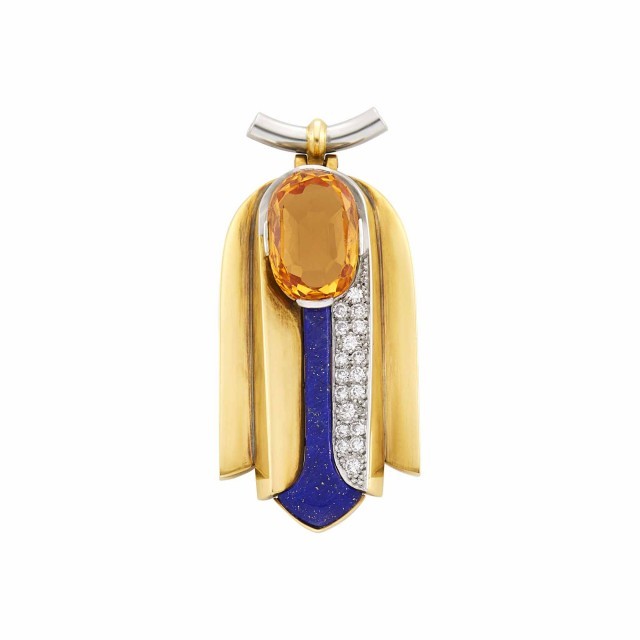 Raymond Templier was instrumental in the founding of the influential Art Moderne movement of the 1920s. He was one of the most important Art Moderne jewelers of the era.
Templier was born in 1891 into the third generation of famed French jeweler Maison Templier. Founded in 1849 by his grandfather, Maison Templier thrived under his father's direction. Their beautiful jewels were made in the traditional and popular styles of the day -- from the platinum and diamond garlands and bows of the Belle Epoque/Edwardian period in the late 19th and early 20th century to the diamond encrusted geometric Art Deco designs of the 1920s.
Raymond Templier joined the family business in 1919 after graduating from the École nationale supérieure des Arts Décoratifs at the Louvre Museum. He brought with him a very different vision as an unwavering advocate of the sleek modernist aesthetic. In 1925, he exhibited at the Exposition Internationale des Arts Décoratifs et Industriels Modernes in Paris. His jewelry attracted a great deal of attention and acclaim at the time of the exposition, which encouraged him to pursue his vision further. Laurence Mouillefarine, author of the book, Raymond Templier: Le bijou moderne, describes Raymond as "the artist of the family. He was a perfectionist and demanding when it came to manufacturing. His jewellery pieces are flawlessly crafted, impeccable."
In Paris, Templier joined an exclusive group of like-minded colleagues who embraced minimalist, cubist-leaning designs in their jewelry. Together they founded the UAM, Union des Artistes Modernes, in 1930. This group included such notable names as Jean Despres, Gerard Sandoz and Jean Fouquet. Like Templier, several other founding members were third generation French jewelers craving a fresh direction, moving away from the traditions of the past.
The Art Moderne movement rebelled against the excesses of the Roaring '20s. In stark contrast to the earlier bejeweled diamond pieces, the new designs were streamlined and minimal but still complex. They incorporated geometric lines, circles, curved arcs and scooped wedges in a layering of mixed metals and materials, perhaps highlighted by semiprecious stones and accents of small diamonds. Raymond Templier's creative genius was in the melding of shapes, tones, dimension and colors set in harmonious contrast within his pieces.
Templier often used unusual color combinations in his pieces, exemplified in a circa 1930 gold pendant centering an Imperial Topaz contrasted against blue lapis lazuli inlay and asymmetrically accented with diamonds on the stylized inverted tulip. Lapis, onyx and coral were often used by Templier during the late 20s and early 30s. An eye-catching gold, lapis lazuli, onyx and diamond ring, circa 1929, is illustrated on page 140, item 13 in the book Raymond Templier: le bijou moderne by Laurence Mouillefarine and Véronique Ristelhueber. It features a stylized C-shaped lapis section embracing an old-European cut diamond framed by an opposing rectangular onyx in a clean asymmetrical design. Both of these pieces will be auctioned with Important Jewelry on December 16, 2020.
Raymond Templier was quoted as saying he found inspiration as he walked the streets, from "the wheels, the cars and the machinery of today." Indeed, we see this in so many of his pieces. In another circa 1929 ring, Templier masterfully combined cool and warm tones, light and dark shadows, angular and curved forms and texture into an aesthetically pleasing design.
It is interesting to note that every piece signed by Raymond Templier was designed by him personally. These jewels exemplify the influence that the machine age had on Templier's work from the mid-1920s into the 1930s, at which point his jewelry transitioned into more curvaceous designs favoring cabochon stones.
When his father Paul retired in 1935, Raymond Templier took over the family business. The firm continued to exhibit their jewelry widely, making bold statement pieces in Raymond's sleek Art Moderne style. Though trends changed, Raymond Templier remained true to the Art Moderne aesthetic. He retired in 1965 and died three years later.
The inclusion of Raymond Templier's works in the collections of London's Victoria and Albert Museum, the Musee des Arts Décoratifs in Paris and the Metropolitan Museum of Art in New York speak to the scarcity and importance of his work. Rarely do Raymond Templier pieces come on the market, but any piece would be a worthy addition to serious jewelry collections lucky enough to acquire one.
Important Jewelry
The auction of Important Jewelry on Wednesday, December 16, 2020 at Noon offers two rare examples of jewelry created by Raymond Templier.