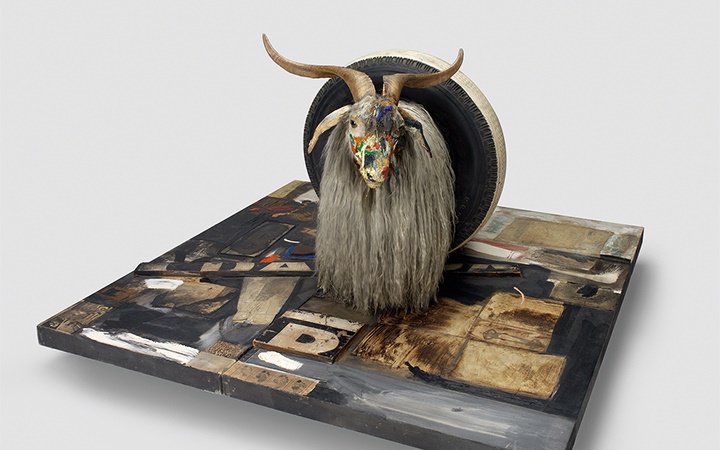 The major exhibition "Robert Rauschenberg: Among Friends" at the Museum of Modern Art in New York is an exhaustive retrospective, covering six decades, over 250 works and multiple video and sound pieces. The major takeaway here is of course, collaboration. Rauschenberg pushed fine art into new frontiers, influencing and being influenced by many of the great talents of the last half of the 20th century, including John Cage, Merce Cunningham, Cy Twombly and Jasper Johns, among others. The collaborative projects these artists created are well represented and are in many cases the most intriguing works in the exhibit.
It all starts at the legendary Black Mountain College, where Rauschenberg studied under artist and former Bauhaus teacher Josef Albers. Pushing the usage of new and unorthodox materials, Albers explored the juxtaposition of objects and mediums, leading Rauschenberg to explore not only screen printing, photography and metal work, but also the usage of non-art materials like cardboard, auto parts and house paint. This was a practice that would continue to inform his work for the whole of his lifetime. Rauschenberg's second stint at Black Mountain College in the early 1950s found him collaborating with Cage, Twombly and Cunningham, and again, these relationships came to define both his career as well as represent the zeitgeist of what would become Postwar Art. The lifelong value of Rauschenberg's time at Black Mountain College cannot be understated: he worked with his wife, Susan Weil, a fellow student, and he ran with the idea of the "combine," as preached by Albers. With these new practices and relationships Rauschenberg forged a path beyond Abstract Expressionism. His work set the stage for Pop and for the Contemporary art that would follow, as well as the marriage of fine art to dance and music.
The notorious "Erased de Kooning Drawing" from 1953 is featured, and though reams have, of course, been written on this work, in this context it's important to again note that the piece essentially closes the door on the modern art that preceded it. Rauschenberg, by literally erasing a drawing given to him by Willem de Kooning, aggressively takes his stand against the past, like Napoleon's soldiers firing their weapons at the Sphinx. While many of Rauschenberg's most successful works to follow would share the giant-size machismo of Pollock, Motherwell and others, the "Erased Drawing" is a statement that this is a crucial mile marker in art history. Slightly earlier are the "White Paintings" from 1951. Two are on display, a two-panel work and a six-panel work. Most interesting, however, are the instructions included in a nearby vitrine describing how to make these stark, blank paintings. By requesting that age and wear not effect these works, the need to then repaint them and update the surface removes the artist from the equation, preceding similar practices to come by Minimalists like Sol LeWitt, Dan Flavin and Lawrence Weiner, where the concept was the art, and the artist was essentially immaterial.
Walking through the exhibit, I was struck by just how unorthodox and challenging this work must have appeared in its day. An untitled construction from 1952, a Coca-Cola crate filled with random objects seems to relate to the early works of close friend Jasper Johns. Indeed, the pair often traded ideas during the course of their intertwined careers. From 1953, "Automobile Tire Print" was created by having friend John Cage drive his Model A Ford through paint, and then across twenty sheets of typing paper. The resulting tread marks create an abstract painting that made the creator, as Rauschenberg defined it, "both the printer and the press." Also from 1953, a Cy Twombly painting is included, employing simple latex house paint, another usage of common, modern materials.
For me, the Combines are Rauschenberg's best works, and it is remarkable to think there was a time when his dealer, Leo Castelli, had to beg, cajole, and essentially even trick the notoriously difficult MoMA director Alfred Barr, Jr. into including some of them in the museum's collection. "Monogram," from 1955-59 had easily been my personal favorite work, even though I must admit this was my first opportunity to actually see it in person. A taxidermied Angora goat has a car tire wrapped around its midsection, presented on top of a collaged and painted plinth. The resulting piece is bizarre like Surrealism, big and bold like Ab-Ex, and challenging the notions of taste like Pop Art. It is a totem of the last half of the 20th century; the juxtaposition of highbrow against lowbrow.
An incredible surprise was a work I had been ignorant of, "Mud Muse," from 1968-71. Created as a collaboration with a group of engineers, a clear open-top tank filled with a sort of mud called Bentonite is fitted into a smaller room in between two of the more massive rooms in the exhibition. Air compressors make the mud pit burble and spit like a primordial dancing fountain. A sign warned of mud splashing and encouraged visitors not to get too close. I wondered how many may indeed want to be splashed and a take home a souvenir. "What's that on your jacket?" "Oh, I got a little Rauschenberg mud on me." My flippant commentary aside, the work had a meditative, sublime quality that caused myself and others to become entranced as it pulsated and spat.
This is of course just a simple overview of only several pieces, and I'm overlooking the fantastic "Glut" series of crumpled found metal sculptures, "Bed" and other monumentally important combines, as well as the fantastic videos of Merce Cunnignham's troupe. In short, this exhibit is essential, and it is expected to be seen with a sense of total awe. Luckily, the show has also made a stop at the Tate London and will head to the San Francisco Museum of Modern Art, giving many of us an opportunity to experience it. Much of what is included in "Robert Rauschenberg: Among Friends" are the very foundation for conceptual ideas that revolutionized art, and is indeed required viewing.
Robert Rauchenberg: Among Friends

On view May 21 through September 17, 2017
Museum of Modern Art
11 West 53rd Street
New York, NY 10019
For further information, click here
Image: Robert Rauschenberg. Monogram. 1955–59. Oil, paper, fabric, printed reproductions, metal, wood, rubber shoe-heel, and tennis ball on two conjoined canvases with oil on taxidermied Angora goat with brass plaque and rubber tire on wood platform mounted on four casters, 42 × 53 1/4 × 64 1/2 in. (106.7 × 135.2 × 163.8 cm). Moderna Museet, Stockholm. Purchase with contribution from Moderna Museets Vänner/The Friends of Moderna Museet. © 2017 Robert Rauschenberg Foundation