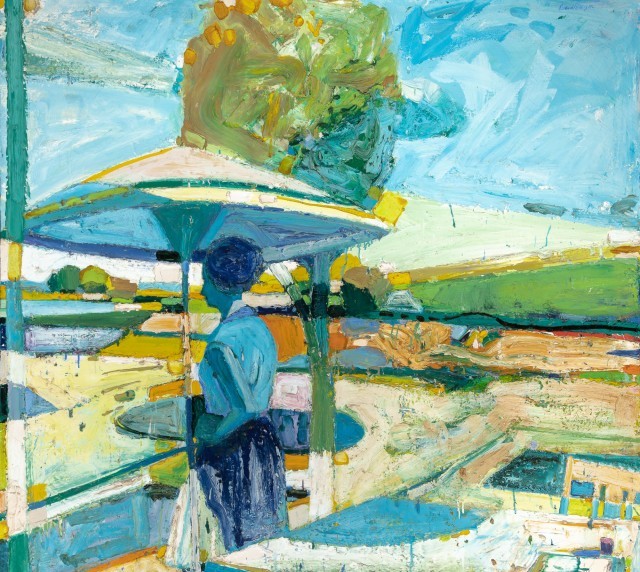 NEW YORK, NY -- Located roughly 70 miles from San Francisco, the University of California, Davis has long been home to a stellar roster of incredible art professors. UC Davis maybe even better known for its annual "Picnic Day" event. Picnic Day began in 1909 when the University invited the local community to visit its new dairy barn and were stunned when 2,000 people attended the event. Now Picnic Day regularly draws upwards of 70,000 attendees.
Roland Petersen, a beloved professor who built the UC Davis art department into something magical by inviting friends like Wayne Thiebaud, Manuel Neri and Robert Arneson to bolster the teaching staff, began his Picnic series in the late 1950s. Each year, he documents the yearly tradition of Picnic Day with a painting. One of a collection of outstanding works culled from the Estate of Randolph Harrison, Petersen's Woman with Parasol and Tree is a stunning example from 1963.
Petersen and his peers – Nathan Oliveira, Paul Wonner (lot 66), John Hultberg and others – are part of the second, or "Bridge," generation of Bay Area Figurative Movement artists. The Figurative Movement artists eschewed the prevailing New York School of abstract art, focusing on representational images while still allowing for many of the cues from Abstract Expressionism to inform their work.
The Bay Area Figurative Movement reflected the various influences of artists who traveled to the region. Clyfford Still, one of the grandest figures of Abstract Expressionism, regularly taught in San Francisco from 1946 to 1950. Known to be imposing and curmudgeonly, Clyfford Still taught abstract painting with cathartic, aggressive compositions – and an attitude to match. When legendary German Expressionist Max Beckmann arrived onto the scene in 1950, he declared to many of Still's former students that abstraction was nothing more than "nail polish."
The dichotomy of influences from the art world outside the Bay Area plus the prevailing Beat scene, with figures like Allen Ginsburg, Gary Snyder and Jack Kerouac closely intertwined, created the foundation for the Bay Area Figurative Movement. This group of artists balanced representational imagery against revolutionary new abstract painting. Thus they created an original body of work that collected and reconsidered everything that surrounded them.
Born in Denmark in 1926, Petersen obtained a degree from UC Berkeley and then went to Provincetown to study with Hans Hofmann around 1950. While teaching art history at Washington State University, Petersen was devoted to Hofmann's teachings and painting exclusively in abstraction. Hofmann never ceased being crucial to Petersen's work, even as Petersen moved into figurative compositions. In Petersen's work, we see Hans Hofmann's concept of "push and pull," the notion of arranging forms to illustrate depth and build a pictorial space – wholly evident in his representational compositions.
Petersen would sketch plein-air landscapes on-site and then return to his studio to develop those sketches into his Picnic Day series. In interviews, Petersen describes how crucial the picnic tables are: by laying out different colored tablecloths, he can create opposing fields of color to rearrange as he wishes. Petersen describes arranging colors like a chess game. So, too, are his figures like chess pieces; they are inserted into and strategically moved about a composition to achieve the perfect balance. The woman in Woman with Parasol and Tree is not a portrait but a representation of a Picnic Day attendee.
Woman with Parasol and Tree is an early entry in the series. It may also be among the thickest impasto of his works, with a voluminous amount of pigment. Looking to the ground rolling beneath the woman and her parasol, both the palette and the composition recall Diebenkorn's "Ocean Park" series. As Petersen's paintings reduced in thickness and flattened, this influence became apparent. Embracing the disconnect between abstraction and representation, Petersen implements the teachings of Hofmann, the naive innocence of David Park, the airy, bright colors of Thiebaud, the loose geometric abstraction of Diebenkorn – all within a moment at a picnic.

Still painting daily into his 90s, Roland Petersen assumedly cherishes the UC Davis Picnic Day, an event he has documented and paid tribute to for well over half a century.
Post-War & Contemporary Art
Auction Wednesday, May 11, 2022 at 11am
Exhibition May 7 - 9
Lot 72
Roland Petersen
Danish/American, b. 1926
Woman with Parasol and Tree, 1963
Signed and dated Roland Petersen 63
Oil on canvas 61 3/4 x 68 inches (157 x 173 cm)
Provenance:
Staempfli Gallery, New York
Emily McFadden Harrison Staempfli
Thence by descent to Randolph Harrison
Thence by descent to the estate
C Estate of Randolph Harrison
Estimate: $70,000 - $90,000