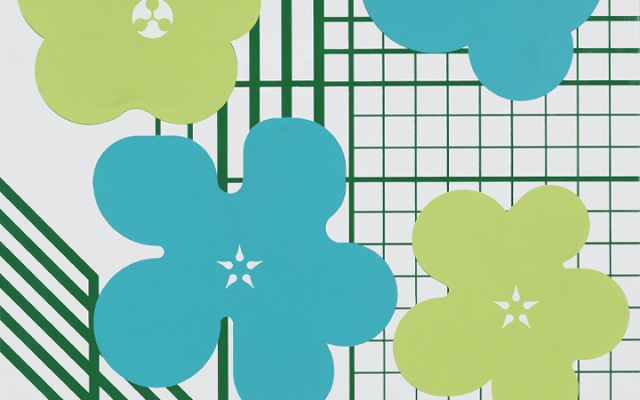 Doyle is pleased to present a selling exhibition of select works by Ryan McGinness at our Beverly Hills gallery on February 14 through March 15.
Ryan McGinness is an American artist, living and working in New York, New York. He grew up in the surf and skate culture of Virginia Beach, Virginia, and then studied at Carnegie Mellon University in Pittsburgh, Pennsylvania, as an Andrew Carnegie Scholar. During college, he interned at the Andy Warhol Museum as a curatorial assistant.
Known for his extensive vocabulary of original graphic drawings that use the visual language of public signage, corporate logos, and contemporary symbology, McGinness is credited with elevating the status of the symbol to fine art through the creation of his paintings, sculptures, installations, and books. Concerned with the perceived value of forms, he assumes the power of this visual language in order to share personal expressions.
McGinness studied Andy Warhol's Flowers series, and engaged himself in the challenge of reinterpreting the work through his own iconic style. The new Warhol Flower Icons are created in the same traditional spirit of artists "re-making" the work of artists in the past (eg. Picasso's Velásquez, Lichtenstein's Picassos, and even Warhol's various art history redux paintings). In this way, McGinness does not simply imitate Warhol, but rather the Warhol Flower Icons are painted in McGinness' own voice.
The New York Times noted, "In the past decade, McGinness has become an art star, thanks to his Warholian mix of pop iconography and silk-screening." Vogue declared, "Ryan McGinness is a leading pioneer of the new semiotics."
His work is in the permanent public collections of the Museum of Modern Art, The Metropolitan Museum of Art, Virginia Museum of Fine Arts, Museum of Contemporary Art San Diego, Cincinnati Art Museum, MUSAC in Spain, and the Taguchi Art Collection in Japan.
For further information on Ryan McGinness, visit ryanmcginness.com or on Instagram @McGinnessWorks
Ryan McGinness: A West Coast Selling Exhibition
On view Tuesday, February 14 through Wednesday, March 15 at Doyle Beverly Hills
Presentation by Doyle Executive Director of Paintings Angelo Madrigale on February 14 at 4pm
DOYLE
Auctioneers & Appraisers
310 North Camden Drive
Beverly Hills, CA 90210
310-276-6616
DoyleLA@Doyle.com
Hours: Monday – Friday, 10am – 5pm