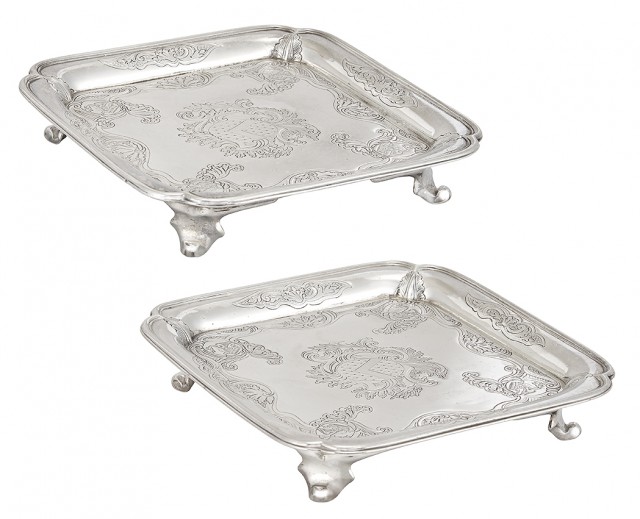 English silver has traditionally been sought after by collectors for its beautiful design and its superb quality. In today's modern world, these exquisite pieces of silver serve as elegant reminders of a more refined time.
Many collectors focus on English silver dating to the Georgian period, which encompasses silver made between 1714 and 1830. This is further broken down into subcategories that can be used to focus a collection. Specialists use the reigns of the English monarchs to date silver, so pieces made between 1714 and 1727 are called George I, followed by 1727 to 1760 for George II, etc. Some collectors will only buy silver made during the reign of one king. These collectors embrace the history associated with that monarch and period, and many Americans gravitate to silver from the reign of America's last King George III, who reigned during the American Revolution.
Silver of the Georgian period reflects the evolution and progression of fashion and taste. Early George I silver tends towards clean lines with striking engraved decoration like that of these square salvers made by famed silversmith Paul de Lamerie.
As the century proceeded, silver becomes more elaborate as influences from rococo France arrived in London. Hostesses voraciously copied trends from the French court, and English silversmiths were happy to create magnificent silver, such as these magnificent soup tureens to show off their creativity and skill. These tureens are overflowing with reliefs of vegetables and game and reflect the types of food being served at 18th century dinners. Today they would make beautiful centerpieces on a sideboard or dining table. Another silver piece the English borrowed from the French is the epergne, a centerpiece of cascading baskets to be filled with fruit and flowers. This fine example shows the move from the rococo period into a more classical style inspired by Ancient Rome.
Finally, at the beginning of the 19th century, we see English silver reach its zenith in the work of master silversmith Paul Storr, whose silver best captures the extravagance and wealth of the British. Referred to as Regency silver, after the period in which the Prince of Wales ruled the Empire during the madness of his father George III, this robust silver took the shapes associated with the classical style, layered with shells, scrolls and lions to create a style emblematic of the world's most prosperous people. The bases of this set of four candlesticks are cast with a riot of shells and foliate scrolls with masks peeking out at each corner.
Huge quantities of silver were made over the course of the Georgian period. Small silver objects like snuff boxes, serving pieces, mugs and salvers can often be found at auction for less than $500, while larger pieces by important makers can sell for many thousands of dollars. English silver is stamped with a series of hallmarks that identify maker's name, the city he worked in and the date, so learning to demystify the hallmarks is the first step for budding collectors.
The best way to begin collecting is to visit an auction preview, where you can speak with a specialist and examine the silver. In this way, you can begin to familiarize yourself with the styles you are drawn to and learn more about each piece. Museums provide an opportunity to examine some of the most important silver of the past.
Silver is made to be used and enjoyed, so don't keep it hidden away waiting for special occasions. By making your silver part of your daily life, even the most humble meal becomes an event!
Important Georgian Silver from The Thurston Collection

A highlight of the October 26 auction is property from The Thurston Collection. This remarkable collection was assembled by Stella Rutledge Thurston (1925-2015), who with her husband, Doc Jones Thurston, Jr. (1908-1993), was a prominent philanthropist in Charlotte, North Carolina. With a connoisseur's eye, Mrs. Thurston amassed an impressive silver collection showcasing important examples by the most prominent London silversmiths of the Georgian era.