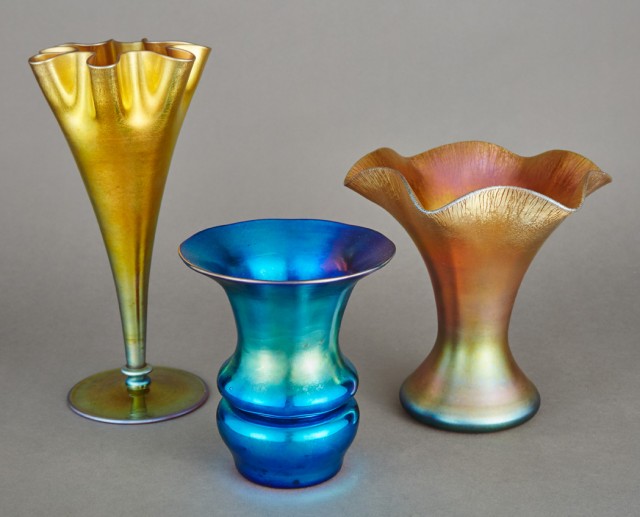 For over a century, the name Steuben has been synonymous with innovation and quality in American glass. Established in 1903 in Steuben County in Upstate New York, Steuben Glass Works was the dream of an Englishman, Frederick Carder. Carder had been urged by T.G. Hawkes of a Corning, New York, glass cutting firm to come to America to start a new company. In England, Carder had worked for the Stevens and Williams company and had developed his own passion for working with glass. In 1903 he opened the Steuben Glass Works, and its first products on the market became known as Carder Steuben.
Under Carder, the company originated a multitude of hand-blown glass forms, colors and decorations, often focusing on special adaptations of classical and Venetian forms. Carder's immense knowledge of glassmaking and chemical composition led to myriad decorative pieces and gave Steuben a reputation for variety and technical achievement.
Carder's iridescent work in glass was similar to that of his contemporary Louis Comfort Tiffany's. However, Carder Steuben objects are characterized by symmetry of design. Tiffany's favrile glass, on the other hand, has an organic and spontaneous feel.
Frederic Carder patented a design that competed with Tiffany, Aurene, which was a translucent glass with an iridescent finish made by spraying heated glass with a solution of tin crystals dissolved in distilled water. Aur comes from the Latin word for gold, aurum, while ene derives from the Middle English form of the word sheen. Gold and blue Aurene were the earliest and most common colors and were found on symmetrical forms.
With the advent of World War I, Carder could not get certain raw materials, such as lead, because of the restrictions on non-essential industries during wartime, and Steuben was unable to obtain enough coal to keep the pot furnaces at full production. Additionally, buyers were turning away from the artistic and costly Art Nouveau-inspired designs. To battle a running deficit, the prominent American industrial designer, Walter Dorwin Teague, was appointed on contract to design modern glassware for Steuben. Teague worked on designing a line of "extremely simple" glass with geometric motifs, including etched vases and Art Deco-inspired stemware. He also suggested a new working model and corporate philosophy for the company in 1933: the "Steuben Trilogy," which stressed "material, workmanship and design."
Coinciding with the new philosophy at Steuben was a newly discovered glass formula. While phasing out colored glass, the company came to use exclusively a new brilliant 10-M formula for glass, which had an extremely high refractive quality that permitted the whole spectrum of a light wave to pass through it. Steuben was able to ride out the Depression by providing colorless crystal to an elite audience.
After the introduction of the new formula, the company became a leader in American luxury glass. They began producing functional wares, such as drinking glasses, candlesticks, bowls and urns, and later refined diplomatic gifts and special exhibition pieces became common. Steuben assembled a team of designers, including Sidney Waugh, to develop contemporary designs to highlight the new colorless crystal and production. A retail building on Fifth Avenue was designed to serve as the company's new "first-class outlet in New York" that resembled a fine art gallery. To own Steuben crystal meant that one had taste and means.
After World War II, Steuben focused on design and technical innovation, while still utilizing colorless glass. One of the first improvements was the switch from pot furnaces to tank melting. The company continued to veer away from utilitarian objects, since the demands of a new affluent society created a market for collecting. New decorative objects of a sculptural nature became the norm. James Houston and other designers created highly unique, and sometimes whimsical, sculptures that once again held Steuben to high artistic standards.
By the 1970s, with some key figures retiring, Steuben transitioned again to "reaffirm the idealism of design, material, and craft with a view toward preserving the best of the past while clearly moving into the future." The company continued the design and production of functional glass devoid of added exterior decoration, as well as timeless sculptural pieces, until Steuben Glass Works ceased production entirely in 2011.
Since then, the artistic tradition established by Steuben Glass continues, as new designs are being developed by independent artisans in Corning, New York, and in select production shops in Europe.
-- Leigh Kendrick, Furniture & Decorative Arts Department
Sources:
Mary Jean Madigan, Steuben Glass: An American Tradition in Crystal (New York: Harry N. Abrams, Inc., 1982)
Orva Heissenbuttel, Steuben Glass, Rainbow Review Glass Journal (1977), http://www.ndga.net/rainbow/1977/77rrg11a.php (accessed November 28, 2015)
John Stuart Gordon, A Modern World: American Design from the Yale University Art Gallery 1920-1950 (New Haven, CT: Yale University Press, 2011)