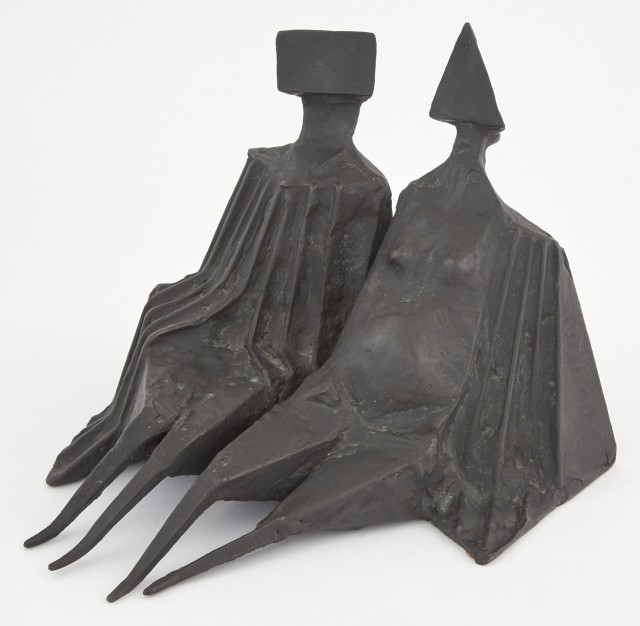 NEW YORK, NY -- One of England's greatest sculptors of the 20th century, Lynn Chadwick was professionally trained in architectural drawing. In studying the uniquely commanding presence and volume of Chadwick's oeuvre, his architectural background is key to understanding his work. Chadwick was employed in the 1930s as a draftsman for designers and architectural firms, dabbling all the while as a sculptor but not necessarily viewing these pieces as fine art. The sculptures, at least in these early days, were considered by Chadwick simply as design elements, created to complement an architectural structure. This practice ceased for several years when Chadwick set his career aside to become a pilot during WWII for the Royal Navy. The feelings of movement and flight which he experienced as a pilot, fighting for his country and the Allies, became essential to his work going forward.
Following the war, Chadwick resumed his work and was encouraged by his employer to create mobile structures, which were among his early forays into sculpting. These were far more lyrical and delicate than his later work. These initial pieces employed thin, delicate materials like balsa wood and aluminum wire. Chadwick was seemingly unaware of any similarities to mobiles by Alexander Calder, which he later discovered. "So I did this suspension idea, and it took a long long time till I realized that I was doing exactly the same thing as Calder, but this was just about the time when I gave it up, because I realized that Calder was, really, better at doing what he was doing, than I was at what I was doing," Chadwick would later reveal. While Chadwick soon moved beyond these playful, early creations, he did receive praise as well as exhibitions for this body of sculpture, marking what is essentially the beginning of his life as a professional sculptor.
Part of a stellar young group of British sculptors at mid-century, Chadwick was prompted by peers such as Kenneth Armitage and Reg Butler to move toward the bulkier figurative works for which he would become best known. Invited to participate along with several of these notable British sculptors (Armitage, Butler, Eduardo Paolozzi and others) in the 1952 Venice Biennale on the British Pavilion, Chadwick contributed eight works. He represented England at the Biennale again in 1956, with nineteen sculptures. When he won the coveted International Sculpture Prize that year, besting not only his colleagues but the great Alberto Giacometti, Chadwick was elevated to celebrity status in his home country.
After a brief period of study, Chadwick began casting works in bronze around 1954, finding his prior works to be too fragile. The influence of architecture – specifically the 1950s Brutalist movement – is wholly apparent at this stage in Chadwick's career, and would continue to be prevalent until his passing in 2003. Brutalism, defined by angular geometric shapes, raw materials, utilitarian concepts and a monochromatic color scheme, was anti-nostalgia, unrelenting in its Modernity. Architects leading the movement, among others, included Alison and Peter Smithson in the UK; Ralph Rapson and Paul Rudolph in the US. Though usually reserved for institutional buildings, a prime example of this style of architecture is The Met Breuer, completed in 1966 by Bauhaus-trained Marcel Breuer, which was of course formerly the Whitney Museum. Often employing raw concrete with intentionally rough surfaces, Brutalism was embraced by the contemporary voices of the time and reviled by most others. The knock has always been that these structures were cold and imposing. There have been similar criticisms of Chadwick's sculpture.
Art critic Herbert Read described Lynn Chadwick's work as "the Geometry of Fear;" noting that the ominous figures intimated the Cold War dread felt throughout England in the last half of the 20th Century. Read arrived at this comparison after viewing Chadwick and his peers' works at the 1952 Venice Biennale exhibition. Chadwick did not agree with the assessment, instead noting his work's dark humor. And whereas Henry Moore (for whom Chadwick was seen somewhat as heir apparent) created humanoid forms that were far softer, smoother – their psychological detachment shared a similar space.
Sitting Couple, 1973, from an edition of eight, depicts Chadwick's iconic male and female figures, sitting in quiet, stoic contemplation, reclining together, spindly spider legs akimbo. Reinterpreting the human form in his Brutalist-informed abstraction, Chadwick plays with the cloaks of his figures with stiff, chunky lines and exaggerations that could mimic bat wings. The female head is represented only by a triangle; the male head a rectangle. This stylized representation would be repeated often throughout his figurative works. The figures are reduced, simplified, allowing for small gestures, the bend of a knee, the fold of a cape, to appear all the more striking. There are also nods to origami – hard, stiff fold lines that are prominent in Chadwick's work.
Chadwick would produce multiple sculptures depicting couples – standing, sitting, walking together in stride. Their cloaks like inky rain slickers caught in the stiff winds of London's infamously dreary weather. The couples share a mood, maybe the stereotypical English "stiff upper lip" resistant to the forces around them, the disconcerting political climate, the upheaval of social change in mid-century England. The dark heaviness of their forms intimates that they have the armor necessary to survive and persevere. The figures achieve a sublime balance, resting together, enveloped in their dark robes cascading from their shoulders.
Lynn Chadwick claimed that making sculpture is finding a solution to a problem – which sounds very much like something an architect would say. While Chadwick began inauspiciously enough, simply making design solutions for professional projects, that mindset carried with him throughout the whole of his career. Unlike many of his peers, and even predecessors, who naturally came to sculpture through fine art schooling, Chadwick achieves an iconic, dark but powerfully brave style that cannot be separated from the influence of architecture.
Important Paintings
A highlights of the auction of Important Paintings on December 2, 2020 is Lynn Chadwick's Sitting Couple (681) from 1973.
Lot 38
Lynn Chadwick
British, 1914-2003
Sitting Couple (681), 1973
Signed, dated and inscribed Lynn Chadwick, 1973, 681 and numbered 2/8
Bronze with black patina, from an edition of 8
8 1/2 x 10 x 10 1/4 inches (21.6 x 25.4 x 26.1 cm)Literature:
Lynn Chadwick, Sculptor: With a Complete Illustrated Catalogue 1947-1996, Dennis Farr & Eva Chadwick, 1997, p. 293, another example shown
Estimate: $50,000-70,000