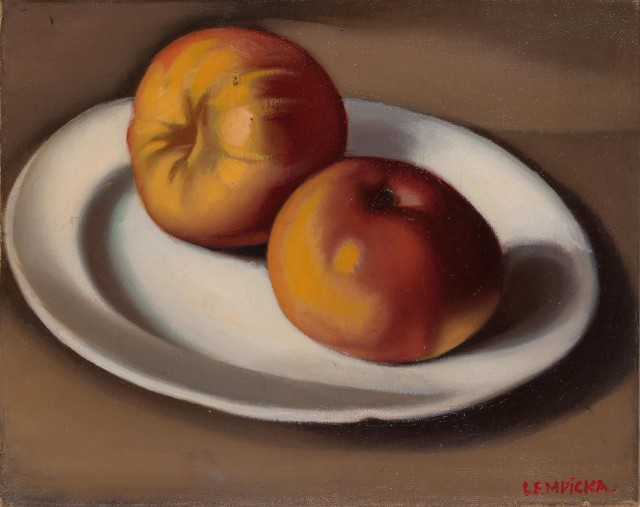 NEW YORK, NY -- More than a century has passed since Tamara de Lempicka (1898-1980) arrived in Paris as a young emigrée in her twenties. Leaving behind wealth and comfort, and having just narrowly managed to flee the Bolshevik Revolution, she turned to painting in order to support her family upon their arrival in France. During les années folles, café life, cabaret nights and more freedom of movement for women within these spaces were important features of an increasingly liberal society; however, Lempicka was still subject to gender bias in the art world. Though she moved easily among such important painters as Soutine and Modigliani, she is still too often excluded from art histories of the 1920s. Nevertheless, she thrived in the party atmosphere that emerged in Paris at the time. Soirées might start with cocktails at Natalie Barney's salon or a Josephine Baker performance, capped off by a night of rampant partying alongside her good friend Jean Cocteau.
Before the Revolution, being upper-class meant that the young Lempicka could take advantage of cosmopolitan Moscow, Warsaw or Saint Petersburg, with yearly trips to other destinations in Europe. More influential than the costume balls and the Ballets Russes she attended was her first trip to Florence. In the city's museums Lempicka discovered the Italian Old Masters, which she would always maintain exemplified the quintessence of beauty. This lifelong commitment to the paintings of Caravaggio, Messina, Bronzino and Michelangelo is perfectly captured in Laura Claridge's illuminating 1999 biography on the artist's life, Tamara de Lempicka: A Life of Deco and Decadence. Referring to Lempicka's first trip to Italy, she writes, "Fifty years later, with unflagging energy, Tamara would repeat the itinerary with her own granddaughters, extolling the line of the body, the mastery of flesh tones, of shadow and light, and the clarity of a color. Until she was too weak to hold a paintbrush steady, Tamara returned yearly to study the great Italian museum holdings of Renaissance and early-fifteenth-century paintings, in order to be reminded of what greatness on a canvas looked like, of what beauty could be."
The political landscape in 1930s Europe and the rise of Nazi Germany eventually led Lempicka to relocate to the United States, first to Beverly Hills and later to New York. With fewer exhibitions and commissions coming in, she worked on a series of still lifes in the 1940s. These works, though different from the portraits painted between 1925 and 1935, remind viewers of the artist's aesthetic allegiances with a nod to the Dutch and Flemish masters she so appreciated.
In Still Life with Apples, the illusion of light and perspective, rounded volumes and polished finish are all at play in an unusually prosaic subject for Lempicka. Serenely resting in the sunlight by a windowsill, the two exquisitely luminous apples on their unassuming plate are masterfully achieved such that they remain both true to nature and to the distinctive style of the artist. A highlight of the May 20 auction of Important Paintings, Still Life with Apples is a lovely example of her unwavering dedication to representational painting.
Tamara de Lempicka's highly stylized, angular and precise compositions have led viewers and critics to designate her an Art Deco painter. Though this provided the artist with recognition in her lifetime, she also contended with the label. Ascribed more often to design and decorations, this categorization was at least partially responsible for the marginalization of Lempicka's work in modernist narratives. Beyond the Cubist influences that she absorbed from the teachings of her early mentor André Lhote, Lempicka's most successful paintings refused to bend to the various art movements that developed around her, whether it was the emergence of Surrealism and Dada in Paris or the rise of Abstract Expressionism in the United States. Lempicka's real genius lies in a classicist devotion to her personal manner of painting and her own perception of beauty.
Important Paintings
Featured in the May 20 auction of Important Paintings is a circa 1946 Still Life with Apples by Tamara de Lempicka.