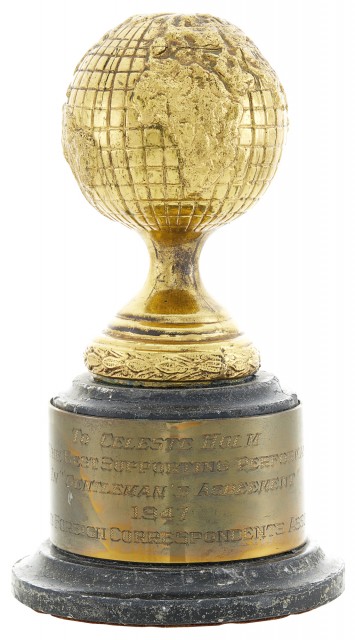 NEW YORK, NY -- Doyle is honored to auction The Celeste Holm Collection. This selection is focused on the wonderful scripts, letters, photographs, costumes, jewelry, and awards from the pivotal early years of Ms. Holm's long and highly accomplished professional stage and screen career. In this Golden Age period from the late 1930s through the mid 1950s, Celeste Holm starred on Broadway in Oklahoma!, Bloomer Girl, Affairs of State, The King and I among others and on film in Gentleman's Agreement, All About Eve, The Tender Trap and High Society also among several others.
Born in New York City in 1917, Celeste Holm was the daughter of Norwegian businessman Theodor Holm, an attorney in maritime law who was the American representation to Lloyd's of London, and the artist Jean Parke who counted Vogue covers, notable portraits and set designs for the silent film industry among her many credits. The family lived on Gramercy Park in Manhattan before moving to Chicago when Ms. Holm was 10, and young Celeste began acting in the 1930s at the Francis W. Parker School. After three years of summer stock, Celeste Holm's first professional theatrical role came at just 20 years old in the extensive tour of English theater and film legend Leslie Howard's Hamlet in 1937. Among the earliest items offered in the auction is Leslie Howard's own massive scrapbook chronicling this peak period of his career before his life was cut short during World War II. Next, Celeste Holm was cast as Crystal Allen in the well-regarded national tour of Clare Boothe Luce's The Women. Celeste Holm's Broadway debut came in 1938 in Gloriana, which ran to only five performances, followed by William Saroyan's The Time of Your Life which was a success. As a hostess at the Stage Door Canteen off Times Square, a cafe that offered servicemen free coffee, sandwiches and cigarettes, Ms. Holm witnessed the beginnings of the war as waves of troops, and Broadway stars alike, began to jam the cafe every night. But nothing could have prepared Celeste Holm for the journey that was about to begin when she sought an audition for the musical that changed Broadway forever.
The Theatre Guild of New York, under the auspices of co-founder and important talent scout Theresa Helburn, turned to Rodgers and Hart in 1942 to rewrite a previous flop about life in the Oklahoma Territory titled Green Grow the Lilacs. Deep into the downward spiral that claimed his life late in 1943, Lorenz Hart fell off the project and composer Richard Rodgers for the first time worked with a new writing partner, lyricist Oscar Hammerstein II. Celeste Holm was cast as Annie Ado in the original production, still under the original title, but after Rodgers and Hammerstein wrote the musical's title number the title was aptly renamed Oklahoma! Opening on March 31, 1943, the show was an absolute smash and ran to over 2000 performances. Ms. Holm took down the house with each performance of her now famous musical comedy number "I Cain't Say No" which was extended in length and given an encore after the reaction to the song in previews.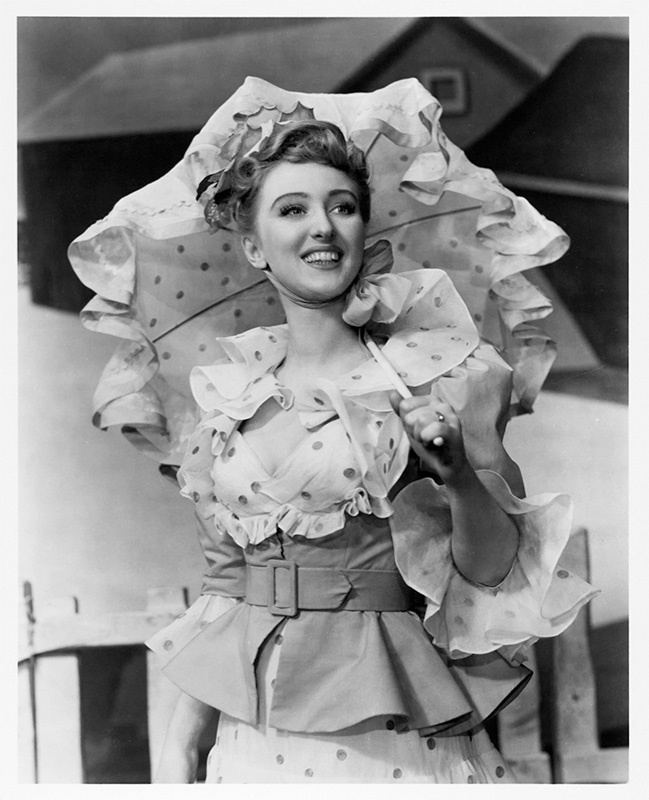 Offered are some of the most primary Oklahoma! artifacts to have come to auction, including Celeste Holm's signed contract, original script and song book, and important inscriptions and letters from Rodgers and Hammerstein. The most transformative show in Broadway history, Oklahoma! is unparalleled in many regards, one of the most unique being the patriotic fervor that surrounded it at the peak of the War, the origin of which is tied to Ms. Holm. Apparently on that opening night in March 1943 there were open seats to fill, and Ms. Holm took tickets down to the Stage Door Canteen and distributed them to a group of lucky servicemen. From that night forward, rows were saved in the St. James Theatre so that servicemen could see Oklahoma! and thousands did, carrying its songs and the experience out to war and back into the American heartland.
 As Ado Annie in Oklahoma! (1943)
The weight of Oklahoma! in Broadway history cannot be diminished. The original production also included choreography by Agnes de Mille, who later wrote in a letter included in the auction regarding Celeste Holm's appointment to the National Arts Council by President Reagan: "You ask if Celeste Holm takes theater seriously? She is a star. Do you know what that means? ... She has given her entire life to the theater ... Celeste Holm is one of the best comedians of our time. Her 'Annie Ado' in Oklahoma! is certainly the best I ever saw and I've seen many."

Fresh upon the success of Oklahoma!, Celeste Holm starred in the antebellum musical with a fashion twist, Bloomer Girl, which opened on Broadway in October 1944. Offered from this early production are two very rare costumes with notes of provenance from Ms. Holm and an original design by Miles White. A very fine item is an inscribed photograph of Bloomer Girl co-star Dooley Wilson, back on Broadway for the first time since Casablanca, and he has inscribed a production still from Casablanca to Celeste Holm with a quote from "As Time Goes By."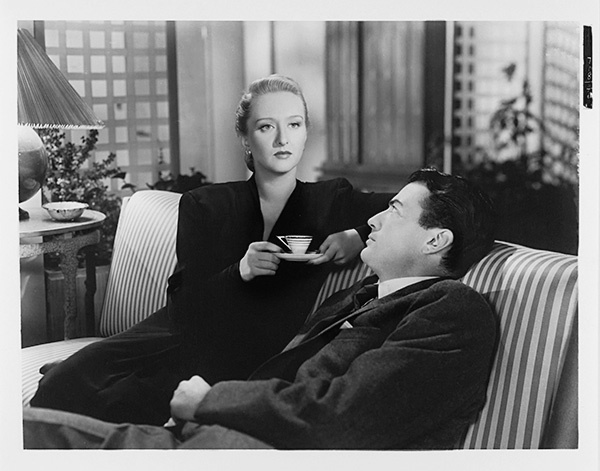 Hollywood beckoned, and by 1946 Celeste Holm had negotiated her first contract with Twentieth Century Fox, the Los Angeles film studio headed by the powerful Darryl F. Zanuck. Her first film that year was Three Little Girls in Blue, referenced in a letter from Zanuck to Ms. Holm in the auction in which he prepares her for her next role. The upcoming film was Gentleman's Agreement, an adaptation of a challenging recent novel about anti-Semitism in prosperous post-War America hand-selected by Zanuck to take on the divisive issue. Frequently presumed Jewish like many of the other studio heads of the day, Zanuck reportedly was denied entrance to the Los Angeles Country Club on this false presumption. It was not simple to adapt Laura Z. Hobson's novel, which not only took on obvious anti-Semitism in professional settings like the supposedly liberal magazine where the story is set but also the casual and secretive prejudice of the Connecticut suburbs, country clubs and summer resorts where a "gentleman's agreement" quietly kept Jews out. Zanuck was urged not to make the film by Jewish studio bosses Louis B. Mayer and Samuel Goldwyn but persisted, assigning the impeccable team of Moss Hart to write the screenplay, Elia Kazan to direct, and Gregory Peck and Dorothy McGuire to star. Celeste Holm was cast as Anne Dettrey, the magazine's smart, modern, and fashionable art director. Screen-tested for the role at the suggestion of Moss Hart, the test with Gregory Peck proved so powerful it was used by Kazan as an anchoring scene near the end of the film. The risk paid off handsomely for Darryl F. Zanuck and Twentieth Century Fox: Gentleman's Agreement was presented Best Picture at both the Academy and Golden Globe awards; Elia Kazan won his first Best Director Oscar and Golden Globe; and Celeste Holm won the Oscar and Golden Globe for Best Supporting Actress, the only acting honors for the film. A rare offering and an important award, Celeste Holm's Golden Globe statuette for Gentleman's Agreement is included in the auction.
Celeste Holm starred in three other major films in this period, all of which are noted for their style: with Bette Davis in All About Eve (1950) and with Frank Sinatra in both The Tender Trap (1955) and High Society (1956), films that also featured Debbie Reynolds, Grace Kelly, and Marilyn Monroe, newly signed to Twentieth Century Fox, and taken under the wing of the experienced star Celeste Holm.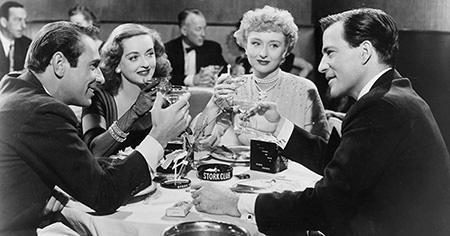 An acting prize sits at the center of All About Eve, namely the Sarah Siddons Society Award. The film opens with Bette Davis receiving the fictional award and the statuette appears several times in the film. The concept of this acting prize was so influential that in 1952 a prominent group of Chicago theater patrons brought the award to life and began issuing a real Sarah Siddons Society Award each year for excellence in a Chicago production. Celeste Holm was presented a Sarah Siddons Society Award for her excellent performances in Mame in Chicago in 1967. On Celeste Holm's winning of the award, and of its transformation from fiction to reality, All About Eve writer and director Joseph L. Mankiewicz said: "It's first recipient, in 1953, was none other than Helen Hayes ... and of late, of all people, Celeste Holm. I can't help wondering whether Celeste had a feeling of Deja vu. Or whether she placed it alongside the 'Sarah Siddons Award' I gave her when we finished the film... She probably threw out that old original fake. I hope she keeps the new fake fake. I wish long life to both the 'Sarah Siddons Society' and to its 'Award', believe me. They will provide for me an annual and infinitely gratifying reaffirmation of what All About Eve was really about" (Joseph Mankiewicz Interviews, p. 123).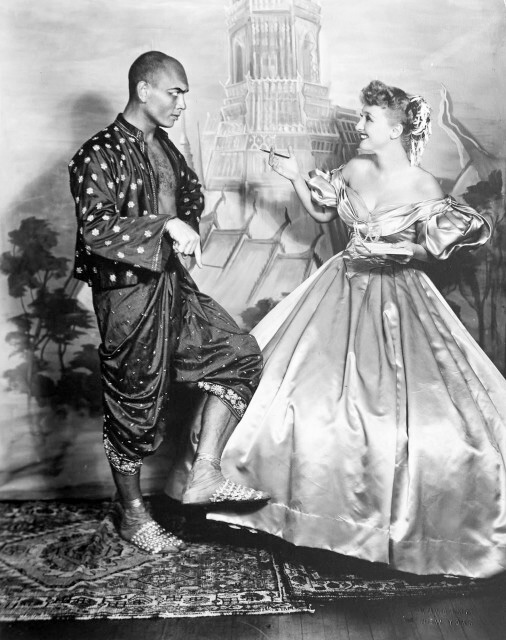 While successful in Hollywood, Celeste Holm returned to the theater in between films, and one of her greatest roles came due to unfortunate circumstances. Rodgers and Hammerstein's The King and I, the fifth major musical produced by the writing duo, opened in March 1951 to great fanfare and a Tony Award for star Gertrude Lawrence (the Tony's were first presented in 1949). But by spring 1952, Gertrude Lawrence's health began rapidly deteriorating with an unknown illness thought to be hepatitis or liver cancer. A request to close the show for a week so that Lawrence could recover was denied; but in a very rare move at the time, a plan was put in place for Celeste Holm, now a major theater and film star well-known to Rodgers and Hammerstein, to assume Lawrence's role of Anna for several weeks that summer. Ms. Holm was a sensation and the role has become one of her most memorable; sadly, Gertrude Lawrence did return to the show briefly that August, but collapsed backstage and died that September. For the first time ever, the lights were dimmed on Broadway out of respect for the loss of this great talent. Offered in the auction is a remarkable letter from Gertrude Lawrence to Celeste Holm offering use of her dressing room during the summer hiatus and assuring her she would be back in a few weeks. Also offered are Ms. Holm's stage worn Capezio tap shoes worn during The King and I and other productions of the era.
As the Stage & Screen auction benefits The Actors Fund, it is important to note Celeste Holm's important contributions to that organization, as a 1946 certificate as a Life Member to the Actors Fund in the auction attests. In 1959, Ms. Holm was instrumental in moving the Actors Fund Home to Englewood, NJ and her portrait hangs there to this day. Endlessly charitable for decades, Ms. Holm also gave selflessly to UNICEF, The Boys and Girl Scouts of America, was on the board of the National Mental Health Association, was chairwoman for Arts Horizons, supported numerous other charities and received frequent and well-deserved recognition. In 1982, President Ronald Reagan appointed Celeste Holm to a six-year term on the National Council of the Arts, bestowing the highest trust in a fellow actor.

Celeste Holm's birthday is April 29th, and this sale is meant as a celebration of her life and myriad accomplishments. Linked together by these wonderful stories, the objects offered in The Celeste Holm Collection are truly evocative of the Golden Age of theater and film. For further information on the life and career of Celeste Holm, visit CelesteHolm.com
The Celeste Holm Collection: Part I
Property from the Celeste Holm Collection will be featured as a special section of the inaugural Stage & Screen auction on April 28, 2021 at 10am.
The Celeste Holm Collection: Part II
An expanded selection of property from The Celeste Holm Collection will be auctioned in Summer 2021. Featured will be further memorabilia, furnishings, artwork and jewelry from the life and career of Celeste Holm.