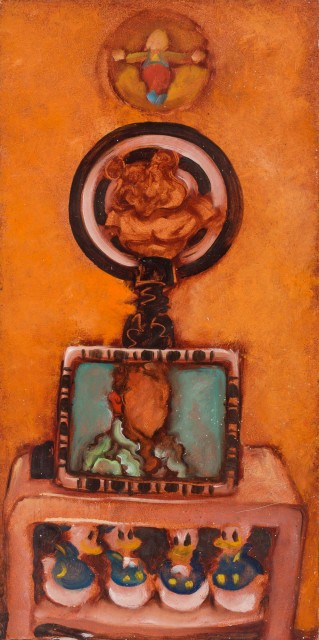 NEW YORK, NY -- Beginning this fall, Doyle will offer in select auctions a group of rare works from the Eureka, California, period of the late artist Martin Wong (1946-1999). The November 7, 2018 Post-War & Contemporary Art auction features two works on canvas Walt Bushman and Ducks and Some Call it Pair-A-Dice, and the DoyleNext: Contemporary Collector IX online-only auction closing on November 7 includes a work on paper, Turkey. These three works represent the first installment of a large and important collection dating from the mid-1970s, before Martin left the West Coast for New York's East Village.
A collection of paintings, drawings, correspondence and other ephemera, the group comes to us from Martin's close friends John Rotter and wife Jeannette Gavin, who were integral parts of the art scene in Eureka during Martin's residence. John, known at this time as "Juan Chirimoya," after the arts space, Chirimoya Metals and Textiles, which he co-founded, built and operated, and Jeannette – affectionately known as "Pirate Jenny," came to know Martin shortly after his arrival in Eureka, following his stint in San Francisco with the avant-garde performance groups, The Cockettes and the Angels of Light.
John Rotter had come across an old store front in the waterfront area of Eureka, California, in 1973, long before the area now known as Old Town became gentrified. Rent was $25 a month, and John set about to build live/work spaces for himself and a closely-knit group of artists within the space. Martin wandered into Chirimoya one day, his loft studio within the WACO building being mere blocks away.
Martin became an indispensable part of the Chirimoya family, painting portraits of the group, as well as other locals, including Walt Bushman, whose portrait is included among the objects depicted in Walt Bushman and Ducks. A portrait of Walt Bushman also in John and Jenny's collection will offered in a future auction at Doyle. Walt was a local fellow who would happen by the arts space, talking about the sounds playing on the radio in his head, an eccentric but lovable townie. It was little wonder Martin was fascinated, much as he was with Eureka's waterfront area on a whole, the fishermen and their boats, the smell of seafood processing plants, the second hand stores and card rooms, and the dive bars on every corner. The waterfront area of Eureka was Martin's living room, with much of the same bohemian charm the East Village would have for him in his future.
Eureka, following Martin's time in San Francisco, was both a prolific time for him, full of self-discovery, but comparatively, a place to rest, in a sense. The full-frontal unabashed psychedelic madness of which Martin was a part of with The Cockettes and the Angels of Light was an overwhelmingly positive experience for him, yet physically and emotionally draining. After staging countless events encompassing live theater, elaborate costumes and sets, and even a performance featuring John Waters' infamous muse Divine, Martin was desperate for a time of quiet(er) reflection. Enrolling in Humboldt State University in 1964, Martin Wong had been living and working in San Francisco and Eureka until he left for NYC in 1978 at 32 years of age. Chirimoya was, for him, a formative time immersed in a DIY arts space leading to collaboration and lasting friendships with John and Jeannette along with many others. Much like his well-documented time in the East Village among artist friends such as Charlie Ahearn, DAZE, Lady Pink and others, Martin's gang in Eureka was similarly active in creating art and looked to Martin as a peer, a sounding board, and a beloved friend.
Studying ceramics at Humboldt, as well as self-publishing books of his poetry, Martin began developing paintings and drawings in Eureka. Martin developed a keen focus on detailed portraits that, even in their most formative stages, cleverly captured the energy of the sitter. Martin's "Human Instamatic" project was borne here; his street portraits offering him both practice for his craft, and a means to make some much-needed funds. Contained in the collection is a small broadside with pricing, announcing "Portraits While U Wait – Now At Chirimoya," starting at $5 for a 9 x 12 inch drawing, and topping out at $400 for a 36 x 48 inch oil painting – a fantastic bargain, indeed.
The prototypical nature of the collection shows Martin finding his way, developing his style, and honing in on subject matter that would follow him throughout his career. A pencil portrait of Pirate Jenny, also included in the collection, shows a slight influence to the Underground Comix that Martin may have seen in San Francisco, yet his depiction of Jeannette captures a haunting, pensive gaze – Martin may have been new to drawing, but these early works document a young artist wise beyond his years. Some Call it Pair-A-Dice, a raw and stylized work on canvas, may be one of his very first renderings of dice, something he would hark back to many times in paintings to come. The Japanese classical style flame element surrounding the dice would also reappear in Martin's work, most notably in one of his masterpieces, Tell My Troubles to the Eight Ball, a work created soon after …Pair-A-Dice in 1978, shortly after his arrival in New York.
A tower of objects, Walt Bushman and Ducks is a very early example of Wong's practice of depicting his collections, another crucial theme for Martin that would continue throughout his career. Walt Bushman and Ducks has much to say: the black and white painted frame surrounding Walt's portrait was a constant at this time -- Martin had stacks of painted frames ready to be paired with a finished work. This was before Martin settled on simply painting a trompe l'oeil frame directly on his canvas, typically a wood grain border, often with text "carved" into the pattern. The tchotchkes, toys and assorted items surrounding the portrait are small elements of Martin's massive collections. And in simply painting a corner of his room, Martin shows us how very important his collecting, accumulating, hoarding, even - could be.
Beginning his obsession with buying up little treasures as a young boy, Martin's mother Florence not only encouraged his buying habits, but often was knee-deep in collectibles right along with him, out on adventures together, seeking out the kitschiest salt and pepper shakers they could find. Martin took this passion with him to New York, and Walt Bushman and Ducks proved to be an influential early work that led to, among other paintings, his 1978-81 masterpiece My Secret World, a more mature and deliberate peek into Martin's living space -- and more importantly, the piles and piles of amazing curiosities with which he surrounded himself. As we are defined by our passions, Martin painting his collections of seemingly random objects, culled from his living space, may seem mundane on its face, yet reveals more to us about him than a simple self-portrait could. Walt Bushman and Ducks tells us about Martin's simple love of painting all the curious people and all the little objects that he found important and necessary and fulfilling; an interior view providing an insight into his fascinatingly cluttered world.
These formative years in Eureka, working in the WACO loft space and at Chirimoya, allowed Martin to find himself as an artist, latching onto the elements that would come to define his later work. His friendships and participation in the vibrant community that surrounded Martin in Eureka also prepared him for the chaotically wonderful years that would be ahead of him, arriving in New York a young but accomplished artist, full of passion for the littlest trinkets, the oddest street people, and the rustiest store fronts. While much more may currently be on record documenting his years in New York, the collection of John Rotter and Jeannette Gavin reveal to us a remarkable hidden chapter in the life of Martin Wong.
Image Captions:

Lot 134
Martin Wong (American, 1946-1999)
Walt Bushman and Ducks, circa 1976
Acrylic on canvas
36 x 18 inches (91.44 x 45.72 cm)
Provenance:
Gift of the artist to the current owner
Can a still life be autobiographical?
Est. $20,000-30,000
Auction November 7, 2018
Lot 135
Martin Wong (American, 1946-1999)
Some Call It Par-A-Dice, circa 1976
Acrylic on canvas
11 x 14 inches (27.94 x 35.56 cm)
Provenance:
Acquired directly from the artist by the current owner
Est. $12,000-18,000
Auction November 7, 2018


Lot 2
Martin Wong (American, 1946-1999)
Turkey, 1975
Initialed MW and dated December 7th 1975 (uc)
Graphite on sketchbook paper
11 x 14 inches
Est. $4,000-6,000
Online Auction Closes November 7, 2018