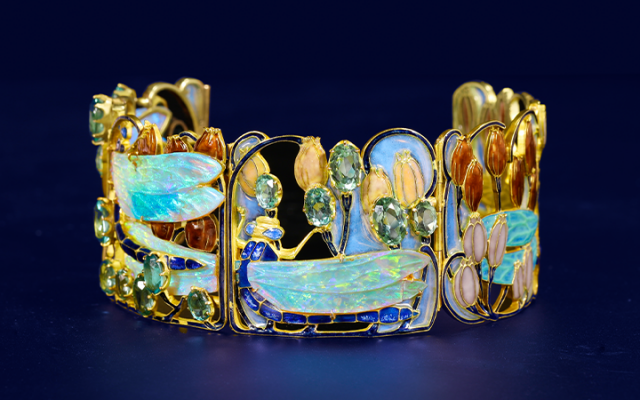 PALM BEACH, FL -- The Important Jewelry auction on October 21, 2021 features a rare and important bracelet by the legendary jeweler Rene Lalique from the Collection of Dora Jane Janson.
Dora Jane Janson, née Heineberg, was born in Philadelphia in 1916. A Radcliffe University Art History graduate, she met Horst W. Janson when he was an émigré graduate student at Harvard University.
The couple married and H.W. Janson went on to produce his seminal History of Art, first published in 1962 with over 4 million copies in 15 languages sold worldwide. The hefty but reader-friendly stone-age to 20th century guide famously included no works by women and scarce mentions of non-western art. Often criticized and even admonished, the work has in later editions swelled to near biblical size with modern interpretations and additional perspectives.
Dora Jane chose when raising the couple's children to focus on motherhood over nurturing her career, but was even still a very happy and devoted collaborator with her husband on many later works.
With her keen eye for design and contributions from storied collectors and connoisseurs like Gladys Koch, Ruth and Joseph Sataloff, The Victoria and Albert Museum and more, Dora Jane independently assembled a comprehensive exhibition of jewelry relating to the changing tastes and sentiments surrounding feminine beauty, sexuality and power through the late 19th and early the 20th centuries as largely exemplified by cameo portraiture. The associated catalogue written by Dora Jane, From Slave to Siren, was likewise published in 1971 in the friendly prose typical of Janson works.
The bracelet to be offered in the October 21 auction, the pinnacle piece of Dora Jane's personal collection, was included in the catalogue and described by the author herself as a "Dragonfly bracelet, green gold with opaque and transparent enamels, set with carved opals and zircons. Lalique ca. 1902 (8 1/2 x 1 5/8). The metal back of the bracelet is lightly worked in the same flower pod motifs as the enamels on the front, a refinement typical of Lalique's three-dimensional sculptor's approach to jewelry, even when- as in this case- the inspiration was probably as two-dimensional as a band of Japanese or Chinese embroidery. Although this elaborate bracelet continues as an earlier predilection (see Catalogue number 130) for working entire panoramas into a space so small one can sense here his groping for a new stylistic idiom to replace the vein of naturalism and, later, surrealism (the term, of course, had not yet been invented) of the great Exposition pieces (Appendix, Figures 160, 161, 165). As other works of the post-Exposition period indicate (see number 170), he experimented with abstract forms as well as with unusual subjects (number 138) without even again achieving the single-minded vision of the works of 1900 (see Introduction). The dating of this piece is based on its similarity to the dog collar, Appendix, Figure 153, from Deutsche Kunst u. Dekoration, XIII, p. 157 (Figure 71)." Dora Jane dedicated the catalogue 'In memory of H.W.' – the husband and partner with whom she cultivated a life-long appreciation for art.
A color rendering of the bracelet along with Dora Jane Janson's record of the piece is referenced in Sigrid Barton's Gliederarmband Libellen zwischen WeiBornfruchten Kat. Nr. 1255A, image 65, p. 450.
Important Jewelry
Auction Thursday, October 21, 2021 at Noon
Palm Beach Preview: Oct 5-7, 208 Brazilian Ave, Palm Beach, FL, DoyleFL@Doyle.com
New York Exhibition: Oct 16-18
Lot 201
René Lalique Gold, Carved Opal, Enamel and Aquamarine Dragonfly Bracelet
Circa 1902. Length 8 1/8 inches.
The Collection of Dora Jane Janson
Estimate: $200,000-400,000