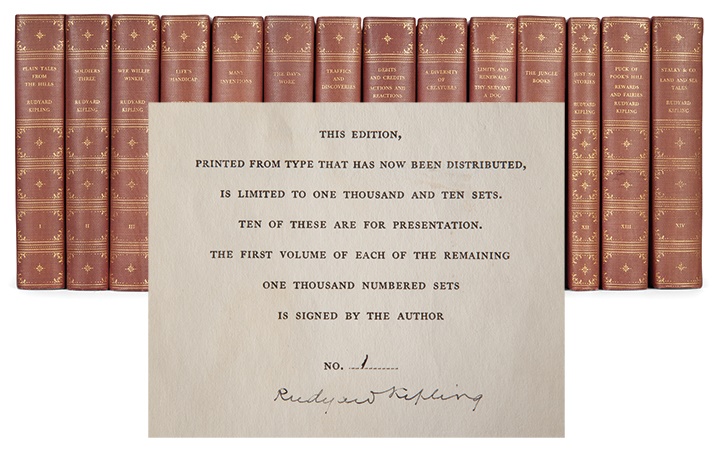 The library of Nelson Doubleday, Jr. contains dozens of important volumes published under his family's recognizable Garden City, New York imprint. But the remarkable story of the publishing empire that Nelson Doubleday, Jr. inherited, built upon, and later sold is best told through a series of important items.
The roots of Doubleday publishing are much older than one might think. The earliest books in the Nelson Doubleday, Jr. Collection under a Doubleday imprint were published by Ulysses F. Doubleday, a distant great uncle, between 1817-1821 in the bustling upstate New York town of Ballston Spa (lot 94). U.F. Doubleday, a newspaper publisher and later a New York Congressman, was the father of famed Civil War General Abner Doubleday, who fired the first shots in defense of Fort Sumter and was noted for bravery at Gettysburg. Abner Doubleday authored two memoirs of his Civil War experiences and very rare inscribed copies of both of these volumes are offered in the sale (lot 95). The lot also contains an early family album of carte-de-visite photographs, featuring a fine portrait of Abner Doubleday in his General's uniform.
Nelson Doubleday, Jr.'s grandfather was Frank Nelson Doubleday, founder of the publishing firm that bore his name for nearly one hundred years. Born in Brooklyn in 1862, F.N. Doubleday purchased his own press at 10 years old, and began working his first publishing job, at Charles Scribner's Sons, at age 14. With an entrepreneurial spirit, young Doubleday rose the ranks in the publishing house, eventually becoming head of Scribner's subscription department.
Doubleday had the idea to begin publishing by subscription the books of English authors whose works had never been collected into uniform editions. The most substantial of these was the works of Rudyard Kipling, published under Doubleday's direction by Scribner's in 1897 (lot 106). Known as the "Outward Bound Edition," the set was difficult to assemble as Kipling's works had been copyrighted by a myriad of English publishing houses - and none of them Scribner's. In the Collection is F.N. Doubleday's set of this remarkable edition, bearing two inscriptions from Kipling to Doubleday, who he notes "invented this edition." Doubleday and Kipling formed a great friendship, and Kipling was one of the most popular authors published by Doubleday when F.N. went into business for himself in 1899, after a short-lived partnership with the magazine magnate Samuel McClure. The Collection contains numerous important works published in very small limitations for copyright in America, which F.N. Doubleday had finely bound and were retained by his family for generations. Of note within this group are one of ten copies printed of Kipling's The White Man's Burden, a poem warning against American imperialism in the wake of the Spanish American War, and a proof copy of Kipling's The Years Between, which poetically records the years between the wars (Kipling's son had died in WWI, these lot 108 and lot 109).
Present also are volumes inscribed by Joseph Conrad (lot 79), Christopher Morley (lot 63), a manuscript of O. Henry (lot 124), and an important group of over twenty presentation copies from the inimitable Somerset Maugham (lot 119). F.N. Doubleday developed lifelong friendships with this literary coterie, many of which affectionately called "Effendi", a play on his initials but also a Near Eastern title of nobility for an erudite man. In F.N. Doubleday's Memoir of a Publisher, published by his grandson in 1972, numerous delightful stories of these authors wandering the halls of the publishing house are recorded and is a very worthy read.
The most meaningful period for the firm came in the years 1900-1920 when F.N. Doubleday partnered with Walter Hines Page, the much older former editor of The Atlantic Monthly and advisor to Houghton Mifflin, to create the Doubleday Page imprint. It was also in this period that the firm took the unheard of step of leaving Manhattan, building a complex in Garden City near Doubleday's Oyster Bay estate, and became one New York's largest and most beloved employers. This Collection includes Doubleday's finely bound retained copy of the three volume biography of his great friend Walter Page, a largely forgotten figure (lot 102). Frank Nelson Doubleday died in 1934 and handed the mantle of what was becoming a publishing empire to his son, Nelson.
In this transition period, another Doubleday executive of note was Theodore Roosevelt Jr., son of the former president, who at 53 years old enlisted for service in World War II. Sadly, Roosevelt Jr. survived the D-Day landing at Utah Beach but died from a heart attack in a French village just weeks later. A tribute to him is appropriately included in a fine lot of Doubleday family memorial materials, as well as some early records of the firm (lot 96). In this period Doubleday would publish Dwight Eisenhower's Crusade in Europe, issued in a deluxe edition with a signed copy of the D-Day Order, which helped propel him to the presidency (lot 97). Nelson Doubleday died in 1949 while his son, Nelson Jr. Was still a teenager. After being educated at Deerfield Academy and Princeton University and a stint in the Air Force, Nelson Doubleday, Jr. took the helm of the family business, running it until its sale in 1986.
Nelson Doubleday, Jr. was a great lover of sports (his relative Abner Doubleday is somewhat controversially credited as an inventor of the game of baseball), and the period after the sale of the company was devoted to sailing and to his ownership the New York Mets, the then last place National League baseball team. His company had taken an ownership stake after the death of Joan Whitney Payson, the team's original owner. Doubleday increased his personal stake in the team following the sale of the publishing house and was at the helm during the Mets miracle World Series win of 1986. This Collection contains remarkable artifacts of his time as owner of the Mets, including a group of personal memorabilia (lot 56). This lot contains a framed ticket to game seven of the 1986 World Series, Doubleday's Mets travel garment bag with his initials, a hat sized for Keith Hernandez, and an engraved sterling silver baseball gifted from former partner and current Mets owner Fred Wilpon. A group of approximately twenty watercolors of the Mets players, captured from the field level and owner's box by the artist Raymond Davidson, depict the players in unguarded moments (lot 54). A very uncommon offering is Doubleday's engraved diamond National League Championship ring, presented to the owner after the heartbreaking loss to the Mets' crosstown rival Yankees in the famous Subway Series of 2000 (lot 57).
The Collection of Nelson Doubleday, Jr. tells a great New York story. The sale of the Collection will take place on January 11, 2017.