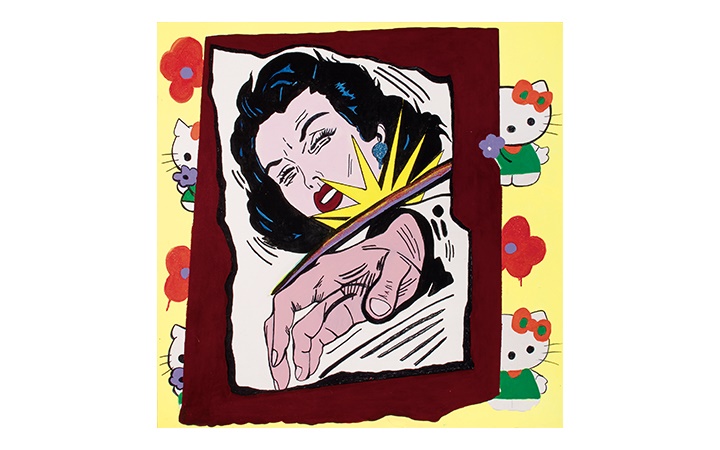 Among the many unique figures who were a part of the Factory scene, few were as truly close to Andy Warhol as Ronnie Cutrone (1948-2013). Arriving on the scene in 1965, still a high school student, Cutrone performed with the rock group Exploding Plastic Inevitable, before they evolved into the legendary Velvet Underground. Ronnie worked closely with Warhol, helping to launch Interview magazine, as well as seminal design venues, such as the Mudd Club. From 1972 until 1982, Cutrone was Andy's assistant, indispensable in creating a body of work with Warhol during that ten-year span.
Cutrone's personal artwork is indebted to Pop Art, but very much its own animal, bereft of the satirical re-appropriation that was exemplified by Warhol, Lichtenstein, Wesselmann and others. Cutrone's many cartoon characters were icons, representing archetypal figures and ideas, updating and modernizing the religious painting. In a telling quote, Cutrone stated, "Everything is a cartoon for me. The ancient manuscripts are taken very seriously but they are really cartoons."
Superman, Woody Woodpecker, Fritz The Cat, and others were all employed by Ronnie not as objects of re-appropriation for decorative ends, but as vehicles to express the personalities their characters represented. With his untitled work in lot 100 from the May 10 auction of Post-War & Contemporary Art, Cutrone features a scene of a woman being struck in the foreground, comparable to the sort of 1950s romance comic book panel that Lichtenstein would have employed. However, the panel rests upon the repeated image of Hello Kitty, a benevolent Japanese cartoon character embraced by young girls worldwide, a kind figure representing youth and innocence. Is Cutrone telling a story of the loss of innocence? A relationship hampered by misogynist tropes repeated in kitschy forums like romance comics? Regardless, it is Cutrone's unique usage of the cartoon that separates him from the Pop Artists, something defined by many as Post-Pop.
As much as Warhol treated Ronnie as a son and trusted assistant, Cutrone returned the favor to several young artists coming to prominence in New York City during the 1980s and 90s. One among these was Chris Ellis, better known as Daze, a gifted young Graffiti writer embroiled in the difficult transition to studio artist when he first encountered Ronnie. As Daze recalls, "As an older artist, he was always ready to dish out good advice and direction. He was very supportive of me in this way, unlike some of his contemporaries who were too caught up in their own careers to really care. Ronnie was someone who realized the importance of being there for the younger generation." With Cutrone as friend and mentor, Daze was better able to make his massive aerosol pieces, as seen in lot 101, translate to canvas. Beginning with "Beyond Words," a seminal group show at the Mudd Club overseen by Keith Haring in 1981, Daze was included in all-star roster of young artists that included Futura 2000, Haze, Lee Quinones and Crash, a prescient lineup featuring what would become historical touchstone artists, all of whom made the rare jump from youths as Graffiti artists to decades-long careers as respected fine artists.
Daze not only benefited from the mentoring of Ronnie Cutrone, another elder statesman of the Lower East Side, artist Martin Wong, was also an ardent friend and supporter of Daze and many other young Graffiti artists. While a denizen of the LES, Martin's stark depictions of dilapidated tenements placed him in an altogether different category than the prevailing Post-Pop and Neo-Geo art of the era. Martin was beloved not only as a kindred spirit, but as a remarkable artist able to capture the rawness of downtown NYC within his expressive portraiture, as seen in lot 99, and in his meticulous bricked buildings. As an employee of Pearl Paint, Martin famously undercharged (or simply gave away) canvas and other supplies to the young artists he had taken under his wing. For years, Martin was one of the few true collectors of Graffiti art, a rare paying customer who purchased the early works of Daze, Crash, Lady Pink and many others, instilling in them the confidence to continue their work.
Keith Haring's similar passion for the Graffiti he discovered upon arriving in New York is well documented, including his mentoring and collaborating with artist LA2. With the burgeoning Tony Shafrazi Gallery as cynosure, Haring (represented by lot 95), Cutrone, Donald Baechler (represented by lot 96), and Jonathan Lasker first appeared together in a formidable group show in October of 1981. Shafrazi (himself mentored by Leo Castelli) was the touchstone for many essential young New York artists to whom Graffiti was, if not a way of life, at the very least an undeniable influence. With Cutrone as a key early roster member, Shafrazi went on to also include Kenny Scharf, John Ahearn and Jean-Michel Basquiat among his ranks.
Enamored as this group of 80s wunderkinds, including Haring, Scharf and Basquiat, were of Andy Warhol from afar (becoming friends, and for Basquiat, collaborator with the Pop Art king), none could truly claim to have the father-son closeness that Cutrone shared with Warhol. As all of these artists had the utmost admiration for Warhol's work, it is a wonder that with the gravity of Warhol's immense presence and influence, these artists were able to create their own unique and important bodies of work. Haring developed a strikingly simplistic coded language of line-form characters, Scharf a rainbow spectrum of Jetsons cartoons and all things kitsch, and Basquiat a complicated network of crossed-out phrases and contorted figures. Ronnie Cutrone, however, was that linchpin figure – the person who blazed the path, making New York possible for new paintings again, post-Warhol, post-Pop, showing a way to embrace the influence of one's past, yet push on into the new. Whether Haring, Daze, Baechler or any of the young, gifted artists of the day came to know Ronnie personally, or simply knew him through his work, his importance as mentor and artist opened the door for a renaissance of downtown artists, beginning in the early 80s and continuing onto today.
Property from the Estate of Ronnie Cutrone will be offered in the auctions of Post-War & Contemporary Art on May 10 and Doyle+Design on June 15, and in select sale during Fall 2016.