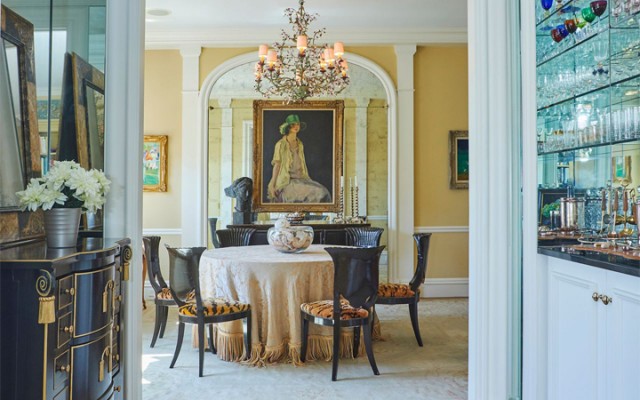 NEW YORK, NY -- Doyle is honored to auction property from the Estate of legendary fashion executive Dawn Mello. During in the 1970s and '80s, Ms. Mello emerged as an influential figure in luxury fashion and retailing.
Born in Lynn, Massachusetts in 1931, Ms. Mello studied at Boston's Modern School of Fashion Design before moving to New York, where she worked as a model. Her career in fashion retailing began at B. Altman & Co., where she was director of Fashion Merchandising and The May Department Stores, Inc., ultimately being promoted to Vice President and General Merchandise Manager.
Ms. Mello's tenure at Bergdorf Goodman began in 1975, first as Vice President and Fashion Director, later becoming President. She quickly transformed the famed Fifth Avenue department store from a once-fashionable grande dame into a world class luxury emporium showcasing the era's hottest designers. Scouring the marketplace for young talent, she introduced and promoted such designers as Donna Karan, Giorgio Armani, Azzedine Alaïa and Kate Spade at the beginning of their careers. With her keen eye for retail and merchandising, she elevated the Bergdorf brand, from the look of the windows to the floor displays and advertising.
Ms. Mello left Bergdorf Goodman in 1989 to join the Gucci Group as Executive Vice President and Creative Director Worldwide. Moving the firm's operations from Milan to Florence, she set about reviving the Italian leather goods manufacturer into a blue-chip fashion powerhouse. She hired Tom Ford to breathe new life into the company's ready-to-wear line; he went on to become Gucci's Creative Director when Ms. Mello returned to Bergdorf in 1994.
In 1999, she started her own consulting company, Dawn Mello and Associates LLC, specializing in the luxury market. Based in New York, the firm served an international client list, from both retail and manufacturing industries. In addition, she was a founding partner in Atelier Management, LLC, an investment fund specializing in the acquisition and development of luxury brands.
Dawn Mello was recognized and honored for outstanding achievement in her field by the Council of Fashion Designers of America and the New York Fashion Group as an outstanding woman in the retail industry. In 1994 she was awarded the NOW Legal Defense and Education Fund's award honoring individuals and corporate leaders dedicated to full equality for women.
In 2001 she was the first recipient of the Eleanor Lambert Award named for the legendary fashion authority and given to Ms. Mello by the Council of Fashion Designers for her contribution to the culture of American fashion.
Property from the Estate of Dawn Mello comprises lots 111 - 168 in the January 11 sale. The array of stylish art, furniture and decorations reflects her sophisticated and discerning eye for quality and design.
Doyle at Home
Auction Tuesday, January 11, 2022 at 10am
Exhibition January 8-10
Photograph of Dawn Mello's apartment by Anastassios Mentis.