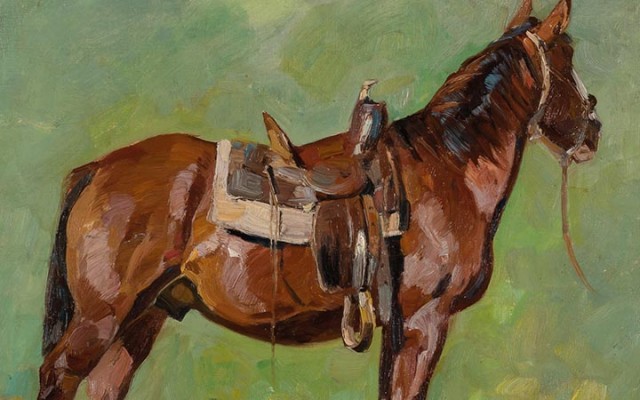 NEW YORK, NY -- With unfettered passion and an innate sense for strong, progressive design, Jacqueline Loewe Fowler sought out and discovered a broad spectrum of treasures ranging from Folk Art to Modern Design and Arts and Crafts Jewelry. Her fervor for collecting was matched only by her generous giving, both of sage advice and treasures from her collection to countless institutions. Her gifts to the Metropolitan Museum of Art numbered more than 400, enhancing the holdings of the American Wing, the Costume Institute and many other departments. In addition to the Met, Ms. Fowler was a donor to the American Folk Art Museum, the Cooper Hewitt, Smithsonian Design Museum, Wellesley College and the Museum of Fine Arts, Boston.
Ms. Fowler amassed a varied collection which included not only Folk and Outsider Art, but also conceptual works from Contemporary artists. The collection includes works by Outsider artists Justin McCarthy, Chris Hipkiss and the Philadelphia Wireman, as well as also an early work by Land Art pioneer Robert Smithson and a light piece by Op Art sculptor Horacio Garcia Rossi. Ms. Fowler's curatorial eye is abundantly clear when one admires iconic examples of Mid-Century Modern Design, such as an Eames 670/671 lounge chair and ottoman, combined effortlessly with a Rudolph Dreyaupt chair from the early 20th century and a Frank Gehry Easy Edges R bar stool dating to 1970.
In her jewelry collecting, Ms. Fowler possessed a deep appreciation for pieces that evidenced the artist's hand at work. She was drawn to interesting color, stone and material compilations ranging from modest works in silver by the Kalo Arts and Crafts Community House to intricate masterworks in hand-crafted gold by Edward Everett Oakes, both leaders of the Arts and Crafts movement in America. A champion of contemporary studio artists, Ms. Fowler collected works by Earl Pardon, whose colorful sculptural designs elevated what was often perceived as the "lower art" of jewelry. Her collection includes seminal works by William Harper – mixed media creations which fused the mundane (bicycle reflectors and plastic cufflinks) with precious gold, gemstones and exquisite painterly enamels in startling juxtapositions that relayed Harper's fascination with duality. Not unlike Harper, Ms. Fowler's collection reveals an emphasis on design over value, man over machine.
A singular highlight of the May 5 American paintings sale from Ms. Fowler's collection is Carl Clemens Moritz Rungius' A Cowboy's Mount. Runguis, celebrated for anatomically accurate depictions of wildlife in the American West, was a German native who immigrated to the United States in the 1890s. Within a year of arriving in the States, he had made his first trip to Wyoming and Yellowstone. His highly romanticized works show robust wildlife undisturbed in nature, now a part of the American visual vocabulary. In A Cowboy's Mount we see Rungius's excellent draftsmanship and his superb use of color, effortlessly deployed to depict a casual view of a horse set against a background of cool greens.