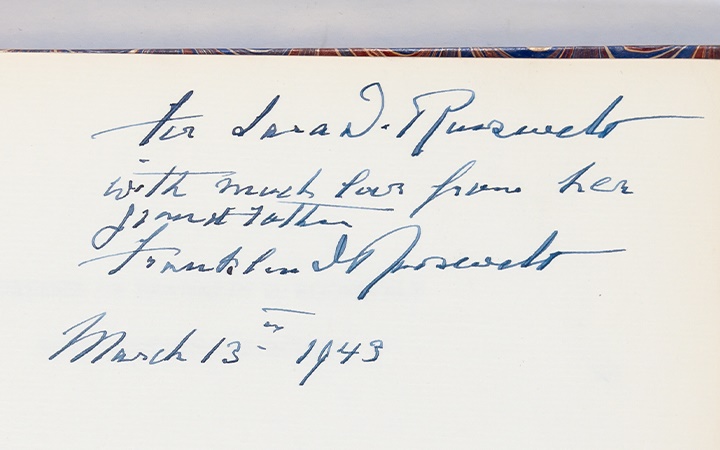 NEW YORK, NY -- Doyle is honored to auction property from the Estate of Sara Roosevelt Wilford in select sales throughout the Fall auction season.
Sara Roosevelt Wilford (1932-2021) was the first of two daughters born to Betsey Cushing Roosevelt Whitney (1908-1998) and James Roosevelt (1907-1991), the son of President Franklin Delano Roosevelt (1882-1945) and Eleanor Roosevelt (1884-1962). Mrs. Wilford's adoptive father was John Hay "Jock" Whitney (1904-1982), born to one of the most prominent American families of the twentieth century.
In addition to managing their businesses and philanthropic interests, Mr. and Mrs. Whitney amassed a significant collection of Impressionist and Modern art, including works by John Singer Sargent, Edgar Degas, Vincent van Gogh, Pablo Picasso and Henri Matisse. Many of the works settled at the Museum of Modern Art in New York and the National Gallery of Art in Washington upon Mrs. Whitney's death.
Sara Roosevelt married Anthony di Bonaventura (1929-2012), a pianist and Professor of Music at Boston University College of Fine Arts. She later married Ronald Wilford (1927-2015), the President of Columbia Artists. Mr. Wilford managed the careers of some of the world's finest conductors and performers, including Herbert von Karajan, Seiji Ozawa, Kurt Masur, Vladimir Horowitz and Mstislav Rostropovich.
As a Sarah Lawrence College faculty member, Mrs. Wilford taught courses connecting child development theory to educational practice. She led several programs at the college in the areas of child development and education. Outside the classroom, Mrs. Wilford served as a frequent keynote speaker at seminars and conferences on early childhood development, contributed to numerous scholarly articles and authored three books on childhood learning.
Rare Books & Autographs

The Wilford collection contains several outstanding rare books. The most compelling material related to the Roosevelt family is the Addresses of Franklin D. Roosevelt and Winston Churchill, published in Washington, with the imprint "The White House, Christmastide, 1942." It is the first in a series of wartime Christmas books published by FDR. He inscribed this copy of an issue of just 100 on the front blank in blue ink. It reads, "For Sara D. Roosevelt/with much love from her/Grandfather/Franklin D. Roosevelt/March 13th 1943." Family association copies of this great rarity are incredibly desirable, and we trace only four sold since 2000.
Another highlight is the 1896 autograph manuscript for Max Beerbohm's first published fictional work, The Happy Hypocrite, as it appeared in the notorious 1890s periodical The Yellow Book (which extensively featured the work of Aubrey Beardsley and Oscar Wilde). It contains the complete text of Beerbohm's tale, which he illustrated with numerous casual drawings. Doyle's sale on October 13, 2022, marks the first time it will appear at auction since Anderson Galleries offered it in 1907.
Other works include a photographic portrait by Sigmund Freud's son-in-law, Max Halberstadt, one of the best portrait photographers in Vienna in the 1920s. He took a superb series of images of Freud, and the Wilford example is signed by Freud and dated by him 1925. Copies of Halberstadt's portrait of Freud signed by the great psychoanalyst are rare and desirable. A final desideratum is George Rouault's graphic masterpiece Cirque de l'etoile filante (The Shooting-Star Circus), which combines a suite of seventeen superlative color aquatint plates with a series of wood-engravings designed by the artist. One of the finest artist books of the period, it shows Rouault's passion for the circus, tinged with his deeply felt religious beliefs.
To Be Offered in Select Auctions this Fall

Doyle will offer property from the Estate of Sara Roosevelt Wilford in the following sales:
Rare Books, Autographs & Maps. Auction Oct 13. 
Jewelry Online. Auction Oct 18.
English & Continental Furniture & Decorative Arts. Auction Oct 19.
English & Continental Silver, Vertu & Faberge. Auction Oct 20. 
Fine Jewelry & Luxury Handbags. Auction Oct 25. 
Prints & Multiples. Auction Oct 26.
Important Jewelry. Auction Oct 27. 
Impressionist & Modern Art. Auction Nov 9.
Doyle at Home. Auction Nov 22.