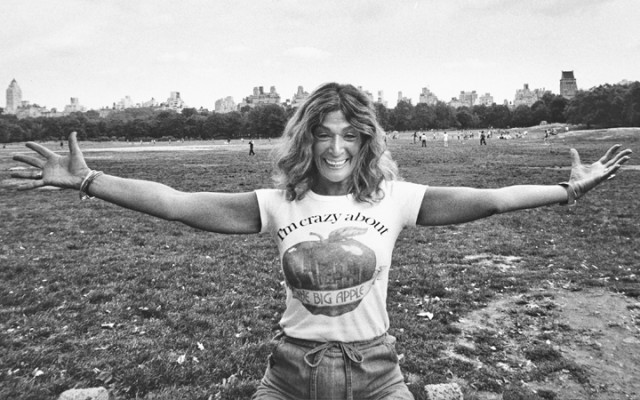 NEW YORK, NY -- Doyle is honored to offer a selection of artwork and memorabilia from the Estate of Sylvia Miles (1924-2019). Twice nominated for an Academy Award, Miles is best remembered for her strong performances in diverse works ranging from Midnight Cowboy to Sex and the City, as a bona fide "Warhol Superstar," and as a fixture so prevalent on the Manhattan party scene that it was said she would "attend the opening of an envelope." This was also said of Andy Warhol, Miles' great friend, who thought to include this anecdote about Miles in his bible of the times, Andy Warhol's Exposures, a who's who of the late '70s New York scene. This fall, Doyle will offer important artwork gifted to Miles by her circle of artistic friends, including Warhol, Robert Rauschenberg, Larry Rivers, and Leroy Neiman; film memorabilia chronicling her highly regarded career; and personal items from an extraordinary life.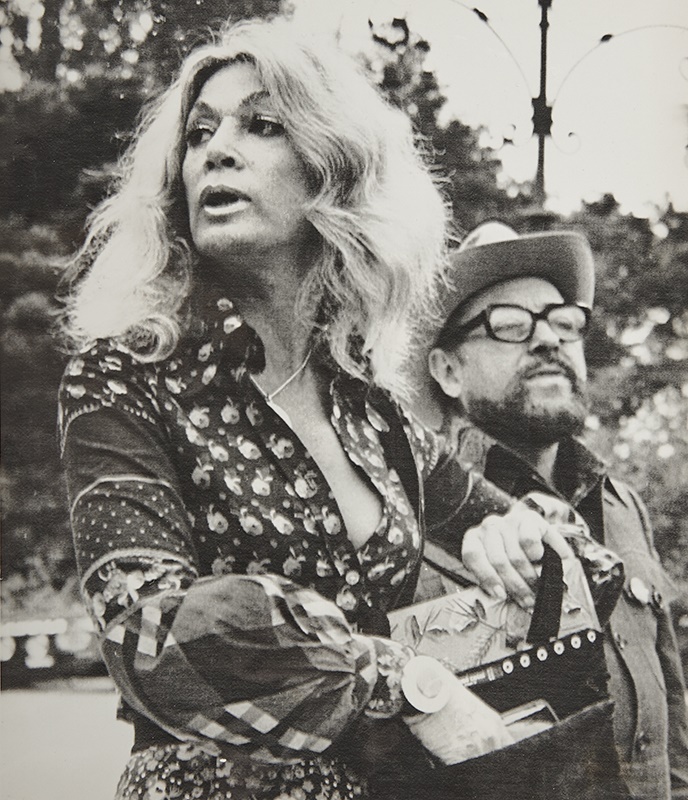 Born in New York City in 1924, Miles studied at the Pratt Institute and the Actors Studio. A stage and television career followed, and Miles made her professional acting debut in 1956 in Harold Robbins' A Stone for Danny Fisher. She then appeared in Jean Genet's The Balcony and Eugene O'Neill's The Iceman Cometh before roles in the 1960 pilot of The Dick Van Dyke Show (then called Head of the Class), The Defenders (1962), and Car 54, Where Are You? (1963). But as the hard-boiled black and white pulp of the '50s gave way to the gritty, urban mainstream thrillers of the '60s, Miles was frequently cast as a character actor who could develop a persona in just a short time on screen. In the early 1960s, Miles appeared in various episodes of the television series Naked City and the films Violent Midnight (1963), Pie in the Sky (1964) and Terror in the City (1964).
Sylvia Miles with Tennessee Williams
But it was her scene-stealing performance alongside Jon Voight in Midnight Cowboy in 1969 which would officially launch Sylvia Miles. Then 45 years old, Miles would only appear on screen for 6 minutes as Cass, the Park Avenue kept woman who lures the naïve Texan and would-be hustler Joe Buck (Voight) into her apartment. After making love, Cass, down on her luck and temporarily between "sponsors," is terribly offended when Buck asks her to pay him and throws a terrific tantrum. Beaten down, Buck gives her money. Midnight Cowboy has the distinction of being the only X rated feature film to win the Best Picture Oscar (and only the second film with the rating, which was self-imposed to avoid censoring certain scenes) and is considered one of the most influential films of the era. Miles received an Academy Award nomination for Best Supporting Actress for her highly regarded performance. Offered at auction will be Miles' annotated script, dozens of production stills of Miles and Voight's lovemaking and street scenes, a leery postcard from Dustin Hoffman (who played the unforgettable Ratso Rizzo), and Miles' Oscar nomination. At this time Miles also befriended Bob Dylan who had written Lay, Lady, Lay for the Midnight Cowboy soundtrack but did not submit it in time: Miles always believed the ballad was written for her – a story also recorded by Warhol in Exposures.
Miles was again nominated for Best Supporting Actress in 1975 for her role in Raymond Chandler's Farewell, My Lovely, starring Robert Mitchum, and continued to receive roles in major films including Dennis Hopper's The Last Movie (1971); 92 in the Shade (1975) with Peter Fonda; the 1978 Bollywood Shalimar; Crossing Delancey (1988); and She-Devil (1988) with Meryl Streep. Miles' memorable scenes in Oliver Stone's Wall Street (1987) as Dolores the Realtor led to her reprising the role in 2010 in Wall Street: Money Never Sleeps (Miles' annotated scripts are offered in the sale). On television, Miles' was unforgettable in a cameo in the season five opening episode of Sex in the City in which her character, while sitting next to Carrie Bradshaw (Sarah Jessica Parker) at a crowded luncheonette counter, crushes and sprinkles lithium onto her ice cream.
It was Miles' association with Andy Warhol as both a close friend, or "Warhol Superstar," that cemented her status as a New York icon. Miles had a starring role in Warhol's 1972 film Heat, the third film in a trilogy that parodied Sunset Boulevard, alongside Joe Dallesandro. In 1968, Warhol had cast Dallesandro in the first film in the trilogy, Flesh, and it was that character that inspired the verse about "Little Joe" in Lou Reed's classic Walk on the Wild Side along with the verses about transgender icon Candy Darling and Jackie Curtis. Dallesandro and Miles became close at this time and to be offered is a group of photographs and an inscribed book from Dallesandro to Miles highlighting this important relationship.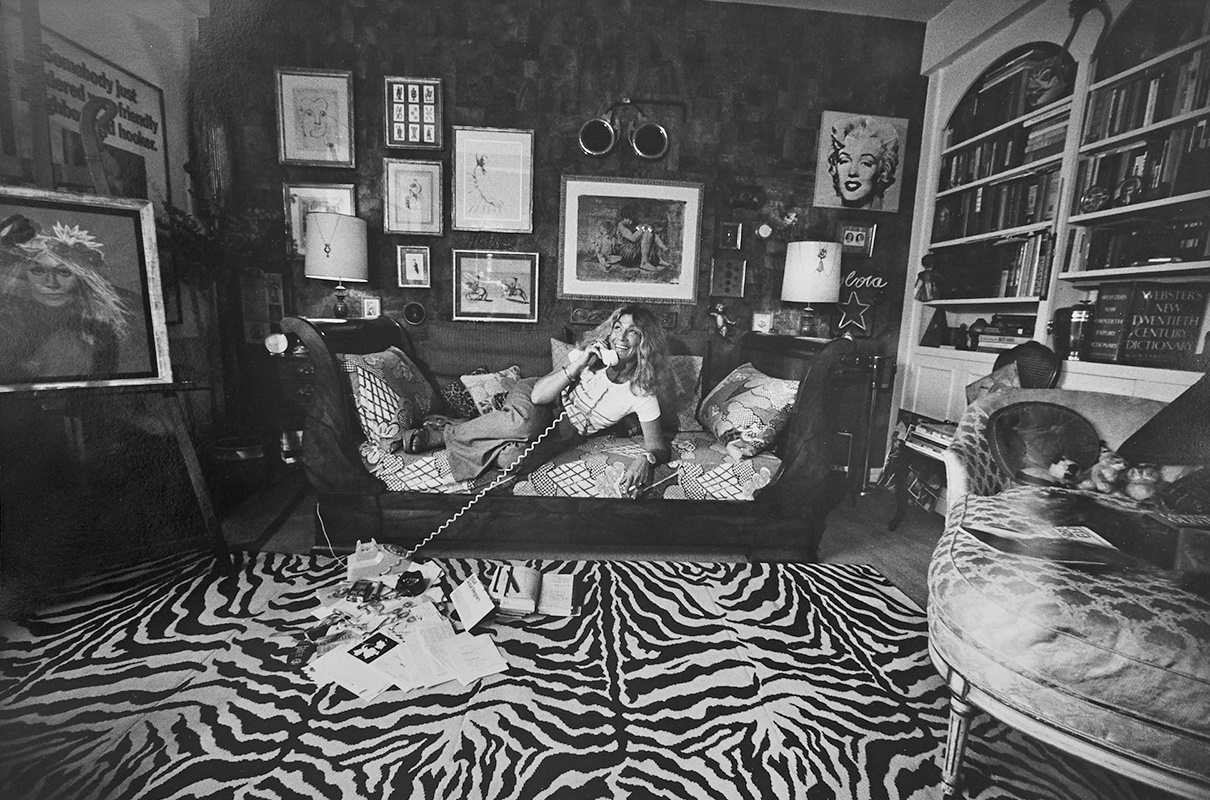 Warhol and Miles were frequently photographed together during the 1970s and 80s and a chapter is devoted to Miles and Monique Van Vooren in Andy Warhol's Exposures (Miles' inscribed copy from Warhol will be offered). Warhol described Miles in the book:
"Sylvia lives on the West Side in a beige brick high-rise with lots of doormen and closed circuit TV. She has a studio apartment with a view of Central Park … [she] has a couple of zebra skin rugs and lots of photographs of her with famous men. Sylvia and Tennessee. Sylvia and Rex Reed. Sylvia and Jacques Bellini. There's always a pile of scripts on the floor next to the rocking chair ... Sylvia's best friends are her boyfriends. They're always handsome, young, and unemployed. They follow her. Sylvia doesn't follow anyone."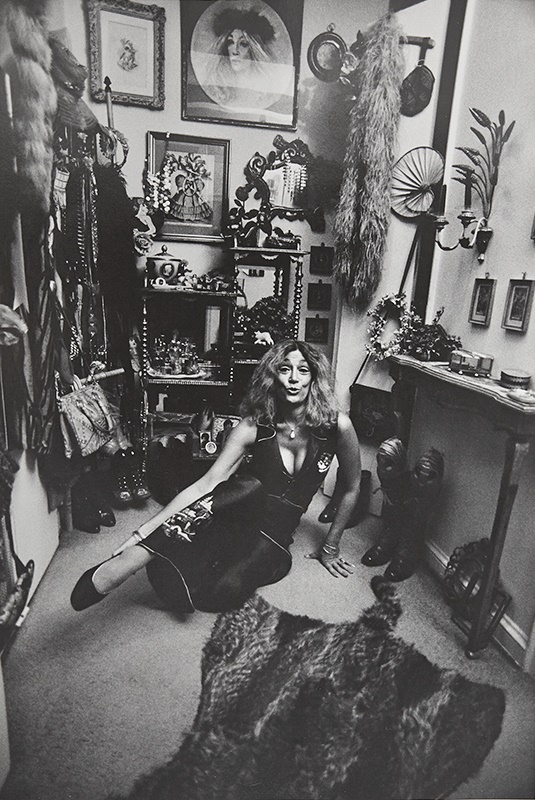 A board of photographs and autographs assembled by Miles, likely seen by Warhol in Miles' Central Park South apartment, depicts the star with Warhol as well as Tennessee Williams, Rex Reed, and Jack Nicholson. This board will be offered for sale as will the large group of scripts mentioned.
Warhol and Miles were so ubiquitous on the Manhattan party circuit that the ventriloquist Wayland Flowers famously quipped that the pair would "attend the opening of an envelope." This joke stuck and is echoed in a postcard from Warhol to Miles asking if she would like to attend the "opening of a pistachio nut," and is further set in print in Exposures:
"People say Sylvia will go to the opening to anything. A door. An envelope. A hamburger… I've gone to the opening of a window … a street corner – Sylvia was there."
In Miles' Central Park South apartment which she occupied from 1968 until her death she surrounded herself by artifacts of her career and artwork gifted by her talented group of friends, particularly Warhol. An important 1967 Warhol screenprint of Marilyn Monroe inscribed to Miles will be offered along with a 1969 screenprint from his iconic Campbell's Soup II series. Original works of art and signed pieces abound by Robert Rauschenberg, Larry Rivers, Howard Finster, Mark Kostabi, Keith Haring, Hunt Slonem and Leroy Neiman.
For the quotations here see WARHOL, ANDY. Exposures. New York: 1979. Pages 176-200.
Property from the Estate of Sylvia Miles
Property from the Estate of Sylvia Miles will be offered in three auctions:
Prints & Multiples / October 22 
Featuring prints gifted to Sylvia Miles by Andy Warhol
Rare Books, Autographs & Maps / November 12 
Featuring memorabilia, autographs and boho-chic costume jewelry
Doyle Design / December 18