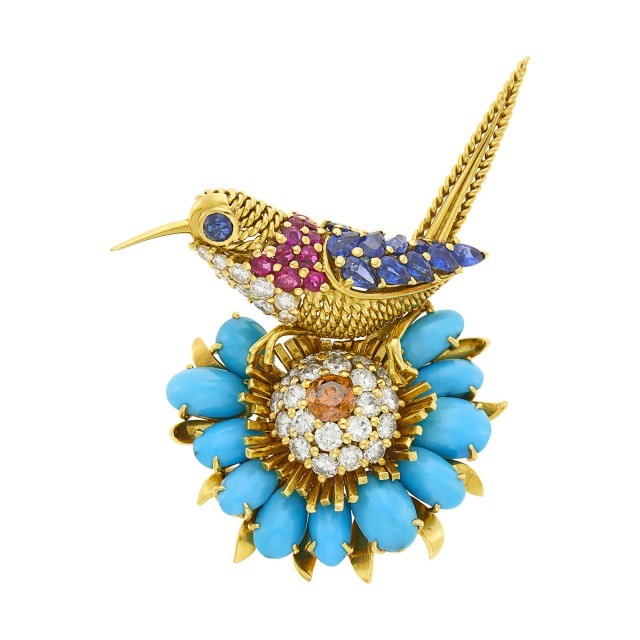 NEW YORK, NY -- Perhaps one of the more elusive jewelry histories is that of the House of Marchak. Years of prestige were marked with personal and global strife, reducing the number of works we find at auction today. Their rarity adds to their luster, yet the quality of the craftsmanship stands on its own. The Marchak story is about inventiveness, resolution and prosperity.
Born in 1854 in the small town of Ignatovka just outside of Kiev, Ukraine, Joseph Marchak wasted no time realizing his potential. Independent and determined to succeed, Marchak took on a jewelry apprenticeship at age 14, where he quickly focused his energies and natural creativity. By 1878, he had founded his first workshop in the penurious Kiev neighborhood of Podol. There Marchak produced his first handmade gold chain, using his wife's dowry and the funds from pawning his only suit to complete the project. His risk paid off. By the following year, Marchak's skilled works had garnered enough clientele that he relocated to the illustrious Kreshchatyk Avenue, the main thoroughfare in Kiev.
Marchak saw higher traffic in his new neighborhood and continued his rapid rise. By 1885, he employed a staff of 20. His shop was known for creating the best versions of popular contemporary styles, including Neoclassical and Art Nouveau. Constantly curious and striving to improve his cache of jewelry expertise, Marchak traveled extensively overseas. Each destination yielded new skills and ideas. Traveling also allowed Marchak to promote his business; he won a medal and diploma of honor at the 1893 Chicago World's Fair and an award at the 1894 Exposition International d'Anvers in Antwerp, Belgium.
A devastating fire in 1899 destroyed Marchak's bountiful business; however, rather than catastrophizing, he took it as an opportunity to expand and lay the groundwork for future success. He opened a ground-floor shop for retail clients and a workshop for his 150 employees next door. Thinking of boosting sales and keeping records, Marchak began producing catalogs of all items. These catalogs provide us the most extensive directory of Marchak's designs today.
Marchak surrounded himself with those who shared his motivation and zeal. His hunger for knowledge resulted in an impressive on-site library and, eventually, a jewelry school within his workshop. It became a hub of creativity that focused on engraving and design. All who were motivated, regardless of sex, were welcome. The school resulted in a constant stream of apprentices and employees for Marchak's shop. Marchak's thriving business set a standard of opportunity for others – it is on this foundation that the house would stand for years to come.
Marchak continued to travel and win awards for excellence in jewelry design, including triumphs at the 1900 Paris Universal and International Exhibition, the 1902 Saint Petersburg International Artistic Exhibition, and a Grand Prix at the 1905 Liege Universal and International Exhibition. By 1913, he was well established as the premier jeweler in the region and a direct rival to the great house of Fabergé. In his crowning glory, Marchak received Royal orders from Tsar Nicolas II to produce the official gifts for the 300th anniversary of the Romanov reign celebration. As a result, Marchak was dubbed the "Cartier of Kiev." He enjoyed this titular achievement until his death from cancer in 1918 at 64.
Fresh off his studies in Paris and acutely aware of heightened uncertainty across Europe, Alexander Marchak moved his family to the French capital after Joseph's passing. Motivated by his father's legacy, the youngest of Joseph Marchak's eight children opened a jewelry boutique on rue Cambon in 1919. Joseph Marchak's works were prized worldwide, and Alexander did not waste this standing. He capitalized on the influx of foreigners fleeing the war to cultivate an international clientele in Paris. In 1920, he became a member of the Federation for Diamond, Pearl and Precious Stone Dealers, which afforded him even more business opportunities.
Alexander partnered with the established designer, jeweler and silversmith Robert Linzeler. Together they opened a shop on 4 rue de la Paix. Between 1922 and 1926, they signed all their jewelry "Linzeler-Marchak." The duo created some of the most striking works of the time. Their boldness drew the attention of the 1925 Exposition des Arts Décoratifs et Industriels Modernes, where they were one of only thirty jewelers invited. Linzeler-Marchak won the Grand Prix with several items of jewelry.
Marchak and Linzeler utilized the brilliance of Vladimir Makovsky, an inlay and mosaic master. Together they produced clocks, compacts and objets featuring painterly scenes made from inlaid mother-of-pearl, coral, lapis and turquoise. Their pieces at this time were attentive to the original spirit of Joseph Marchak's vision while allowing for the ingenuity and creativity of the Art Deco period to abound. They used platinum often, and Marchak's delicately-set diamond, sapphire and emerald works often featured subtle undulating florals, bouquets, and garland-like loops.
The Linzeler-Marchak union came to an end by 1927. Linzeler continued his operations on 9 rue d'Argenson, producing silver and objet sets mainly for Cartier, whom he worked with prior to 1922. Alexander Marchak continued independently. In 1931, he was awarded the Grand Prix at the Colonial Exhibition. He continued to make a splash for the next several years.
But this time of prosperity was not to last. Fearing the onslaught of WWII, Alexander and his family sought refuge in Savoy. He relegated operations of the shop to his trusted director, who miraculously kept it open during the turmoil of the 1930s and early 40s. Like other jewelers, Marchak's wartime designs moved away from delicate platinum toward polished gold, often in interesting and realistic form, due to the scarcity of platinum during the war.
Alexander was eager to return to business when the war concluded. Looking to move Marchak in an innovative new direction, he hired Jacques Verger, grandson of the Parisian watchmaker Ferdinand Verger, and Alexander Diringer – both previously of Sterlé – in 1946. Materials were still scarce, so Diringer developed a thin gold wire mesh that could be manipulated into intricate designs using the smallest amount of gold possible. A "cocktail ring" sitting high on the finger centered bursts and contrasts of color – often with turquoise, coral, rubies and sapphires – continuing romantic themes of flora and fauna. A prime example of this style is a twisted gold wire hummingbird encrusted with bright rubies and sapphires, perched atop a flower of robin's egg blue turquoise, centering brilliant diamonds and an unexpected orangy brown diamond (Lot 88, Auction June 23, 2022).
Their works also incorporated movement wherever possible with flexibly-set stones, their wire mesh and tassels creating a lyrical whimsy to their designs. Marchak became sought-after for the velvety appearance of their worked gold. These designs brought life back into jewelry wearing after the heaviness of the last decade. The house fiercely protected the minds of its designers and craftsman, urging them to look the other way when passing other jewelry shops. It remained paramount to Alexander that Marchak retained its unique designs.
By 1957, Marchak was ready for expansion, and America was hungry for French designs. Verger moved to the United States, managing the New York, Chicago and Cleveland markets, while Diringer took over the Paris boutique. Verger's skill, character and charm served him well. Thanks to him, Marchak counted the Vanderbilt family and First Lady Jackie Kennedy Onassis as clients during the 1960s. Verger's reach still extended across the ocean, as well. He became a valued friend and supplier to King Hassan II of Morocco. The relationship was so successful that Marchak was named the official jeweler for Morocco.
These were prosperous years for Marchak. Verger was officially at the helm until the 1970s, when Bertrand Degommier took over as designer. The designs took on a modern geometry, often featuring the heavy colors of hardstones in bold shapes. Unfortunately, Verger decided to close the Marchak stores in 1988. He quickly sold the firm to Daum, losing a number of the remaining Marchak archives in the process.
Recently, the House of Marchak was given new life by a member of the family, Dr. Daniel Marchak, who reopened the brand near the Palais Royal in Paris in 2003.