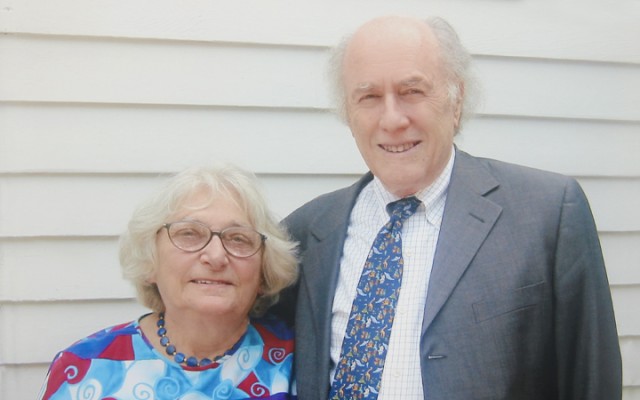 Doyle is honored to auction the exceptional collection of artwork, rare books, Judaica and other objects assembled by David and Eleanor Margolis in select auctions during the upcoming season.
The buzzy Brookline, Massachusetts, home of David and Eleanor Margolis was always full of friends, family, scholars, artists, neighbors and, eventually, treasures from their extensive travels. Visitors remember its concentrated group of sculptures by Lynn Chadwick and its array of CoBrA group works, in addition to works by Edvard Munch, Paul Klee, Georges Braque, Pablo Picasso, Roberto Matta, Joan Miro, Hans Hofmann, Ernst Kirchner, Paul Jenkins and Rembrandt van Rijn.
David and Eleanor also shared a fascination with rare, illustrated books by 20th-century masters. Their library contained Joan Miro, Marc Chagall, Jean Cocteau, Georges Rouault, Aristide Maillol, Pablo Picasso illustrations and the infamous Henri Matisse treatment of Ulysses by James Joyce.
The couple's extensive European honeymoon in 1958 fueled their interest in collecting and enthusiasm for world travel. They developed a close friendship with Copenhagen-based artist and gallerist Sam Kaner, who provided direct introductions to emerging artists and informed the Margolis's collecting focus.
David and Eleanor invested in international properties to cultivate their collection and live overseas with their family. On one of many trips to seek out artists and acquisitions, David and Sam discovered the little town of Marina di Grosseto in Italy. David bought a new home in the Tuscan seaside village recuperating from World War II. David and Eleanor purchased an apartment in the 1960s in Jerusalem, where they lived with their children for a year. They maintained a flat in Florence beginning in the 1990s, where David ventured as often as possible and became a self-taught expert on objects originating in Italy. These homes served as regular hubs for travels to destinations even farther afield. Eventually, their collection reflected their eclectic concentrations and ever-expanding, lively circle of friends.
David, a committed student of Judaism, assembled an extensive collection of Judaica. Highlights include Megillah Esther scrolls from the 18th and 19th centuries, scores of spice boxes, haggadot, menorahs and a rare engraving of the inside of the vast elevation of the Livorno synagogue.
David and Eleanor were gracious and prolific hosts. They filled their home with a spirited ensemble of beautiful objects that expressed their conviction that being surrounded by art lifts those who behold it. Doyle is delighted to bring this collection to an even wider audience.
Upcoming Auctions

Doyle will offer property from The Margolis Collection in the following auctions:
20th Century Abstraction / Latin American Art. Auction March 8. View Lots
Coins, Bank Notes & Postage Stamps. Auction March 9. View Lots
Doyle+Design. Auction March 15.
Asian Works of Art. Auction March 22.
Doyle at Home. Auction March 29.
Fine Art. Auction April 5.
Prints & Multiples. April 25.
American Paintings, Furniture & Decorative Arts. Auction May 3.
Rare Books, Autographs & Maps. Auction May 11.
Impressionist & Modern Art / Post-War & Contemporary Art. Auction May 17.
Old Master & 19th Century Paintings & Drawings. Auction May 24.
English & Continental Furniture, Silver & Decorative Arts. Auction May 24.