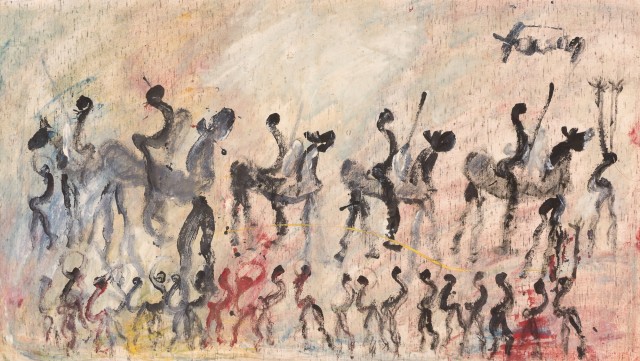 NEW YORK, NY -- Hailing from the Overtown neighborhood of Miami, a destitute area known as the "Harlem of the South," legendary Folk artist Purvis Young created several thousand paintings and drawings in his four-plus decade career.
African-American artist Purvis Young (1943-2010) was born into a poor family and did not attend high school. Young rediscovered his childhood passion for art while serving a three-year sentence at Raiford State Penitentiary for breaking and entering. He began drawing and poring over art books in earnest while incarcerated.
Young returned to Overtown and settled into Good Bread Alley in the mid-1960s after being released from prison. The famed alley was named after the many bakeries and homes lining the street, filling the air with the smell of fresh johnnycakes and cornbread. Young was inspired by images of murals he had seen in cities like Chicago and Detroit, and set about doing what he could to replicate them. Nailing and hanging his crudely beautiful paintings across the walls, Young would coat Good Bread Alley with his art. The resulting project was large enough to be seen from the nearby highway, and travelers would stop to observe – and eventually to buy – the works on view.
As with many Outsider artists, Young had the intense desire to create, even though materials were not affordable. Overtown became Young's source, in a sense, as the neighborhood's detritus would be transformed into his art. Young employed not just paper scraps and fabric, but parts of broken doors, carpet remnants, pieces of metal. Firefighters brought him leftover fire hydrant paint. Old TVs, manila folders; Young would repurpose almost anything he could find, and was painting and drawing compulsively nearly every waking hour.
Purvis Young was a popular fixture in the community because he was intent on beautifying the neighborhood. Young's style was loose; his figures are inky squiggles, wavering and quivering; his horses blotchy masses, childlike in their simplicity. Young wished to "paint the truth," as he told it, and in documenting both joyful religious scenes, as well as tragic wars, he was creating art that he felt could make harmony. "I'd just like to see peace. Then maybe I'd [take] my brush and throw it away."
Buoyed by sales, Young began studying art books at the local library. As such, the influence of pivotal figures including Gauguin, Van Gogh, El Greco and Rembrandt can be seen in his work. Young was also inspired by history documentaries as well as a desire to respond to the tragedies he saw happening in the Vietnam War on television news stations. Young's subject matter was repetitive, his output voluminous. He often depicted refugees arriving to the US on boats, cities with buses and trucks, horses, figures in prayer, scenes of war.
By the early '70s, the artist had drawn the attention of Bernard Davis, owner of the Miami Art Museum. With Davis' promotion, Young sold works to tourists and assorted collectors. Along with many of Miami's best-known collectors, celebrities like Jane Fonda, David Byrne and Lenny Kravitz collected his work in depth.
Young did not have a proper studio until the '90s, a Wynwood space where he eventually faced eviction due to his massive hoarding. Miami's well-known Rubell family, some of the art world's foremost collectors and philanthropists, came to his rescue with an offer to buy his entire inventory. While the figure is still debated – said to be anywhere from $60,000 to $1 million – the purchase was enough to keep Young from eviction. The Rubells, in addition to showing works in their own museum space, have donated hundreds of paintings to an assortment of institutions.
Purvis Young's life is a complicated, brutal tale of poverty, health troubles and manipulative art dealers (including a Cuban Santerian priest who cast curses on his competitors). To this day, there are inexplicable battles, bad faith deals and debates over his estate. Even so, this self-taught artist overcame countless obstacles to transform his impoverished community into an artistic vision of his own creation. Young eventually had an exhibition at the Venice Biennale, and his work is held by many of the world's foremost institutions and private collections.
Six of the eight works included in the Design sale are culled from the collection of the late James Hedges III, owner and proprietor of the renowned former Outsider Art gallery Rising Fawn Folk Art Gallery, based in Rising Fawn, Georgia. Hedges was a wood carver and chainsaw artist who expanded into exhibiting and managing the careers of many outsider artists, focusing on those with physical or mental disabilities, as well as those who were incarcerated. His massive archive is now with the Smithsonian Archives of American Art and is understood to be one of the most important archives of American Folk Art in existence. The works that Hedges acquired from Purvis Young have many of the artist's trademark elements – painted on found paper and fabric, the human figures and horses are raw but stylized; painted quickly and energetically, emblematic of his unique work and life.
Doyle+Design
The Doyle+Design auction on June 23, 2020 offers a selection of eight works by Purvis Young.