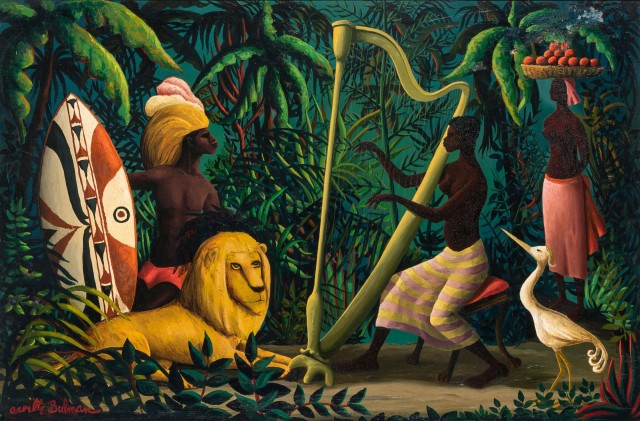 NEW YORK, NY -- Orville Bulman was born in Grand Rapids, Michigan in 1904 to Margaret Agnes (Maggie) and Elvah O. Bulman, known as E. O. Though E. O. only had a formal education up to the eighth grade, he was both industrious and clever. He designed and built a number of devices to dispense and cut twine and paper for wrapping parcels by shop-owners. His ingenuity, matched by his business acumen, enabled him to grow his company from a modest cottage industry into a corporation that supplied its products to stores around the world. By the time his son Orville was in high school, E. O. had established his family in the upper class of Grand Rapids society.
Orville took an early interest in drawing and provided cartoons and illustrations for his school's publications. It was expected that the young man would help run the family business after graduating high school, but instead he decided to try his luck in Chicago. There he worked for some time as an illustrator for a newspaper and later enrolled at the Art Institute of Chicago. However, discouraged by the prospects offered by a cartoonist's or painter's wages, he decided to return to Grand Rapids to work for his father.
While Bulman had the satisfaction of helping run a successful business, he never lost his desire for artistic expression. He continued to do illustration work for local companies in town and self-published books of his work on the side. He also took brief lessons in painting, including a two-week course at the Ox-Bow School of Art in Saugatuck, Michigan. In 1948 or 49, at the invitation of his friend Denny Winters and her husband Herman Cherry, he visited the Woodstock artists' colony for a time to paint. During his brief time at Woodstock he was introduced to a number of artists who would end up becoming close friends, including Adolph Dehn, Arnold Blanch, and Doris Lee.
Bulman's early work was influenced by, and was a continuation of, the Regionalist and Social Realist traditions. By the late forties Bulman had moved part-time to Palm Beach, Florida, where he took to painting the poor neighborhoods of North Florida, Alabama and Louisiana, as well as those of his home state of Michigan. For the most part the palette of these paintings is somber in tone, though these works do hint at the artist's natural ability as a colorist. Bulman handled his subjects with sympathy, for he was well aware of how charmed his own life was, and he sought to evoke our shared humanity across class lines.
Bulman was well traveled and had explored much of the Caribbean, but in 1952 he made his first trip to Haiti. By this time he was the President of the Bulman Manufacturing Company and was starting to gain recognition as a painter. He had had a few successful solo exhibitions of his work, including a sold out show at the Worth Avenue Gallery in Palm Beach in March of 1952.
The trip to Haiti proved to be a turning point in the artist's career. There he would find the subject and develop the style that set him apart from his contemporaries. He visited the local galleries and absorbed the island's artistic traditions. Using his natural charm and affection for people he was able to ingratiate himself with the locals and procure a much desired invitation to the backcountry, where he stayed among the rural population, escaping the tourist zones of the city of Port au Prince. He returned to the States inspired and in possession of a trove of sketches and photographs from which to work.
In the following years, the palette of Bulman's paintings began to brighten. He painted scenes from city life in Port au Prince with its lively streets and pastel-painted houses. He delighted in the architectural details of these buildings, and one can sense the joy he took in depicting their gingerbread trim-work. He also aimed to portray the vitality of the island's people without falling into caricature. Later in his career, Bulman's works incorporate more fantastical elements. The buildings begin to appear in more unnatural settings, and his subjects find themselves transported on fanciful "braques" or boats. In Le Parapluie de Madame Clarte from 1961 a woman in a stately pose is having her hair done while perched upon a balcony, shaded by a large pink umbrella. The yellow building is itself perched upon the edge of the shore. The scene is framed by two dignified women in the foreground whose pink dresses echo the color of the umbrella. The overall effect of the painting's composition and palette is one of serene pleasure.
Eventually Bulman began to leave Haiti behind as a subject matter, withdrawing to a more personal, imaginary place, which he called "Bulman's Island." The jungle landscape of Bulman's Island was inspired by the artist's property on Point Manalapan, south of Palm Beach. Its inhabitants are costumed in the dress from various cultures. They may wear the uniform of a colonial officer or bear the shield of an African warrior. They might don fanciful headdresses or be cloaked in burkas. This international cast lives alongside, and in harmony with, an exotic fauna that includes zebras, giraffes, tigers, and of course, lions. In Le Concert an African warrior, a crane, and a lion listen intently as a woman performs on a harp. Deborah C. Pollack in her book Orville Bulman: An Enchanted Life and Fantastic Legacy (Blue Heron Press, 2005, p. 198) (to which this brief essay is largely indebted) compares the handling of the foliage in this work to that of Botticelli and Pietro di Sano. She also points out the similarity of the theme to that of Edward Hicks's Peaceable Kingdom.
These late paintings were also heavily influenced by Henri Rousseau, a similarity acknowledged by the artist himself. But Rousseau's jungle is a more dangerous place than Bulman's. On Bulman's Island one gets the sense that the animals are protectors of the island's people, and they are often gazing out at the viewer with some amount of distrust. Bulman must have felt a special affinity for Rousseau. Both men were largely self-taught. They both came to painting from professions outside the art world, and while both men were certainly acknowledged for their accomplishments during their lives, they were both always seen by some as outsiders.
Important Paintings
The May 20 auction of Important Paintings offers two works by Orville Bulman from the Estate of a Palm Beach Heiress.