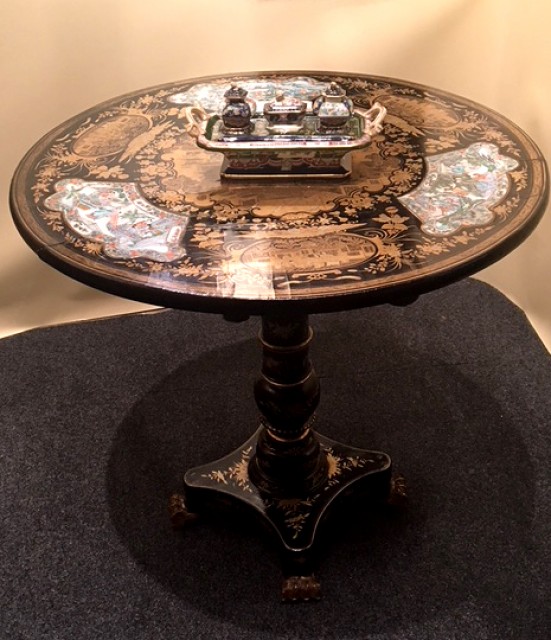 WASHINGTON, DC -- The excitement of the New Year was in the air last night for the opening of The Washington Winter Show at the Katzen Center at American University in Washington, DC. This annual event kicks off the capital's winter social season while raising critical funds for local charities. The efforts of those who work tirelessly to ensure the success of the Show deserve a heartfelt thank you for bringing together so many antiques lovers, history buffs, distinguished dealers, novice and experienced collectors, and friends.
This year's Show theme, The Charm of Chinoiserie, celebrates the range of motifs and styles that have inspired the design of furniture, porcelains, textiles and other decorative arts from the Dutch colonies to the courts of the European Continent and England to America, and beyond.
The influence of the 'Chinese style' on English ceramics was brilliantly displayed at Janice Paull Antiques of Greenville, Delaware. She is one of those wonderful dealers with exceptional knowledge and contagious enthusiasm for the subject. A monumental Imari palette Mason's Ironstone covered vase from the 1820s and an extraordinary porcelain inset gilt decorated black lacquer tilt top tea table were two of many beautiful objects on display.
G. Sergeant Antiques of Woodbury, Connecticut presented their usual fine mahogany items, in addition to an exceptional Chinoiserie cabinet and a tiny jewel in the form of a tea caddy.
Southern furniture is a highly collectible area, and Sumpter Priddy, III, Inc. of Alexandria, Virginia has an exceptional sulfur inlaid corner cupboard attributed to a local cabinetmaker and likely made for the Staunton, Virginia Masonic Lodge, which was established in 1784.
Thistlethwaite Americana of Glasgow, Kentucky had a large oil on canvas depicting Dusk at Harpers Ferry. The large landscape in a contemporary trompe l'oeil frame depicts an antebellum view from Maryland Heights of the confluence of the Potomac and Shenandoah Rivers, a majestic view that is largely unchanged today.
Diana H. Bittel of Bryn Mawr, Pennsylvania displayed a fine Baltimore album quilt and a painted Edwardian bench, as well as an exceptional collection of Sailor's Valentines (see Doyle Notebook from Feb 2017)
An impressive 18th century five-piece Delftware blue and white garniture is certain to attract attention among the fine pieces shown by Mark & Marjorie Allen Antiques of Gilford, New Hampshire.
Earle D. Vandekar of Knightsbridge of Manhattan and Maryknoll, New York showed exceptional English ceramics and Chinese Export porcelain, as well as a superior variety of Sailors Woolies, remarking that he'd recently bought one of them at Doyle. These very decorative framed embroideries were made by sailors at sea to pass the long hours on board ship and keep their fingers nimble in the cold. They were made from about 1840 until the outbreak of World War I and most often depict the ship of the sailor or sometimes patriotic symbols.
Many dealers inspire the collector to consider modern accompaniments to traditional antiques, and a pair of Tony Duquette pyramid-form glass lamps from New York dealer Robert Lloyd were exciting to see. Design from the 1970s and 1980s is becoming highly collectible today.
A hooked rug with a geometric pattern from the early 20th century from first-time dealer Matt Greig Antiques of Lewes, Delaware was artfully displayed on the wall and could easily be at home in a traditional interior or a modern one.
There was inspiration everywhere. A secondary theme of this year's Show seems to be incorporating antiques into the modern environment. Throughout the weekend, a series of lectures and events will focus on design and designers, from Charlotte Moss to a House Beautiful-led panel featuring Alexa Hampton. The old is new again, long live antiques!
The Washington Winter Show 2018

HOURS
Friday, January 12: 11am – 7pm
Saturday, January 13: 11am – 8pm
Sunday, January 14: 11am – 5pm
LOCATION
The Katzen Arts Center
American University
4400 Massachusetts Ave, NW
Washington, DC 20016