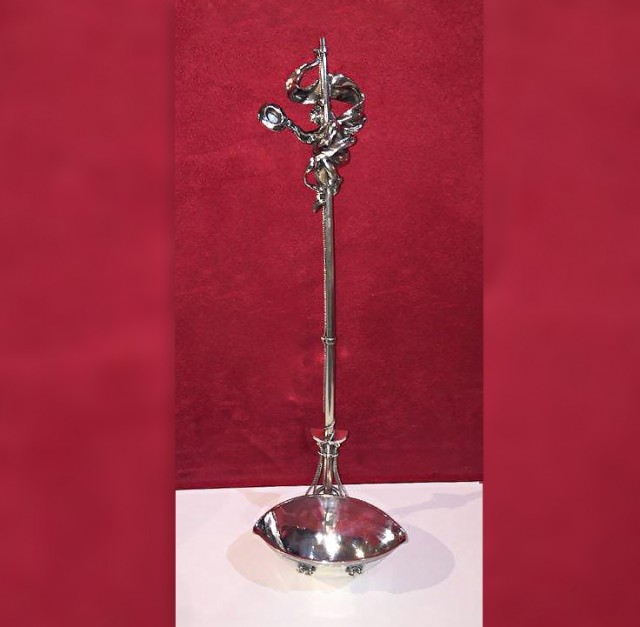 NEW YORK, NY -- The famed Winter Antiques Show, now in its 64th year, opened last night at the Park Avenue Armory in New York. One of the world's premier antiques shows, The Winter Antiques Show benefits the East Side House Settlement, a community-based organization in the South Bronx that works with schools, community centers and other partners to bring quality education and resources to residents of the Bronx and Northern Manhattan. This year's Antiques Show features seventy world-class dealers showcasing a broad range of exceptional art, antiques and design from antiquity to the present day.
Among the silver offerings at Spencer Marks is an unusual Tiffany & Co. nautical motif punch ladle from the 1870s. The bowl is ornamented with rope "rigging" while the terminal is in the form of a finely chased figure of a sailor just below the top of a mast with the wind-tossed flag furled around him.
A slightly later example of fine metalwork is at H. Blairman & Sons Ltd. This mixed-metal small- scale Aesthetic Movement convex mirror features spiders on their webs alternating with birds and stars, and with an inner border of fish and waves. Its Japanese influence is clear but the country of origin is unknown.
Fabergé's rare miniature hardstone sculptures show the influence of Asian gemstone carvings and Japanese netsuke. A La Vielle Russie has a circa 1900 Fabergé group of three rabbits, each in a different pose but nestled together in a naturalistic manner. The use of three different color stones in a single work adds to this treasure's rarity and decorative appeal.
Barbara Israel Garden Antiques has a winning example of turn of the 20th century American sculpture by Frederick William MacMonnies. The bronze fountain figure entitled Boy and Duck conveys movement with the duck squirming in the small boy's arms while it squirts water from its open beak. This masterful work was compared favorably to the Renaissance master Verocchio when it was exhibited in 1898, and a version is in the collection of the Metropolitan Museum of Art.
Documentation for both artist and sitter is usually hard to come by for American folk portraits. At Alexander Gallery a wonderful portrait of a young boy reclining in a landscape is a charmer. With his languid pose, serene expression and geometric patterned dress, this painting has great visual appeal. Adding to its desirability, the canvas is inscribed on the reverse in a period hand with the sitter's name and age, the artist, and the date 1846.
A prize available at Michelle Beiny Inc. is a Sevres porcelain chocolate set from 1839, decorated with superbly painted botanical specimens. The set was given to the winner of the Prix de l'Empereur at the Amiens horse race of 1853. Included is its original leather covered silk lined case. I can imagine sipping chocolate on a cold winter's day with the variety of flowers making me long for spring.
A carved wood coca leaf box at Thomas Colbourn & Sons Ltd. in the form of a large scallop shell was made in what is now Bolivia in the 18th century. Combining European Baroque inspiration with indigenous carving traditions, this box would originally have been covered in silver leaf to imitate the more expensive silver boxes.
At Apter-Fredericks Ltd. is an exceptionally rare George III deep green cut glass and ormolu 16-light chandelier of circa 1790. At 6 foot tall, this would be an impressive trophy in any interior, and may have graced a palace in India.
Lillian Nassau, LLC has a rare pair of beaded sterling silver blotter ends by Tiffany Furnaces of circa 1920. They are engraved with the initials DG. I want them.
The Winter Antiques Show runs through January 28.
The Winter Antiques Show 2018

January 19–28
Open Daily Noon–8pm
Sundays & Thursdays Noon–6pm
Tuesday Noon–4:30pm
The Park Avenue Armory
Park Avenue at 67th Street
New York, NY