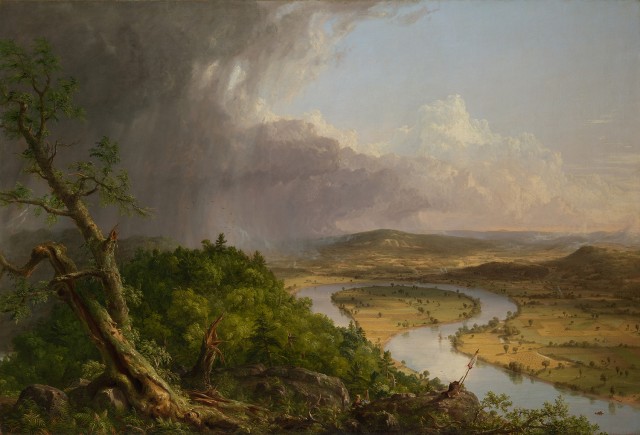 NEW YORK, NY -- Thomas Cole has traditionally been celebrated – even revered – as the father of the Hudson River School. His first depictions at age 24 of the pristine countryside in the Hudson Valley resonated profoundly with prominent artists and patrons in New York City and lay the groundwork for an important school of landscape. These important early endeavors, lauded for their uniquely American spirit, in fact were the response of a gifted and sensitive young man who had witnessed the environmental and societal tumult of the Industrial Revolution in his youth in England. No art exists in isolation, and these experiences certainly contributed to Cole's profoundly spiritual response to a region noted for its idyllic beauty.
The landmark exhibition at the Metropolitan Museum of Art, Thomas Cole's Journey: Atlantic Crossings, is organized in commemoration of the 200th anniversary of Cole's arrival with his family on American shores in 1818. It considers the work of this pioneering artist within an international context – from the perspectives of his British roots, his extensive travels abroad after his early stellar success in New York, and even the socio-political developments of the day. It is a compelling, thoughtful exhibition that includes paintings that are old friends as well as less familiar treasures, juxtaposed with paintings by European masters that inspire the viewer to consider Cole's work in a new way.
Emigrating with his family from England to Ohio in 1818, Cole first explored landscape painting there and in Pennsylvania, where he saw the work of Thomas Birch and Joshua Shaw, British-born painters who achieved professional success in America. In the exhibition, Shaw is represented by Stormy Landscape, a work from 1818, executed one year after his own arrival in the United States, and one that incorporates elements of English landscape conventions that also surface in Cole's own early endeavors.
When Cole arrived in New York in 1825, he resolved to pursue his own artistic career. His early views of the Hudson literally flew out of his studio; the Met's exhibition includes such handsome examples as View of the Round-Top in the Catskill Mountains (Sunny Morning on the Hudson) and Cora Kneeling at the Feet of Tamenund (the latter inspired by Washington Irving's 1826 novel The Last of the Mohicans, itself a pioneering work of American literature that parallels Cole's innovations in American landscape).
Determining to visit the artistic capitals of Europe, Cole returned to England in 1829, meeting artists J. M. W. Turner and John Constable, with whom he formed a lasting friendship. The exhibition includes exceptional examples by both artists, as well as a delightful small view by George Jones of The Interior of Turner's Gallery and a charming painting by William Parrott of Turner on Varnishing Day. While Cole greatly admired Constable's work, he was less enthusiastic about that of Turner. In response to these experiences, he painted and exhibited his own canvases, but they elicited scant critical interest in Britain. Studying museum collections, he was enraptured by the landscapes of Claude Lorrain. Here, Lorrain's radiant composition, Seaport with the Embarkation of Saint Ursula seems to anticipate Cole's masterpiece in these galleries of The Course of Empire.
Stopping briefly in Paris, Cole arrived in Italy in June, 1831. Taking a studio in Florence, he welcomed into the small group of expatriate Americans living there. His Italian sojourn was a productive one; he worked on plein-air sketching in the Tuscan countryside and figure studies. In Rome for just four months, he toured ancient ruins and Renaissance churches, absorbing the lessons of the Classical and Renaissance past. Among the delights of this section of the exhibition are the evocative Interior of the Colosseum, Rome, the ancient ruins silhouetted against a bright blue sky, and a deft view of The Temple of Venus and Roma. Cole spent his remaining time in Florence painting Italian scenes for his American patrons; even after he returned to America, he continued to produce these. One of the most compelling, View of Florence from San Miniato, shows the city from a height, the Duomo standing above the other structures and the Arno River receding into a Claude Lorrain sky.
Upon his return to America in 1832, Cole devoted himself to two of his most monumental works: The Course of Empire, a grand allegorical series now owned by The New-York Historical Society, and View from Mount Holyoke, Northampton, Massachusetts, After a Thunderstorm—The Oxbow, a spectacular view of the Connecticut Valley, an area popular with tourists and one that had appeared in engravings in both America and Europe. Exhibited at the National Academy of Design (of which Cole was a founding artist-member), The Oxbow is a showpiece – at once a celebration of America's wilderness and a tale cautioning against over-development, as storm clouds gather above the primeval wilderness at left that threaten to inundate the neatly cultivated farmland to the right. In the foreground at center, dwarfed by the vast scene before him, is the artist himself working at his easel, his head briefly turned to gaze at the viewer.
The final section of the exhibition shows Cole the teacher, with his paintings juxtaposed with those of his circle, including Frederic Edwin Church, who was his student for four years. A delightful group of small oil studies by the two painters are deftly executed with fluid strokes of paint. Among the group is Clouds, circa 1838, in which billowing forms of white and gray ascend into a roseate sky in a luminous sky; the composition is anchored by a narrow strip of trees. The exhibition closes with Kindred Spirits, an iconic work from 1849 by Asher Brown Durand, the third of the triumvirate of artists most intimately associated with the nascent Hudson River School. Paying poignant tribute to Cole, who died in 1847, it depicts him with his close friend, William Cullen Bryant, overlooking a magnificent Hudson River vista. Bryant, author of the poem Thanatopsis and longtime journalist, was the literary spokesman of the movement, as well as Cole's eulogist.
Thomas Cole's Journey: Atlantic Crossings was curated by Elizabeth Kornhauser, Alice Pratt Brown Curator of American Painting and Sculpture at The Met and Tim Barringer, Paul Mellon Professor of the History of Art at Yale University. Once it closes at the Metropolitan Museum of Art on May 13, it will continue on to the National Gallery, London. A host of public programs have been organized to celebrate this landmark exhibition; these are described on the Met's website.
The Metropolitan Museum of Art

Thomas Cole's Journey: Atlantic Crossings
On view through May 13, 2018
1000 Fifth Avenue at 82nd Street
New York City
MetMuseum.org
Image captions:
Thomas Cole (American [born England], Lancashire 1801–1848 Catskill, New York)
View from Mount Holyoke, Northampton, Massachusetts, after a Thunderstorm—The Oxbow, 1836
Oil on canvas, 51 1/2 x 76 in. (130.8 x 193 cm)
The Metropolitan Museum of Art, New York, Gift of Mrs. Russell Sage, 1908 (08.228)
Image © The Metropolitan Museum of Art
Thomas Cole (American [born England], Lancashire 1801–1848 Catskill, New York)
View of the Round-Top in the Catskill Mountains (Sunny Morning on the Hudson), 1827
Oil on panel, 18 5/8 x 25 3/8 in. (47.3 x 64.5 cm)
Museum of Fine Arts, Boston, Gift of Martha C. Karolik for the M. and M. Karolik Collection of American Paintings, 1815–1865 (47.1200). Photograph © Museum of Fine Arts, Boston
Thomas Cole (American [born England], Lancashire 1801–1848 Catskill, New York)
View of Florence from San Miniato, 1837
Oil on canvas, 39 x 63 1/8 in. (99.1 x 160.3 cm)
Cleveland Museum of Art, Mr. and Mrs. William H. Marlatt Fund (1961.39)
Photography © The Cleveland Museum of Art
Thomas Cole (American [born England], Lancashire 1801–1848 Catskill, New York)
Clouds, ca. 1830s
Oil on paper laid down on canvas, 8 3/4 x 10 7/8 in. (22.2 x 27.6 cm)
The Metropolitan Museum of Art, New York, Morris K. Jesup Fund (2013.201)
Image © The Metropolitan Museum of Art