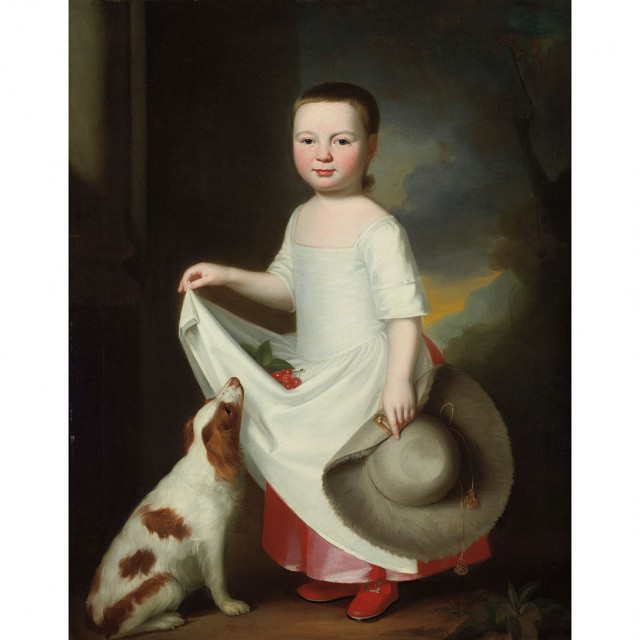 NEW YORK, NY -- George Romney was born in a small town in the north of England in 1734. He exhibited a gift for drawing as a boy and while in his teens took painting lessons from a local artist. In 1755, when he was 21, he seized the opportunity to study with Christopher Steele, an accomplished professional painter trained in Paris, who was living at that time in the nearby town of Kendal. When Steele moved on less than two years later, Romney had learned enough from him to make a decent living as a portraitist.
One painting from these early years, Girl with a Dog, Holding a Bonnet, with Cherries in her Apron, was auctioned at Doyle on January 29, 2014 (View Lot). It is an instructive example of Romney's early work. Here we can see the meticulous draftsmanship, controlled brushwork, bright colors and polished surfaces that characterize his style around 1761, shortly before he left the north to move to London.
In March 1762, Romney, now 27 and spoiling for a larger arena, set out for London with high hopes of establishing himself there. Once in the capital, he met with success quickly, winning prizes at art exhibitions and finding patrons for his portraits. By 1764 he had saved enough money to make a trip to Paris to study the old master paintings on view there. Following his return, his reputation—and the number of his commissions—grew considerably.
A handsome work from the late 1760s, Portrait of Mrs. Nicholas, (View Lot) will be offered at Doyle on May 24, 2022. Nothing certain is known about the sitter, although it has been suggested that she may have been related to one Captain Nicholas, whose portrait Romney painted in 1770. Whoever she was, she is presented here as a fashionable, well-educated lady with a taste for literature. Her elegant dress and graceful pose are reminiscent of contemporary French portraits by such artists as François Boucher and Jean-Marc Nattier, examples of which Romney would have seen in Paris. The lady's elaborately constructed gown, cut from what appears to be iridescent silk, shimmering in dark rose and teal, is set off by delicately worked laces and a lavishly ribboned peaked cap. On her lap she holds a book, turned outward to reveal a carefully described page that shows the opening lines of "Summer" from The Seasons, a cycle of four poems by the Scottish poet James Thompson. This work, first published one season at a time from 1726 to 1730, was a lengthy meditation on God and nature in blank verse, written in an archaizing English reminiscent of Milton. Despite, or more likely, because of, the difficulties it presented to its readers, The Seasons became immensely popular in the English-speaking world well into the 19th century, indispensable to readers who wanted to be thought well educated. Romney clearly intended to portray Mrs. Nicholas not only as a lady of fashion, but as intellectually cultivated, as well.
In this portrait we can see new developments in Romney's technique since his return from Paris. As before, his underlying draftsmanship is masterful and his brushwork carefully controlled, but now the individual strokes of paint are broader and deliberately visible, creating sensations of texture, particularly in the treatment of the fabrics. Moreover, the palette is now more varied and subtler than in his earlier work.
In 1772 Romney embarked on a three-year trip to Italy, the dream of every artist of the time. There he painted portraits of expatriate English residents, studied collections of ancient Roman, Renaissance, and baroque art, and even succeeded in persuading Pope Clement XIV to allow him to erect scaffolding in the Vatican Palace so that he could examine Raphael's frescoes at close range. He returned to London in 1775 as a gentleman at home from the Grand Tour, a status that commanded new respect and allowed him to meet a number of influential new patrons. By the early 1780s he had established himself as a leading society portraitist.
As time went on, Romney's technique became gradually looser and more relaxed, his brushwork more expressive, his surfaces more textured. At some time probably in the late 1790s, he painted a portrait of a young Mother and Child (View Lot), which will be offered at Doyle on May 24, 2022. This particular work is one of three known versions of this composition. A fragmentary label, apparently of considerable age, on the back of the frame bears the handwritten inscription: Mrs. Lock/by Romney. The art historian Alex Kidson, author of the most recently published scholarly catalogue of Romney's paintings, has noted in a private communication that this inscription "may mean that she was, or was thought to be, Cecilia Ogilvie, daughter of the celebrated Emily Lennox, Duchess of Leinster, who married Charles Lock in 1795." Kidson goes on to note that "The couple's first child, a girl called Emily, was born the following year. Cecilia was held to be a beauty, and her mother, who had patronized Romney years before, could in principle have commissioned this work as a 'fancy portrait,' in the knowledge that Romney was disaffected with orthodox society portraiture by this date." For whatever reason, Romney seems to have devoted some considerable time to this portrait; not only are there two other versions of it, but he prepared an exquisite oil sketch for it, which was sold at auction in London in 2011.
In this portrait, Romney's approach to his subject has changed again. Here Mrs. Lock is delineated with brushwork of such fluidity, in intensely saturated colors, and with an attitude of such intimacy and tenderness, that at one time this painting was attributed to the late nineteenth-century French Romantic artist Jean Jacques Henner. One cannot escape the impression that Romney knew this lady and her family well, and that he was on the warmest personal terms with them.
A few years after completing this portrait Romney's health began to fail. In 1799 he returned to live with his family in Kendal, where he died in 1802. Along with Joshua Reynolds and Thomas Gainsborough, Romney was one of the great portraitists of Georgian England. The three vivid likenesses discussed here show the extraordinary breadth of his art. Through them and other works like them he helped set a high standard for British portraiture that was continued well into the next century by John Hoppner, Thomas Lawrence and the many fine painters of the Victorian age.
Old Master & 19th Century Paintings & Drawings

Auction Wednesday, May 24, 2022 at 10am
Exhibition May 21 - 23
Featured in the May 24 auction are two portraits by George Romney.