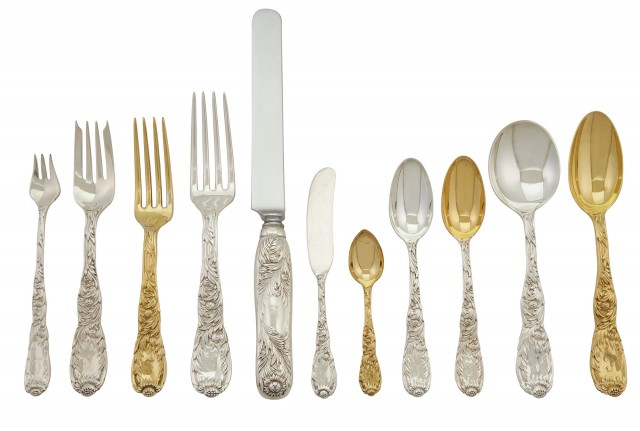 NEW YORK, NY -- The year 1880 saw the introduction of one of Tiffany & Co.'s most important and desired flatware patterns Indian Chrysanthemum ('Indian' was soon dropped from the name). The man responsible was Charles T. Grosjean, Tiffany's head of silverware and one of the most talented silver designers of the late 19th century. Grosjean helped Tiffany & Co. become known for world class silver that rivaled anything being made in England and Europe. His innovative designs include the Lap Over Edge, English King and Wave Edge patterns, some of Tiffany's most popular flatware patterns of all time.
Chrysanthemum pattern is richly decorated with chrysanthemum flowers and buds enveloped in a rich foliate background. It was likely inspired by the craze for all things Japanese that swept America after the opening of Japan to Europe and the United States and the Japanese exhibit at the Centennial Exposition held in Philadelphia in 1876.
The incorporation of natural elements into design was long a tradition in Japanese art and the chrysanthemum holds a special place in Japanese culture as the flower associated with the Imperial family. The designs for Chrysanthemum flatware and hollowware perfectly reflect the Victorian taste for the new and exotic. In an interesting twist, the reverse of the handle is as complex and elaborate as the front side which added to the luxuriousness (and cost!) of Chrysanthemum pattern flatware.
In keeping with the extravagant modes of Gilded Age dining, Chrysanthemum pattern was one of the most extensive flatware patterns that Tiffany & Co. ever made. There was a place piece designed specifically for any and every type of food one could imagine, with fantastical serving pieces to match. Full services of flatware could run into the many hundreds of pieces with dozens of individual pieces for use at each table setting. Many pieces leave modern diners puzzled: exactly when would you use a terrapin fork – and what is terrapin anyway? Today there is debate over whether Tiffany & Co. designed flatware pieces to supply customer demand, or if they produced these specialized pieces thereby creating a whole new market. Nevertheless sardine forks, strawberry forks, game forks and knives, chowder spoons, chocolate spoons, citrus spoons, and sorbet spoons (certainly not to be confused with ice cream spoons or ice cream forks) formed parts of these large services that swelled to as many as 146 different pieces. It wasn't until 1926 when the U.S. Department of Commerce put an end to this folly by passing regulations to limit flatware services to only fifty-seven different pieces in an attempt to reduce silver production in a time of severe silver shortage in America. Indeed Emily Post even weighed in on the order commenting, "no rule of etiquette is of less importance than which fork we use".
In the late 19th century, Tiffany & Co. began to design full lines of hollow ware to match their flatware patterns. Again Chrysanthemum pattern lent perfectly to this trend with swirls of chrysanthemum flowers and foliage clinging to tea and coffee services, candlesticks and centerpieces. Tiffany's creative engravers went above and beyond with the monograms designed for customers incorporating the chrysanthemum flowers and buds into foliate letters that form part of the decoration. And in a time when all flatware could be monogrammed for free, this elaborate engraving was attractive enough that Tiffany & Co. charged extra for this privilege. And the Chrysanthemum pattern was already among Tiffany & Co.'s most expensive lines.
In this period flatware was largely sold by weight and Chrysanthemum pattern was the highest priced of any of Tiffany's flatware patterns selling at $1.35 per ounce, compared to the more plain patterns that sold for $1 per ounce. And there was up to three times more silver per piece in Chrysanthemum flatware than in those other patterns putting this pattern at the very top of the expense scale. The weight and feel of Chrysanthemum pattern flatware still impresses modern diners.
The hollowware also sold at a premium due to the immense labor and finishing required for each piece: in 1891 a seven-piece Chrysanthemum pattern tea and coffee service retailed for $1,800, or the equivalent of over $50,000 today. A complete flatware and table service would have been a lifetime's wages for the ordinary working American, but Chrysanthemum pattern was clearly designed for the very top of American Gilded Age society.
Charles Grosjean died at only 47 years of age, leaving Chrysanthemum pattern as one of his most beloved and desired designs. With production having begun in 1880, Chrysanthemum pattern remained a top seller with Tiffany & Co. until it was discontinued in 1934 in the midst of the Great Depression. But its luster and appeal never faded, and it was reintroduced less than a generation later, remaining in production today. A table set with Tiffany's exquisite Chrysanthemum pattern flatware and hollowware still manages to look as elegant and timeless today as it did over a century ago.
American Paintings, Furniture & Decorative Arts
AUCTION April 21, 2020
The upcoming auction offers a set of silver flatware, a silver centerpiece and a pair of candlesticks in the Chrysanthemum pattern by Tiffany & Co. View the catalogue and place bids online beginning April 7.
Part Two -- Tiffany Japanese/Audubon
Join us for part two in this series as Todd Sell profiles Tiffany Japanese/Audubon pattern silver. The story will appear in DOYLE Notebook on Friday, April 10.