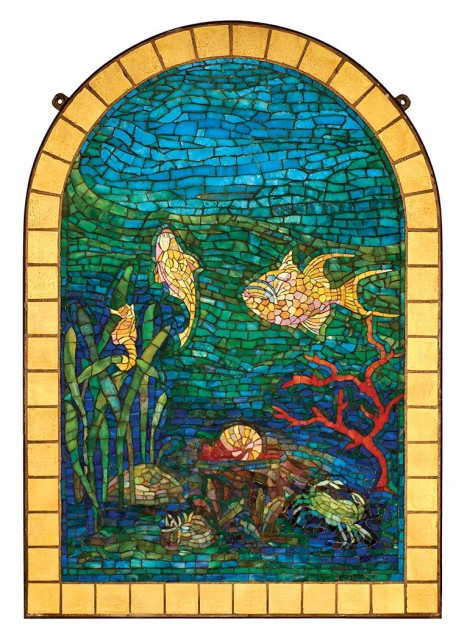 NEW YORK, NY -- Louis Comfort Tiffany (1848-1933) is celebrated for the beautiful leaded glass windows, colorful lamps and artistic hand-blown iridescent glass vases made by his firm, the Tiffany Glass and Decorating Company, and its successors, Tiffany Studios and Louis C. Tiffany Furnaces, Inc., respectively, over the course of its more than thirty-year history. Less well-known perhaps are the stunning Tiffany glass mosaics made for ecclesiastical, commercial and residential clients, which, if they have survived, are more often than not, still installed in their original settings, including churches, universities, theaters, banks, office buildings and private residences, where they are somewhat tucked away and less accessible than the firm's other more highly acclaimed and appreciated achievements in glass.
One of Tiffany's earliest and prominent uses of glass mosaics in an architectural setting occurred in his spectacular Romanesque-inspired Tiffany Chapel made for the World Columbian Exposition held in Chicago in 1893. It is now installed at The Charles Hosmer Morse Museum of American Art in Winter Park, Florida. More than two million visitors at the Fair were exposed to Tiffany's impressive display. The Chapel furnishings included an altar, lectern, reredos and baptistery, all richly ornamented with Favrile glass mosaics. In addition, twelve splendid richly-hued mosaic-clad columns symbolizing the twelve Apostles supported the arches of the ciborium, adding to the visual spectacle. Almost two million glass mosaic tiles or tesserae were used to decorate these furnishings. For its highly ambitious effort, the Tiffany firm was awarded fifty-four medals.
The acclaim and success of Tiffany's Chapel propelled the firm forward and garnered it new and exciting high-profile commercial commissions in various parts of the country. Soon thereafter, for instance, the firm received three such commissions in Chicago: the Marquette Building (1895), Chicago Public Library (1897) and the retail store Marshall Field & Company (now Macy's), completed in 1907, all of which still exist today. We are also fortunate that one of Tiffany's most magnificent and important commercial glass mosaic commissions ever created still survives. It is a large resplendent Favrile glass mosaic mural titled The Dream Garden. It was the result of a brilliant collaboration between Louis C. Tiffany and famed American artist Maxfield Parrish (1870-1966). The mural was commissioned in 1915 by the Curtis Publishing Company Building (now The Curtis Center & Dream Garden), publisher of the popular magazine Ladies' Home Journal, in Philadelphia, Pennsylvania. It took fifty skilled artisans approximately one year to complete this breathtaking 15- by 49-feet glass mosaic garden mural. It is reputed to contain more than one million individual pieces of glass, each of which was carefully selected by Tiffany's talented artisans. Another historically and culturally significant public commission was for a monumental glass mosaic stage curtain created for the National Theater, Palace of Fine Arts, in Mexico City, Mexico, completed in 1911-12 at a cost of $250,000. The Metropolitan Museum of Art in New York City is extremely fortunate to to have in its collection and now installed in the American Wing a colorful Favrile glass mosaic fountain depicting a bucolic garden landscape with swans and cyprus trees, circa 1905-15, which was originally displayed at Tiffany's showrooms on Madison Avenue and 45th Street in New York City.
Tiffany's wonderful Favrile glass mosaics also found great favor with private customers. Two early residential commissions were for the Moorish parlor in the residence of George Kemp, dating to 1879-81, and the Fifth Avenue residence of Henry O. and Louisine Havemeyer, both in New York City.
Tiffany Studios also produced a variety of luxury or "fancy goods" decorated with glass mosaics for the personal use of its affluent and wealthy clientelle, including inkstands, pen trays, mantel clocks and tea stands.
Doyle is honored to bring to auction a magnificent and exceedingly rare marine themed Favrile glass mosaic panel made by the Ecclesiastical Department at Tiffany Studios for a patron in Chicago, Dorothy Linn (Mrs. Cyrus Hall McCormick III) of Lake Forest, Illinois, circa 1915-22. The arched panel is comprised of a wondrous kaleidoscope of variously shaped and colored small jewel-like glass tesserae. This tranquil underwater composition depicts a seahorse in profile, a tortoise, goldfish, angel fish, snail, crustacean, coral branch and sinuous seaweed beneath shimmering blue water surrounded by a wide border of colorless glass tiles backed with gold foil.
Tiffany glass mosaics are quite rare and rarer still are those with secular rather than ecclesiastical subjects such as the present work. It is also extremely unusual to know the name of the original patron for whom such items were made. In this instance, aside from its original owner, Dorothy Linn, the panel has had only one other owner, who acquired it in about 1965. The precise ownership and patronage of this previously unknown Tiffany glass mosaic panel is further confirmed by the original watercolor sketch for the panel that miraculously also has survived. Now in the private collection of Allen Michaan, the sketch appeared and was sold at auction in Maine in December 2011. It is inscribed "SUGGESTION OF MOSAIC PANEL FOR MRS. CYRUS MCCORMICK LAKE FOREST ILL." The sketch is numbered 3125 and was personally signed and approved by Louis C. Tiffany.
Cyrus Hall McCormick III (1890-1970) was vice president of International Harvester Co. of Chicago and grandson of Cyrus Hall McCormick (1809-1884), inventor of the mechanical reaper machine in 1831 and founder of the McCormick Harvesting Machine Company. This firm later merged with another company to create International Harvester Co. Cyrus H. McCormick III and Dorothy Linn were married in 1915 and divorced in 1931. She was born in Chicago on September 2, 1892. Her father, William R. Linn, was a member of the Chicago Board of Trade. In later years, Ms. Linn went by the names Dorothy Butler and Dorothy Willard. She was one of the founders of the Actor's Studio and also produced a number of stage works. She traveled extensively and lived in a palatial home on Washington Springs Road in the secret celebrity enclave of Snedens Landing, near the Hudson River in Palisades, New York. The late journalist Mike Wallace owned and lived in a house on the estate from 1959 until 1970. Dorothy Willard's papers are now in the collection of Columbia University in New York City.
The McCormick families were among the wealthiest and most influential in Chicago's high society. Harold Fowler McCormick (b. 1872), brother of Cyrus H. McCormick II, also worked for International Harvester and served as the company's vice-president from 1901 until 1919. Harold became a son-in-law of John D. Rockefeller after he married Rockefeller's daughter, Edith, in 1895. Harold and Cyrus H. McCormick II's sister, Anita (Mrs. Emmons Blaine), had a reported wealth of more than several million dollars in 1901. In March of that year, Mrs. Blaine gifted $1,000,000 in real estate and securities to endow and support the University of Chicago School of Education, which later became a part of the University of Chicago. At the wedding of Joseph Medill McCormick, great-nephew of Cyrus H. McCormick I, to Ruth Hanna, in June 1903, President Roosevelt and his daughter, Alice, were in attendance and gifted the couple a set of gold after dinner cups and saucers. At the Linn-McCormick wedding, Harold Fowler McCormick led the wedding procession, which was described in great detail in The Chicago Tribune on February 14, 1915. According to the report, "The wedding presents comprise jewels which make Mrs. McCormick [Dorothy Linn] owner of one of the most costly assortments in Chicago. The bridegroom's present was a large string of pearls. Mr. and Mrs. Cyrus H. McCormick's gift was a hair ornament of diamonds and emeralds, green being the bride's favorite color. Mrs. Martin Ryerson, the bride's godmother, gave her a brooch consisting of one large emerald and diamonds, a family heirloom."
It is probably safe to assume that wherever Mrs. Cyrus McCormick decided to display her Tiffany glass mosaic aquatic panel it enjoyed a very special place of honor.
Doyle+Design / Auction June 7, 2017 at 10am

Lot 326
Tiffany Studios Bronze Framed Favrile Glass Mosaic Panel
Commissioned for Dorothy Linn (Mrs. Cyrus McCormick), Lake Forest, Illinois, circa 1915-22.
Height 36 inches, width 25 inches.
C Property of Mr. & Mrs. William A. Perry
Estimate: $100,000-150,000