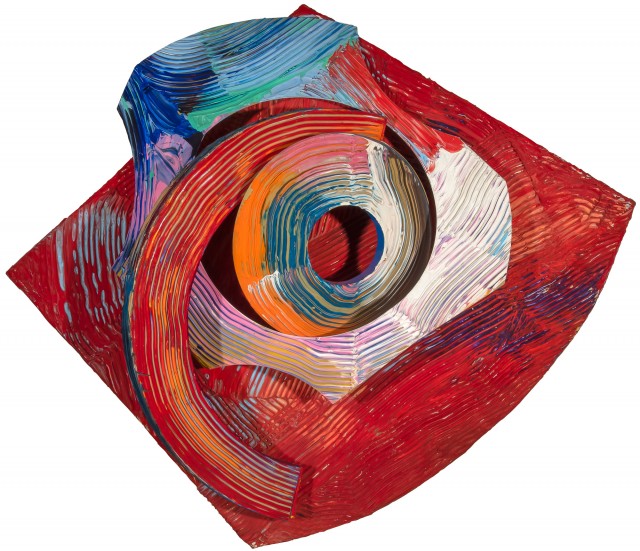 In an oral history prepared for the Archives of American Art in 1989 – the year that Sam Gilliam created Red Rouge, an assemblage being offered at Doyle on December 2 – critic Benjamin Forgey digs deeply into Gilliam's practice and his time living and working in Washington, D.C. Though a somewhat unlikely location, the city served Gilliam well as a young artist flush with talent but lacking in experience. More than just a place to paint, D.C. was where Gilliam built a reputation and professional connections.
Sam Gilliam arrived in the nation's capital in 1962 after completing his Master's degree in Louisville. At the time, he was still painting figuratively. Inspired loosely by the California painters Diebenkorn and Park, Gilliam spent the early sixties in experimentation:
…to get away from the look of so many painters who were capable of opening my eyes. I had painted stripe paintings, for instance. And then I met [Kenneth] Noland and I started painting chevrons. So I had to get out of that, until finally I took the jump by going back to a more evident stain painting as a format, and then trying to reveal some of the things that was a part of painting this way.
Gilliam began to test the limits of the chevrons, stripes and circles associated with other Washington Color School artists – constantly developing concepts and working on variations. In the late 1960s and into the 1970s, experiments with draped canvas and saturated color staining became central to Gilliam's practice. This catalyzing began just in time for an exhibition in 1969 organized by Walter Hopps:
Rockne [Krebs] and [Ed] McGowin had far-out ideas and I was sitting on "empty." Literally it was because of the show that I looked for something to icon and to begin to build on the process, build through the process. And really, even though I had switched from Color Field paintings to the poured paintings, the complete idea of catalyzing my own work through just constant change had not happened… But when I got to the draped paintings, it was quite easy to use the exhibit at the Corcoran to explore several changes with the work. It was just like a squirrel, I was putting up nuts and saving them.
Fellow Washington Color School artist and friend Howard Mehring shared common ground with Gilliam and was interested in painting as an environment of color, rhythm, and structure that could engage the viewer. Blue Key, from 1965, is another standout painting in the December Important Paintings auction. The work's T-shape and bands of radiating color articulate the rhythm that Mehring developed. Gilliam experimented with similar ideas before he "liberated color field painting," and embarked on a highly productive period in the 1970s which included intense collaging as well as the highly-collected beveled-edge slice paintings. Listening to interviews, it is clear that Gilliam soaked up inspiration from a wide range of sources including artist and sculptor David Smith and Noland, who led Gilliam toward the shaped canvas in the first place.
Soon Gilliam was exploring large-scale, three-dimensional public works, beginning with his first metal piece for Davis Square and continuing with a commission for LaGuardia airport. As he embraced this new medium, Gilliam looked to artists like Anthony Caro and Alexander Liberman, even Frank Stella, all influential for pushing the boundaries of sculpture and metal. Gilliam's work from this period expanded his practice, and he was able to leverage the corporate commissions he received to buoy his career toward longevity. Aware of the harsh reality of life as a working artist, Gilliam knew that expanding his reach would allow him to continue creating.
In the late 1980s and 1990s, Gilliam began experimenting with assemblages. Red Rouge is one such piece, a complex structure that at first glance appears improvised, like a piece of jazz music. A mixture of metal, paint and wood swirls around a central vortex, the form slightly evocative of a Noland target, it is a perfect example of Gilliam's explorations in form and balance. Assemblage pieces from this period have a structural complexity which is often looked over, but the sheer difficulty of making this kind of work is something Gilliam himself noted in interviews. Assemblages were more labor intensive, and Gilliam produced far fewer works like Red Rouge – less than half of what he might have produced for a show of paintings. It is easy to default to a comparison between Gilliam and Frank Stella, a duo oft-cited by critics and one that indeed warrants discussion, but in Gilliam's own words, "I'm aware of Stella, but I'm also aware of other artists, including performance artists. I have my own history. My painting has always leaned toward sculpture."
Gilliam has recently begun new works, returning to sculpture and creating a new context through which to view earlier assemblages like Red Rouge, as well as his public works. Gilliam himself suggested in the 1989 interview "that one has to find a way to actually re-examine, after all these years of experience… to use this experience to really look at things… perhaps even a reevaluation. I think that to an extent it has produced at least the feeling that I'm doing a lot of my best work now. Particularly since I started to do sculptural relationships, I've started to make the work, the painting, interact with sculpture.
This interaction between paint and metal is what makes Red Rouge so successful. The raking technique applied to give the colored surfaces continuity is an idea that has been reworked into a beautiful mottled monochrome ground in his new pieces, evocative of Mehring's work. Gilliam's ability to synthesize his ideas, gather touchstones from others and contemplate space is extraordinary. He may have considered himself a loner, or "too much alone" as he phrased it, but perhaps this is a side effect of forging his own path and always remaining ahead of it. A maverick, Gilliam never stops – he is always creating.
Gilliam's impressive career spans over sixty years and is going strong, with a show of new work at Pace Gallery which opened this November; a show of new paintings on paper at David Kordansky Gallery; and a much-anticipated retrospective planned for spring of 2022 at the Hirshhorn Museum in Washington, D.C.
Important Paintings
A highlight of the auction of Important Paintings on December 2, 2020 is Sam Gilliam's Red Rouge of 1989.
Lot 34
Sam Gilliam
American, b. 1933
Red Rouge, 1989
Signed and dated Sam Gilliam '89 and inscribed as titled on the stretcher
Acrylic on canvas, wood and metal assemblage
66 1/2 x 73 x 21 1/2 inches (168.9 x 185.4 x 54.6 cm)
Provenance:
Purchased directly from the artist by the current owner
Estimate: $60,000-80,000