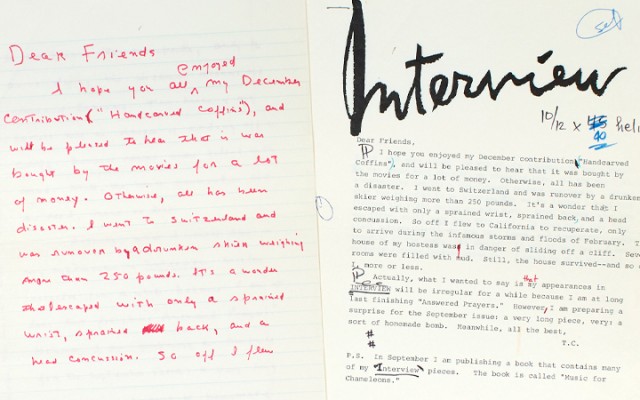 NEW YORK, NY -- A funny letter that became Truman Capote's final contribution in Interview along with a draft of his scandal-plagued white whale Answered Prayers highlights The Duchess of Warhol: The Estate of Brigid Berlin on April 27.
When Truman Capote first spoke to Interview in April 1976, he talked about finishing his long-awaited book Answered Prayers. In April 1980, with the book still unfinished, Capote sent in a three-page letter on the same subject, the main body of which is worth printing in full:

Dear Friends,
I hope you enjoyed my December contribution ("Handcarved Coffins"), and will be pleased to hear that it was bought by the movies for a lot of money. Otherwise, all has been a disaster. I went to Switzerland and was run over by a drunken skier weighing more than 250 pounds. It's a wonder that I escaped with only a sprained wrist, sprained back, and a head concussion. So off I flew to California to recuperate, only to arrive during the infamous storms and floods of February. The house of my hostess was in danger of sliding off a cliff. Several rooms were filled with mud. Still, the house survived-and so did I, more or less.
Actually, what I wanted to say is that my appearances in Interview will be irregular for a while because I am at long last finishing Answered Prayers. However, I am preparing a surprise for the September issue: a very long piece, very: a sort of homemade bomb. Meanwhile, all the best,
T.C.

Capote closes the letter with a postscript mentioning the September 1980 publication of Music for Chameleons, a compilation of his Interview pieces. Published in Interview in April 1980, the letter ended up being Capote's final appearance in the magazine; later that year a hallucinatory seizure severely debilitated the author. He died in August 1984.

Capote's struggle to complete Answered Prayers, a non-fiction work first envisioned in 1958 as an American Proust, is well documented. First delayed from 1968 to 1972, the book was still unfinished at the time of his death in 1984. Esquire published four chapters between 1975 and 1976, including La Côte Basque 1965, based partly on the personal lives of Capote's friends Babe and William S. Paley. The excerpts caused quite a stir in New York social circles. Many thought Capote had committed a sort of social suicide. Present along with the letter is a draft of two long chapters in Answered Prayers that Capote wrote in attempting to complete the book: Unspoiled Monsters and Kate McCloud.

While Andy Warhol and Truman Capote spent much time together and many recorded interviews exist, it is worthwhile to review what Warhol said privately about Capote at this time as he struggled personally and professionally. In an entry dated February 1980 in The Andy Warhol Diaries, Warhol stated, "He's like a different person now, he's very distant, not friendly. He said he'd have something for Interview's April issue." By April, the month the letter present here was published, things had improved and Warhol noted that "Truman called and he sounded like his old self, he said he'd been working hard. He said that his Chameleon book is going to be in the Book-of-the-Month Club..."
The early excerpts of Answered Prayers were plagued by scandal. In June 1980 Warhol reported: "Truman said he was writing a piece on Babe Paley, and then Barbara said she wanted to read it to make sure that it wouldn't offend Mr. Paley. She is so ridiculous." On August 5, Warhol writes, "Missed watching the Today show with Truman but it sounds like it was the same old thing. Brigid tried to get Truman on the phone but it was off the hook. The review of Music for Chameleons in the Times didn't mention that some of the stories were from Interview." Sadly, Warhol's final mention of Capote during his lifetime came in November 1983: "Ran into Lester Persky and Truman Capote who looked pickled. And Truman kissed my hand. What does that mean? And I asked him if he was going to the party afterward and he said 'I can drink at home.'"

Brigid Berlin was also quite close with Truman Capote, particularly after she began working full-time at the Factory in 1976. Where Warhol would often tempt Brigid with food and alcohol, she and Capote shared their attempts to get and stay sober. In her memoir The BB Tapes, Brigid wrote "I worked with Truman Capote on pieces he wrote for Interview that eventually became Music for Chameleons. We became good friends. Sometimes after working all day we would go out and have our slips, drinking vodka and grapefruit juice. I'd pass out and wake up in his apartment the next morning feeling guilty as we both were supposed to be on the wagon." Berlin transcribes a conversation with Capote in her memoir in which he states he will be providing a series to Interview starting in April 1980. He notes that he must finish Answered Prayers because the publishers had him against a wall, he had money problems, anxiety, and alcohol binges were debilitating. Brigid, as if attempting to save the embattled author from himself, implores him "You've got to finish it" to which Capote responds "I've rethought everything about it so much that now I have to read it and put it together. I suppose that if I really just stuck at it through thick and thin ... I could finish it up by the end of the year." Answered Prayers was finally published posthumously in 1986.

For the quotes from Andy Warhol see The Andy Warhol Diaries, edited by Pat Hackett, First Twelve Edition, 2014, various pages.

Interview republished Capote's 1984 letter in 2011.
The Duchess of Warhol: The Estate of Brigid Berlin
Auction Wednesday, April 27 at 10am
Exhibition dates: April 23, April 24, April 25
Lot 1154
CAPOTE, TRUMAN
Original manuscript of Truman Capote's final appearance in Interview and a draft of Answered Prayers presented to Brigid Berlin.
Estimate: $4,000-6,000