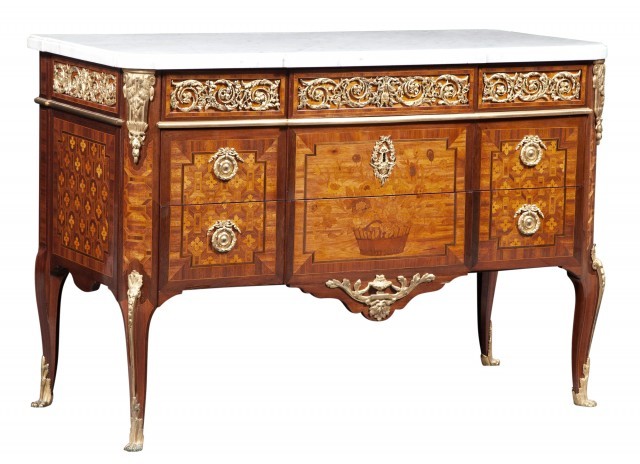 NEW YORK, NY -- Doyle's upcoming auction of English & Continental Furniture, Silver & Decorative Arts offers the opportunity to examine not one but two excellent examples of commodes. Both have marble tops with smooth molded edges. Each case is of breakfront outline inlaid rich marquetry patterns accented by 'hipped' legs ending in near identical scrolling sabots or feet. Both commodes were made by master cabinet makers – working nearly 100 years apart from one another – using the finest materials available.
A Louis XV/XVI Transitional Gilt-Bronze Mounted Tulipwood, Amaranth and Marquetry Commode by Roger Vandercruse dit Lacroix (Lot 272) was made circa 1765. Roger Vandercruse Lacroix (1728-1799), often known as Roger Vandercruse, was a Parisian ébéniste and is considered to be one of the finest cabinetmakers of his generation. He was the son of a cabinetmaker, brother to a clock maker and brother-in-law to Jean-Francois Oeben, a master ébéniste in his own right.
Vandercruse received his maître in 1755 and promptly took over his father's workshop, although he had been supplying pieces to Pierre Migeon for some time. A particular strength of his was commodes such as this example, as well as smaller, fine pieces that could serve many purposes. Vandercruse was deeply entrenched in the Parisian cabinet-makers' guild, the Corporation des menuisiers-ébénistes, until his retirement at the onset of the French Revolution.
A Transitional Louis XV/XVI Style Gilt-Bronze Mounted Tulipwood and Marquetry Inlaid Commode (Lot 268) was made by master craftsman Paul Sormani (1817-1877). Sormani was of Italian heritage and opened a gallery in Paris in 1847 selling 'meubles de luxe' or luxury furniture. He specialized in recreating designs from the 18th century and drew upon the influences of Roger Vandercruse and his contemporaries.
Both commodes were considered the height of design and desirability; however, their construction varies in numerous ways. The 18th century commode by Roger Vandercruse incorporates a hidden locking mechanism whereby the central drawer pull releases all three top drawers at once. The marquetry was likely hand cut from exotic timber and the bronze mounts were 'ormolued', a process whereby a powdered gold-mercury amalgam is applied by hand to a bronze object. This process was outlawed in the 1830's as the use of Mercury proved to be too dangerous to the health of the artisan.
In the case of the commode by Paul Sormani, the veneers are machine cut, enabling the cabinet maker to get precise pieces leading to a thinner surface. The bronze mounts are electroplated bronze which creates a slightly flatter, more uniform surface. The lock plates are also inserted into the drawer front instead of mounted to back – identifying this is a quick way to establish the age of a piece of furniture.
Ultimately, each commode provides the user the same service: an exceptional example of their period that fulfills a utilitarian need while bringing focus and light to any room they fill. One influenced by the other, what is inside these commodes brings 100 years of French furniture design full circle.
English & Continental Furniture, Silver & Decorative Arts
Auction Wednesday, January 26, 2022 at 10am
Exhibition Jan 22-24
The January 26 auction offers exceptional commodes by Roger Vandercruse dit Lacroix (Lot 272) and Paul Sormani (Lot 268).