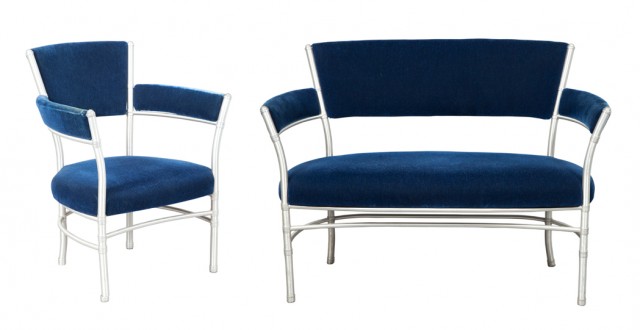 Born into an affluent family in Chicago in 1885, Warren McArthur Jr. was an innovator in Machine Age furniture design for the commercial and residential markets. McArthur attended Cornell and graduated in 1908 with a degree in engineering, which he put to good use in future business ventures. An engineer and inventor throughout his life, he filed his earliest patents for tubular lamps and lanterns. Today he is best known for his tubular furniture designs.
McArthur moved to Los Angeles in 1929 and with financial assistance from his father pursued metal furniture manufacturing; he founded the Warren McArthur Corporation there in 1930. His furniture designs while unique were true to the Machine Age aesthetic. Machine Age design emphasized sleek forms inspired by automobiles, locomotives and airplanes. These objects were symbols of progress and modernity to the American consumer and industrial designers began constructing furniture in streamlined designs from steel, chrome and aluminum.
Prior to the 1933 Chicago World's Fair, known as the "Century of Progress Exhibition," most Americans considered metal furniture suitable only for offices, hotels and other commercial spaces. (McArthur designed metal furniture for the Arizona Biltmore Hotel while living in Phoenix in the 1920s). The fair's tagline, "See America Streamlined," and the abundance of metal furniture and home goods exhibited finally presented the concept of utilizing metal designs in the typical American household. The Museum of Modern Art followed suit in subsequent years with exhibitions like "Machine Art," (1934), and "Bauhaus 1919-1928" (1938), further exposing the American public to this design style. An increased demand was met with an amplified supply of Machine Age style furniture for the home into the 1930s and 40s.
The Warren McArthur Corporation moved manufacturing to Rome, New York in 1933, just as metal furniture was gaining popularity; the company's products were sold out of a showroom in New York City on Park Avenue. As a manufacturer, McArthur filed numerous patent designs which he utilized in advertisements to exhibit the innovations he developed. The company also proudly printed patent numbers on furniture labels. This demonstrated to the customer that they were purchasing unique, scientifically designed, and thus inherently modern, furniture.
For both durability and comfort, McArthur's tubular aluminum furnishings were constructed with an internal tension rod within the aluminum frame. This construction provided a slight 'give' which was believed to be a sign of quality and provide a higher level of comfort in chairs. McArthur's innovative products achieved "maximum strength with a minimum of weight, while also permitting the attainment of a desirable attractiveness in appearance." The internal rods are the backbone of any McArthur furniture frame - the exteriors composed of multiple pieces of tubular aluminum, held together inside by the rods and outside by the joinery.
The structural joints were another unique aspect of McArthur furnishings, elucidated in the same patent. Ever concerned with aesthetics, McArthur developed joinery that would not detract from his designs. The joints allowed for easy disassembly and reassembly because they did not use small screws, nails or other pieces that could be misplaced. In essence, the joints are composed of internal washers that affix the small portions of aluminum tube together over the internal rods. These interior parts are held together on the exterior by smooth or notched aluminum braces.
McArthur's stylish, inventive furniture was popular both domestically and commercially; the company produced over 600 individual designs ranging from bar stools to settees, desks to folding chairs, smoking tables to vanities. He received distinguished commissions to design furniture for the Union Pacific Railroad dining cars as well as for the Chrysler headquarters in Detroit in the 1930s.
With the outbreak of World War II, aluminum in the United States was prohibited for private use. McArthur applied his talents to the war effort and designed aircraft seating for the Air Force and Navy, utilizing his expertise with the material. Unfortunately, after the war Machine Age design had fallen out of style and the Warren McArthur Corporation eventually closed shop in 1948.
The McArthur-designed items featured in the March 29 Doyle at Home sale provide an opportunity for today's collector to own a piece of Machine Age design history.
-- Megan M. Mastrobattista, Furniture & Decorative Arts Department
SOURCES
Edwards, Clive. "Aluminium Furniture, 1886-1986: The Changing Applications and Reception of a Modern Material." Journal of Design History 14, no. 3 (2001): 207-25.
Kirkham, Pat and Susan Weber. History of Design: Decorative Arts and Material Culture, 1400-2000. (New York: The Bard Graduate Center: Decorative Arts, Design History, Material Culture, 2013)
"Modern Solutions." Art Institute of Chicago Museum Studies 27, no. 2 (2001): 47-110.
Moonan, Wendy. "ANTIQUES; Rediscovered: Early Master of Metal." The New York Times, August 27, 1999, Arts sec.
Wilson, Richard Guy, et al. The Machine Age In America: 1918 - 1941. Japan: Times Mirror Books, 1986.
Warren McArthur Furniture Ltd. "Furniture". 1933: n. pag. Google Patents. Accessed February 2, 2017.