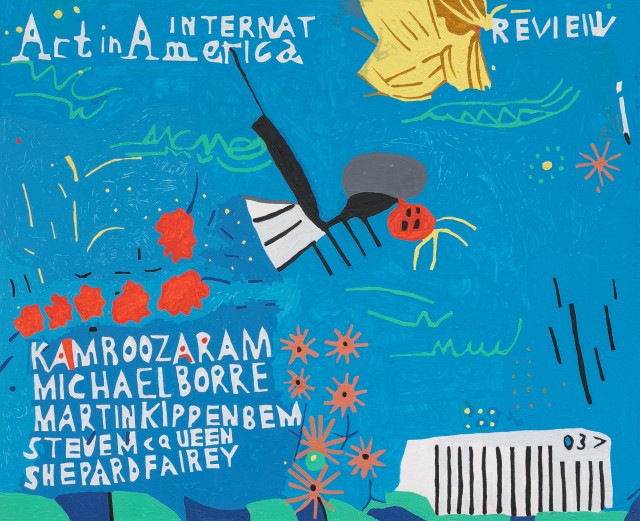 At the Whitney Biennial, Artists Draw a Line in the Sand

NEW YORK, NY -- The 2019 Whitney Biennial is spread across multiple floors, comprising painting, sculpture, video, photography and installation art. Representing a global art world, the Biennial features 75 artists, over half who are women, and over half who are minorities. These artists have, by and large, taken this opportunity to confidently and proudly share their histories and cultures. And while discussing culture and heritage should not appear controversial, these works feel confrontational but for the simple act of acknowledging world history. While at other times much of this work may have simply been taken at face value, considering the current political climate, it feels like a line in the sand - a push back to the forces actively working to suppress culture and embrace a narrow and exclusionary form of nationalism.
Much will be written elsewhere (as it should) about the important and truly daring video piece by Forensic Architecture, calling out Whitney Board Vice Chairman Warren Kanders for his connection to the sale of tear gas canisters; his Safariland brand tear gas was purportedly used by ICE agents on migrants at our southern border. But there is far more in the way of socio-politically confrontational work in the show that may go relatively undocumented in comparison, which I would like to speak about here.
Beginning with the first floor, an entire room is devoted to the work of 84-year-old sculptor Diane Simpson; a wise choice both curatorially and aesthetically. Window Dressing: Background 4, Apron VI, 2003/2007 is the focal point of the room, pattern-heavy Art Deco architecture mixed with fashion. An Asian inspired screen with graceful forms, it rests in a quasi-theatrical window box like a kimono retrofitted as architectural element.
Throughout the Biennial, it becomes apparent quickly that painting is an afterthought. The paintings included here range from acceptable to very good, though none really carry any one room nor leave a lasting impression. Sculpture, often involving disparate found materials, is the focus. Most notably, the pioneering artist, Nicole Eisenman, gives us the outdoor sculpture, Procession. Possibly the only real blockbuster piece of the Biennial, the massive mixed-media piece sits outside on one of the Whitney's starkly elegant terraces. With the sarcastic, mutant humor one would expect from Eisenman's work, this is Rube Goldberg meets underground comix. Bursts of steam puff out of anthropomorphic figures like a bodily function and random found bits are shoved and wedged throughout. It's delightfully crude lowbrow weirdness that necessitates deep study, as hidden clues and inside jokes abound.
Outsider artists Joe Minter and Marlon Mullen are included, which is both wonderful yet maddening that the acceptance of Outsider Art within a premier art museum is still only coming in slow drips, seemingly regardless of quality, historical necessity or even art market approval. Somewhat to this point, Mullen gives us large scale paintings of Art in America magazine covers, which seem to act as a reminder from the artist as to what other great self-taught art exists beyond the coverage of the venerable periodical.
Two artists both present works entitled Sentinels, with Puerto Rican artist Daniel Lind-Ramos contributing two of the strongest pieces in the Biennial's entirety. Like many successful works in the show, Lind-Ramos uses found materials, including objects from nature such as palm fronds and soil. Centinelas (Sentinels) from 2013 is overwhelming in its scale and symmetry, and also Maria-Maria, created in response to Hurricane Maria, which is estimated to have killed more than 3,000 Puerto Ricans. The work employs the blue tarps used by FEMA, a symbol of the neglect from a political administration apparently unaware or unwilling to acknowledge Puerto Ricans as American citizens. Wangechi Mutu's two slender Sentinel figures are similarly striking and graceful, and also employ found materials, including wood, beads, stones, and bone.
White Noise, American Prayer Rug, from 2018 by Nicholas Galanin is a wool and cotton weaving depicting television static, a hissing, sparkling image most familiar to those of us old enough to remember the days before digital programming. From Galanin's statement, "whiteness as a construct has been used historically throughout the world to obliterate the voices and rights of generations of people and cultures regardless of complexion." The white noise is drowning out "the other," communication and identity are being scrambled, and thereby suppressed.
The always tremendous Brooklyn artist Jeffrey Gibson is featured here, with monumental hanging works. Gibson's work, Stand Your Ground, referencing the law that allowed Trayvon Martin's killer to go free, hangs with flowing colors and collaged elements, suspended from the rafters like a sports stadium championship banner.
No Humans Involved: After Sylvia Winter, by Alexandra Bell, reprints coverage of the Central Park Five case, with blacked-out redactions that make it all the more timely in consideration of the partially-revealed Muller Report. The series ends with Donald Trump's controversial full page ad in the New York Daily News, which called for the death penalty for the Central Park Five, who were later exonerated of the crime.
Argentine artist Agustina Woodgate has an entire side room devoted to her installation, National Time, a closed circuit network of clocks all synchronized to official US standard time. Using the industry-standard master/slave clock configuration employed by most factories, the hands of the slave clocks are fitted with sandpaper – over time, the numerals will be scraped away from their faces, with the master clocks left whole. By the end of the process, the slave clocks will be blank, their purpose as time tellers no more, freed by their uselessness.
Matthew Angelo Harrison's group of standing sculptural works includes Malian spears encased in blocks of resin. The series he refers to as "abstracted ancestry" discusses concerns of plundering cultural artifacts; a conversation well worth broaching within a museum setting, even if the Whitney rarely if ever shows ancient objects.
Three powerful sculptures by Simone Leigh command the room in which they are displayed. Corrugated Lady depicts an elegant African female head with a flowing neckpiece of raffia, on the base of a modern corrugated form looking not unlike a Quonset hut. Again, like much of the strongest work included in the Biennial, Leigh is deftly able to use old and new materials as well as depicting classic, natural forms combined with contemporary objects.
In a side hall, the Black Queer artist John Edmonds shows a salon-style arrangement of photography. Referencing fashion photography, ancient African objects are positioned with nude Black bodies, serving to both sexualize the object as well as reaffirm the grace of the human form.
Throughout the Biennial, these artists are addressing the wrongs that they see in society and re-contextualizing their heritage. By showing us their history, they are pushing back; they are announcing their value and purpose, and reaffirming the same for those who came before them. They are confronting the ignorance and racism in this world and using their art as a juggernaut, a moving wall made to level the outposts of hate. By reconnecting and employing their culture within their work, they take the power back. Through handmade objects, by using materials old and new, employing hyper-contemporary media as well as art practices as old as time, they remind us that the artist has always resisted. They draw a line in the sand that no hateful bigotry can cross.
Whitney Biennial 2019

On view through September 22, 2019
Whitney Museum of American Art
99 Gansevoort Street
New York, NY 10014
Visit Whitney.org
Image captions
Marlon Mullen (1963-), Untitled, 2018. Acrylic on canvas, 40 × 52 in. (101.6 × 132.1 cm). Image courtesy NIAD Art Center, Richmond, CA; Adams and Ollman, Portland; and JTT, New York
Diane Simpson, Lambrequin and Peplum, 2017. Painted fiberboard crayon on polyester, and copper tacks, 109 x 50 x 31 in. (276.9 x 127 x 78.7 cm). Image courtesy the artist; Corbett vs. Dempsey, Chicago; JTT, New York; and Herald Street, London. Photograph by Tom Van Eynde
Nicole Eisenman (1965-), The General, 2018. Bronze, stainless steel, paint, and cloth, 30 x 33 x 19 in. (76.2 x 83.8 x 48.3 cm). Collection of Eric Green. Image courtesy the artist and Susanne Vielmetter Los Angeles Projects
Wangechi Mutu, Sentinel I, 2018. Paper pulp, wood glue, concrete, wood, glass beads, stone, rose quartz, gourd, and jewelry, 87 ¾ x 17 ¾ x 22 in. (221 x 43.2 x 55.9 cm). Image courtesy the artist