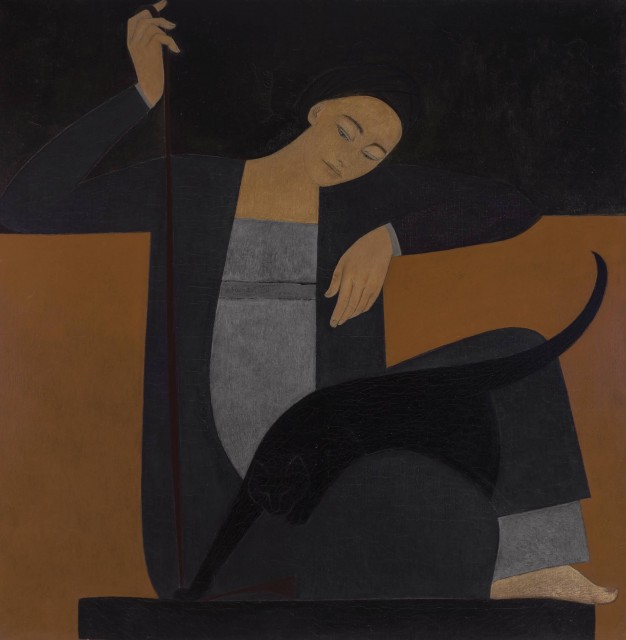 NEW YORK, NY -- Born in Beverly, Massachusetts in 1911, American artist Will Barnet (1911-2012) adopted New York City as his home as a young man. Named head of printmaking at the Art Students League when he was only 23, he went on to enjoy a long and productive career that spanned more than eight decades. At the League he developed a community of like-minded friends, exchanging ideas with such artists as Steve Wheeler, Peter Busa and Robert Barrell. These three shared a fascination for Pre-Columbian and Native American arts, as well as for European modernism. Through their search for a uniquely American approach to modernist art, they created a form of abstraction called Indian Space. In her 1991 publication that accompanied a show of the Indian Space painters at Baruch College, Barbara Hollister describes the method of some of these artists as "transforming personal themes into an iconography that expressed a vision of the modern world's ambiguities and complexities."
Will Barnet worked in an abstract format from around 1945 until the early 1960s. His paintings that relate to the Indian Space movement derive in part from the Haida and Tlingit art of the Pacific Northwest, a tradition that depicts people and animals in a flattened, abstract manner, within a picture plane that is broken into segmented, often laterally symmetrical, areas. The palette is limited, restricted to an even narrower range than the pigments known to the peoples who created the works. Barnet, too, made conscious choices to simplify, segment and abstract his compositions.
A study from 1963, titled Study I, Recumbent Figure, in the November 21 Doyle+Design auction, is typical of Barnet's abstract work from the late 1950s and early 1960s, when he simplified his compositions, which often depict the human form. Like the Native-American painters he emulated, his palette is reduced to red and brown hues. A fully realized abstraction, Dark Image, will be offered in the November 15 auction of Post-War & Contemporary Art. Robert Doty talks about this painting in his 1984 publication on Will's art. Dark Image is just that, as Doty describes the artist's fascination with the night sky. Here, in an attempt to capture the magic of the night, Barnet created this painting in varied shades of black, applied in multiple layers.
The American Abstract Artists group, founded in 1936, was created in reaction to the galleries' and museums' rejection of American artists who worked in a modernist vein. Will Barnet joined the group, and remained a member until his death in 2012. Although he returned to a figurative style in the early 1960s, his approach to composition is quite seamless. Viewing his early figurative compositions, such as Woman, Cat and String, also offered in the November 15 auction, one can see Barnet's formal simplification, a means he used to create a representational painting verging on abstraction. His evolution and reductive process can be seen by viewing studies for paintings. For example, a study for Woman, Cat and String was sold at Doyle in November 5, 2014, listed as Study for Woman, Cat and Yarn. The refinement of the composition that can be seen from the study to the finished work was very much a part of Barnet's process throughout his life. I would attribute this practice to his roots in printmaking. It is often the habit of printmakers to work and re-work a composition many times before completing the final print. Barnet seemed to be fascinated with reducing a composition to the purest line and form that captures the spirit of the sitter with no unnecessary distraction from what is essential to the composition.
At the end of Will Barnet's career he returned to abstraction. I attended openings for his show at Alexandre Gallery, June 2010, as well as the Montclair Art Museum, February through August, 2011. In these shows the artist returned to abstraction, but certainly not to a repetition of his earlier work in this mode. These late works are rich with color and playful shapes that have a direct and expressive feel. Just as in Barnet's later figurative works, these abstractions are painted in thin washes of color with soft edges. Their surfaces have a soft vibrant feel that clearly breaks with the hard-edged quality of his early abstractions.
I was fortunate to have the pleasure of knowing Will, although only as an acquaintance. I am sure many people in the New York area shared my experiences, as he was often to be seen at gallery openings and museum shows. He was a tall man with depth of knowledge to share, so he often drew a gathering of listeners, myself included. The last time I saw Will was when he came to the Montclair Art Museum to speak. His large frame was less apparent, as he was then in a wheelchair. And as Gail Stavitsky introduced him, he looked rather frail. But once the floor was yielded to him, his voice came alive and he was as fascinating as ever. The man is now gone, but his stellar body of work lives on.
Post-War & Contemporary Art

Auction November 15, 2017 at 2pm
Exhibition November 11-13
Two early paintings by the Will Barnet will be offered on November 15. The works are fine examples of the artist's abstract and representational periods.
Doyle+Design

Auction November 21, 2017 at 10am
Exhibition November 18-20
A study by Will Barnet from 1963 will be offered on November 21.