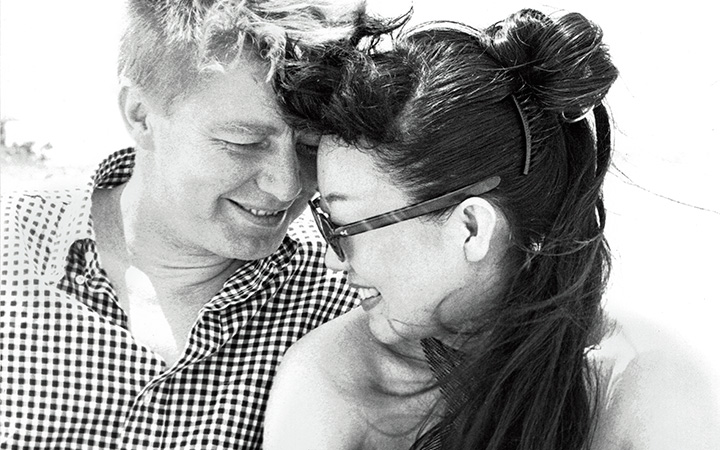 Doyle is honored to auction the collection of award-winning costume designer Willa Kim and her husband, writer and illustrator William Pène du Bois, son of the prominent American artist Guy Pène du Bois.
Willa Kim (1917-2016)

The daughter of Korean immigrants, Wullah Mei Ok Kim (she later changed the spelling to Willa) grew up in Los Angeles and dreamed of becoming a fashion illustrator and painter. After graduating from Belmont High School, where she was an art editor of the yearbook, she studied art at Los Angeles City College and received a scholarship to the Chouinard Art Institute (now the California Institute of the Arts, CalArts).
She worked briefly as a fashion illustrator at the May Company department store in 1942 before joining Paramount Studios. There she worked with the famed costume designers Barbara Karinska and Raoul Pène du Bois on such films as Lady in the Dark (1944) starring Ginger Rogers.
In 1945, Broadway beckoned and Willa worked with Raoul on her first stage musical, Are you with It? She returned to Los Angeles to study art with Rico LeBrun, a leading modernist, at the Jepson Art Institute, but in 1950 came back to New York to work with Raoul on a number of successful Broadway productions, including Gypsy, The Music Man and Bells Are Ringing.
On a visit to France, Willa and her friend, artist Margaret Stark, were invited to spend Thanksgiving with Raoul and the Pène du Bois family. It was during this visit that Willa met Raoul's cousin, William Pène du Bois, a writer and illustrator of children's books. Willa and William were married in New York in 1955.
In the 1960s, Willa began her solo career designing for a series of Broadway productions, and by the 1970s her work began to be recognized by the Tony Awards. She received her first Tony Award for Best Costume Design in 1981 for Sophisticated Ladies, a glamorous musical revue based on the music of Duke Ellington. A decade later, she received her second Tony Award for her work on Tommy Tune's The Will Rogers Follies, an ode to the famous humorist and the dazzling Ziegfeld extravaganzas. She was honored with nominations an additional four times for her work on Goodtime Charlie starring Joel Grey, Bob Fosse's Dancin', Andrew Lloyd Webber's Song and Dance, and Peter Allen's Legs Diamond. She also received three Drama Desk Awards for Outstanding Costume Design. Willa designed costumes for over twenty Broadway shows, her final being the 1995 production of Victor, Victoria starring Julie Andrews.
Willa is credited with having introduced two innovations to costume design in the field of dance. She pioneered the use of lightweight Lycra stretch fabrics and developed techniques for painting on these new textiles. During her career, she designed over 150 ballets, including fifty for Elliot Feld. Her designs for Sleeping Beauty for American Ballet Theatre premiered in 2007, when Willa was 90 years old. She won an Emmy Award for Costume Design in 1981 for the televised production of the San Francisco Ballet's The Tempest.
Willa received wide acclaim for the landmark 2005 production of Puccini's opera Turandot that she designed for the Santa Fe Opera, in which she indulged her imagination and created a fantastical vision of the Chinese Imperial court.
Toward the end of her remarkable six-decade long career designing for film, stage, ballet and opera, she was honored with numerous awards. She received the TDF Irene Sharaff Lifetime Achievement Award in 1999, the Fashion Institute of Technology's Patricia Zipprodt Award for Innovative Costume Design in 2003, and the United States Institute for Theatre Technology's Distinguished Achievement Award for Costume Design in 2005. In 2007, she was inducted into the American Theatre Hall of Fame. The following year, she was honored by the government of South Korea with the Coronet Culture Medal, an award she particularly cherished.
William Pène du Bois (1916-1993)

William Sherman Pène du Bois was born in Nutley, New Jersey in 1916 into a family of artists. His father was the famed landscape and portrait painter Guy Pène du Bois, his mother was a designer of children's clothing, and his older sister Yvonne was also a painter. The family moved to France when William was eight, and he attended the Lycée Hoche in Versailles and the Lycée de Nice in Nice, after which the family returned to Nutley. He was awarded a scholarship to the Carnegie Technical School of Architecture, but upon the sale of a book that he had written and illustrated while on vacation, he decided to forego college in pursuit of a career in books. In 1936, his first book, Elisabeth, the Ghost Cow, was published.
William entered the United States Army in 1941 and worked during the War as an artist and correspondent for Yank magazine, as well as editing the camp newspaper and illustrating strategic maps. Having written and illustrated five books prior to the War, William published his sixth book, The Twenty-One Balloons, in 1947. It was a fantastic tale of a retired mathematics teacher's hot-air balloon journey to Krakatoa and the airborne escape when the volcano explodes. The book was honored with the 1948 Newbury Award for best children's book by the American Library Association. His prolific output includes a series inspired by the seven deadly sins, as well as tales of adventure and mystery with anthropomorphic animals cast as the heroes. He was twice a runner-up for the Caldecott Medal, which recognizes picture books for children: Bear Party (1952) and Lion (1957). The New York Times Book Review named his 1971 Bear Circus one of the ten best children's books of the year.
In addition to his own works, William also illustrated books written by other authors, including works by Jules Verne, John Steinbeck, Issac Bashevis Singer, Rumer Godden and Claire Hutchet Bishop.
In 1953, William was one of the founding editors, and the first art director, of influential literary magazine, The Paris Review, along with Thomas Guinzberg, Harold L. Humes, Peter Matthiessen, John P.C. Train and George Plimpton, whose 1955 book, The Rabbit's Umbrella, featured illustrations by William.
Following William's marriage to Willa in 1955, the couple lived in New York until 1973, when William moved to France, where he lived for the rest of his life.
The Collection of Willa Kim and William Pène du Bois

A special section of the April 5, 2017 auction is devoted to the Collection of Willa Kim and William Pène du Bois. This remarkable collection comprises furniture, decorations, mechanical toys, costume jewelry and paintings, including an extensive group of works by Guy Pène du Bois, some of which will be offered in future sales.