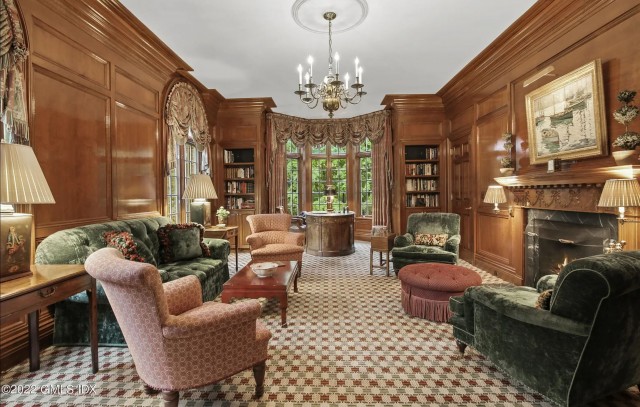 NEW YORK, NY -- Interior designer, architect, world traveler, a gentleman of the old school... When discussing David Easton, the list goes on and on. These are just a few of the adjectives that sprang to mind while speaking with the owner of a Greenwich, Connecticut house decorated by Mr. Easton, property from which will be auctioned on July 27.
Mr. Easton was a friend as well as an acclaimed Hall of Fame interior designer. When an opportunity presented itself, he made the most of it. He made projects enjoyable and engaging, establishing personal connections with clients that extended beyond business.
When the owners of this Greenwich, CT house were looking for the perfect designer to bring their home to life, the couple interviewed over ten top interior designers from the tri-state area. Meeting Mr. Easton in his Midtown New York office, he offered immediate advice, "I don't know if you're going to hire me, but I just flew in from London, and here is a photo I took of a wallpaper panel. You should buy it whether you use me or not."
Mr. Easton had a vision, and when he saw something he liked he made it work. It didn't matter if it came from a thrift store or a prominent antiques shop, he found a way to incorporate it into the home if he felt drawn to it. He discovered ways to work around what was expected and develop unique stylistic choices that tied a house together. Much of the upholstery fabrics used in the Greenwich house were Schumacher archival patterns updated with new fabric choices and color palettes.
Mr. Easton formed a strong bond with the homeowners throughout the 18+ months he spent working on their Greenwich house. They keep referring to him as "fun." Whether traveling together to London and Stockholm to source furnishings or enjoying cozy late-night drinks or dinners at his country house, Balderbrae, he transformed a project into a lifelong friendship.
Doyle at Home®
Auction Thursday, July 27, 2023 at 10am
Exhibition July 24 - 26
A special section of the July 27 auction showcases property from a Greenwich, CT house decorated by David Easton.